Current Fund grantees can manage their grants through our password-protected portal. We are excited to be able to offer this service to our grantees, and we hope it provides you with an efficient way to keep track of your grant from the Fund, and to keep in touch with us.
Here are the steps you will take to submit your application online:
Receive an invitation email from the Haas, Jr. Fund with the user name and password you will need to access the Grantee Portal
Login to the Grantee Portal (below) with the credentials provided via email
Complete your grant application online
Submit the grant
Once your application has been received, your Program Officer or Program Assistant will be in touch about next steps.
Access Your Grant Application Online
In order to log in to the Haas, Jr. Fund Grantee Portal, you should have received an email, which includes a link to the portal and your unique user name and password. If you do not have your user name and password, please contact your Program Officer or Assistant, or email portalhelp@haasjr.org.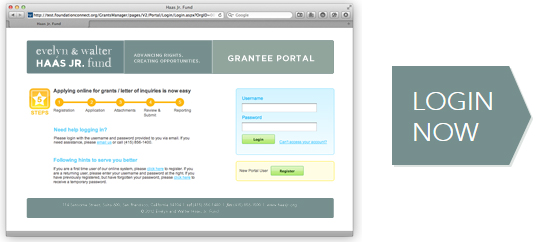 Help & Guidance Completing Your Application
Help and guidance for completing your grant proposal is weaved throughout the online application. Look for the orange help bubble for information on specific fields, and, as always, please get in touch with your Program Officer or Assistant if you need support.
As we continue to look for ways to make the online grant application process more efficient, we welcome your feedback. If you encounter any problems, or have suggestions about how we can improve your experience, please let us know.