Cathy Cha
President & CEO
Cathy leads the Fund's work to advance rights and create opportunities for all people.
Cathy Cha is president and CEO of the Evelyn and Walter Haas, Jr. Fund. Under her leadership, the San Francisco-based family foundation is investing in grassroots organizing, movement building, and policy advocacy to advance equality and justice for immigrants, communities of color, and young people in the Bay Area and across California. 
Cathy is a leader in developing new models of collaboration among funders, grassroots nonprofits, and government yielding wide-ranging social impact. She has co-founded and led a variety of groundbreaking partnerships, including: the California Campus Catalyst Fund, a funder collaborative that sparked a statewide effort to expand legal and other supports for undocumented students attending California's public colleges and universities; the California Black Freedom Fund, a five-year initiative that has raised $63 million to date in support of Black-led power building; and Activate California, a partnership to organize Gen Y and Gen Z Asian American Pacific Islanders to become active leaders in civic life.  
In nearly two decades with the Haas, Jr. Fund, Cathy has served in a number of program roles, including vice president of programs. As program director for immigrant rights with Haas Jr. during the 2010s, she worked with philanthropic, nonprofit, and government partners to help establish California as a leader among states in adopting pro-immigrant policies, including access to driver's licenses and student financial aid for all Californians regardless of immigration status.
Cathy is driven by a career-long commitment to improving the lives of aspiring communities facing poverty and injustice. She received the Outstanding Foundation Professional award from the Golden Gate Chapter of the Association of Fundraising Professionals in 2021 and was named one of the Most Influential Women in Bay Area Business by the San Francisco Business Times in 2019. She serves on the boards of the California Budget and Policy Center, Asian American Futures, and Positive Coaching Alliance.
Cathy has a master's degree in city and regional planning from UC Berkeley. She enjoys the outdoors and exploring different regions of California with her husband and two daughters.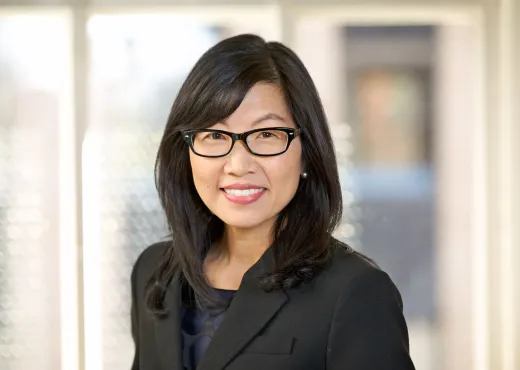 By working in partnership to lift up community voices, we can expand opportunity and level the playing field.