A Story of Community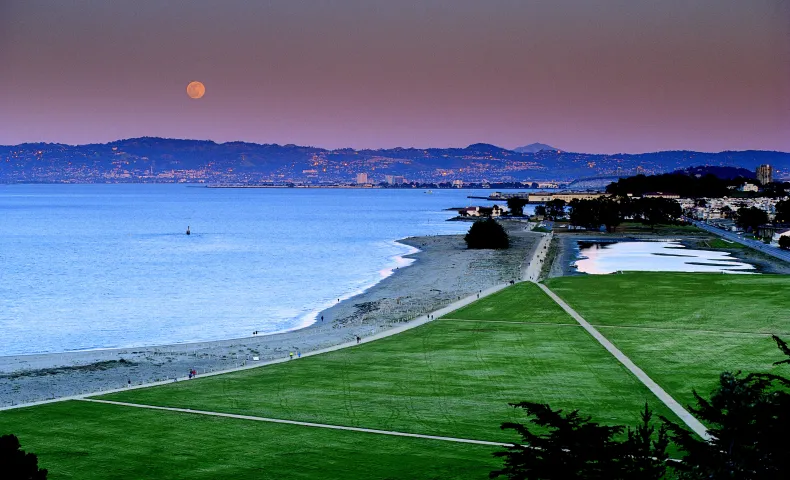 What makes a park? A grassy field? Tall trees? Open spaces? Or is it the way it connects people to each other and to their community?
From Military Airfield to Beloved Gathering Place
Airplanes once landed where native grass now grows. Piles of concrete and asphalt once covered an 18-acre tidal marsh that now offers respite for egrets and blue herons. Today, this former military airfield is a 100-acre urban national park beloved by the millions of visitors who experience its beauty each year. And at its heart, the Crissy Field story is about a community coming together to create a park for all people.
A Story of Community
The Crissy Field we know today was created through unprecedented community input and volunteer efforts. Throughout the design process, the planners gathered feedback from the public to make sure the park would be accessible to everyone, so that a larger and more diverse community could walk and play in—and take stewardship over—this great national park in San Francisco's backyard. Over the years that followed, construction crews removed thousands of tons of rubble, and the community volunteered 2,400 hours and donated more than $34.5 million towards reinvigorating the wetland ecology and building one of the most beloved parks in the Bay Area.
The Haas, Jr. Fund is honored to have been a part of that story, starting in 1986 with a planning grant to find a way to restore and reinvent the airfield as a green space that was more accessible to the public. A lead grant of $18 million—$13.5 million from the Haas, Jr. Fund and $4.5 million from Colleen and Robert Haas—supported those efforts. Pledged in 1997 this grant was the largest cash gift in National Park Service history at that time. Since it reopened in 2001, the Fund has continued to work closely with the Golden Gate National Parks Conservancy and the National Park Service to make Crissy Field accessible to the whole community, granting an additional $1.5 million in 2007 and $2.5 million in 2015.
A Thriving Park for All
Since its opening, Crissy Field has attracted millions of visitors from the Bay Area, the nation and the world. It offers an iconic view of the Golden Gate Bridge and San Francisco Bay, as well as open spaces, picnic areas, shoreline access, and a central promenade enjoyed by people of all ages and backgrounds.
The Crissy Field Center was created as a place where people from throughout the Bay Area would be able to connect to the park. The Center's classrooms, labs and green education facility offers a variety of youth programming to encourage new generations to take up the work of building a healthy and more environmentally just society. The Center aims to reach young people in groups that have traditionally had little access to national parks.