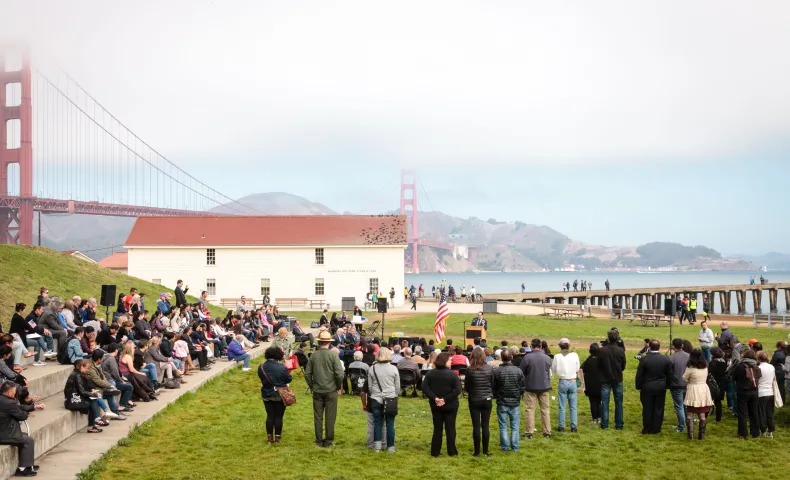 A Park For All
It's a summer weekend ritual. My husband and I load our three dogs in the car and drive into San Francisco from our home in the East Bay. Our destination: Crissy Field. After a walk on the beach with the dogs, my husband and I enjoy a picnic lunch and take in the sights and sounds of this one-of-a-kind National Park in the shadow of the Golden Gate Bridge.
At a time like today, when the divisions in our politics and our culture are so pronounced, a place like Crissy Field reminds us of the power of community. For me, Crissy Field also is a reminder of the incredible possibility of simply getting outside.
My family came to the United States from Iran when I was 12 years old. My favorite memories from my childhood are of being outdoors—singing revolutionary songs with my parents on hikes in the outskirts of Tehran, and visiting rural villages where my parents would meet with local people to organize for change. The outdoors represented freedom and possibility.
For me, the idea of Crissy Field is just as beautiful as Crissy Field itself. I felt this while I was watching a new video from the Haas, Jr. Fund that shines a light on a couple of recent activities and events at Crissy Field. First is an outdoor naturalization ceremony last summer where 32 young immigrants were welcomed to the United States. Second is a "StoryWalk" installation in the park that included pages from Dave Eggers' children's book, Her Right Foot, about the Statue of Liberty and its promise of acceptance and inclusion.
These activities show how Crissy Field epitomizes the values of fairness, equality and opportunity that are core to the work of the Haas, Jr. Fund and our partners. Crissy Field truly is a people's park. Not only does it connect us to each other, but it also connects us to nature as a powerful catalyst for growing and nurturing our souls. And it's great to see how Crissy Field and the Crissy Field Center are so focused on inspiring youth to enjoy nature, so they too will learn to love the outdoors and feel inspired to dream.
A big part of my job as a program officer at the Haas, Jr. Fund is helping to shepherd the Fund's work at Crissy Field. I have only been on the staff here for a few months, but I feel very lucky to be part of the work of ensuring that Crissy Field remains a park for all people.