Joseph Yglesias serves as a Chief Cryptologic Technician in the U.S. Navy. He was born and raised in Corpus Christi, Texas. Joseph joined the Navy in 1998 when he was 28 years old and has received numerous medals, awards and decorations during his years of service. At the time that he enlisted, the military was operating under the 'Don't Ask, Don't Tell' policy that barred service by openly gay and bisexual men and women. Joseph, who says he was "gay float-right from the start," had been active in gay rights issues while living in Austin during his 20s. For Joseph and other gay service members, the repeal of 'Don't Ask, Don't Tell' in 2010 meant they no longer faced the threat of being discharged for the simple act of acknowledging their true selves.
Forced to be Two Different People
In August, I'll have been in the Navy for 14 years. I'm classified as a CT, a Cryptologic Technician, but my official job is as a Spanish, Italian, and Portuguese linguist. It's kind of interesting, there are a lot of gay linguists in the military. I think maybe that's because of our duality. Learning a different language is like learning a different culture. This may be a stretch, but I think that when you grow up gay, you're forced to be two different people, forced to have that dichotomy in your life—or at least that's how it was for me. I felt like I grew up with two different personalities: the guarded one and the open one.
I have two older sisters and an older brother, and I also grew up with my great-aunt in the house. Tia spoke only Spanish, and she had a huge influence on my life. She taught me to cook, work in the garden, and she expanded my mind with another language. I honestly believe that she is the reason I'm where I am today, and I think that her early influences contributed to my being sent to a gifted and talented program at a school across town which gave me a great start in life.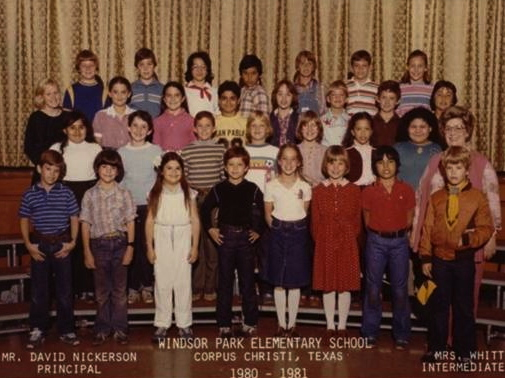 Throughout grade school and junior high, instead of going to my neighborhood school, I took the bus to the other side of town to participate in the program. I got to travel every day. I loved it—every day was an adventure. Spanish was part of the curriculum there, so I learned all of the fundamentals of Spanish grammar. It was a very culturally mixed school, where other kids' parents would come in and talk to us about Hanukkah and stuff like that. I think it really helped with my perspective of diversity and tolerance, and paved the way to my future.
That was a watershed moment for me—the day I realized who I was.
The mother of an old friend insists that from the first time she met me, when I was just a little boy, she knew that I was gay right away. In first grade we did "The Three Little Pigs" in Spanish. I was the Wolf—El Lobo—and I insisted on doing my own makeup. If you look at my fourth-grade classroom picture, everyone else is facing straight forward, but I'm turned to the side, slyly looking over one shoulder—I was totally striking a pose! I remember clearly having feelings for other guys by the time I was in fifth grade. We were at P.E. one day and a friend called me a fag. Fag was just part of our little-boy vernacular, I'd never really thought about what it meant. But that day, I distinctly remember making the connection between my feelings for other guys and the definition of that word. After that, it wasn't just an abstract slur anymore, it meant something. That was a watershed moment for me—the day I realized who I was.
I was brought up very Catholic and was active in the church, in catechism, in the choir, so I'd heard it often: homosexuality is wrong. We had a neighbor who was obviously gay and I'd heard my mom talk about him. I distinctly remember her saying, "I hate fags." My mom has come a long way since then, so I have to give her a lot of credit, but that really affected me for a long time.
Being Outed
When I got to junior high, one of the first things I did was join the football team and my brother helped me out with weightlifting. I've been a big, muscular guy ever since, and that definitely helped me through those awkward years. I could also charm the teachers and make the kids laugh, so it all worked out OK for awhile. I don't think anybody really suspected I was gay. I went through a couple of private crushes in junior high, but there was one I couldn't control and I wrote him a love letter. He showed the letter to his parents, who called my parents, and my dad ended up punching me in the face. At that point, the cat was out of the bag.
I was an honor student through high school, and I scored in the top 5 percent on the SATs, but I didn't know how to apply for college or anything like that. Nobody in my family knew what to do. At the last minute, I did try to apply to a couple of colleges on my own, but it was too late for the coming year and I finally gave up. When everyone else was going off to college, I felt like the boat had sailed and I got left behind.
Coming to Terms
One of my friends was living in Austin, so I went up there for the summer after I graduated from high school. That turned out to be the best thing in the world for me. I was coming to terms with being gay, but I was still not comfortable with it. I remember being at the Gay Pride parade in Austin and thinking to myself, "Why are these people proud? What is there to be proud of?" Around that same time, I saw an advertisement for an event called Shaman's Circle. It was a gay men's spiritual group that was just starting up. I went to their retreat, where I met Toby Johnson, a writer of gay men's spirituality and a student and friend of Joseph Campbell. Toby showed me how my gayness was unique, a gift. He introduced me to the Native American perspective on gays—that it was an honor for a family or a tribe to have a gay person among them, to have a member who could hunt and also cook, who could take on both of the traditional feminine and masculine roles.
My father had a heart attack in 1993, so I moved back to Corpus to help out and try to figure out what to do next. I had no idea what I was going to do with my life. That was around the time that President Clinton initiated the 'Don't Ask, Don't Tell' policy.
'Don't Ask, Don't Tell' nominally prohibited discrimination against gay and bisexual service members, but only as long as they kept their sexual orientation to themselves. Before 1993, official military policy was that gay and lesbian men and women could not serve at all.
I was very patriotic growing up as a minority, with all of the opportunities that this country afforded us. I'd always thought that I might want to serve my country, but as a gay man it had never seemed possible before. That's when it all clicked for me. 'Don't Ask, Don't Tell' meant that I could have a career, serve my country, and be part of the gay rights movement—all at the same time. Some people thought that 'Don't Ask, Don't Tell' was a bad thing, but I thought it was a step in the right direction, and it seemed like a perfect way for me to try out the military for a while. Part of the policy assured gay service members an honorable discharge if they disclosed their sexuality or were outed—if I ever wanted to get out, being gay would be my ace in the hole!
Deciding to Enlist
My mom expressed a lot of concern that I was going to be hurt. She said, "They don't like gays in the military." I told her, "Mom, I'm tough, and I've got to do this." I'd heard that the Navy was the most tolerant and diverse of all the other services, and there was also the romantic aspect—traveling, sailing across the oceans. I took their test and scored really high. They put me in as an Information Systems Technician, and I did really well; I was the Honor Grad at boot camp and in the top three at my technical school. After training, I was singled out and got assigned to the Pentagon, which was really fortunate for me. That was the beginning of an incredible journey.
That was the beginning of an incredible journey.
While I was in boot camp, I just acted like myself and a few people figured out that I was gay. I wasn't trying to hide anything, I just wasn't allowed to say that I was gay. I never ran into any problems and I became friendly with a bunch of straight guys who were cool with my sexuality. Everybody just wanted to hang out and go drinking and stuff, so it didn't matter. But when I got to the Pentagon, I ran into some problems. An administrative guy was super friendly to me. He took a liking to me right away and I assumed that he was gay. He gave me his phone number and said, "Let's hang out sometime." I thought that would be great because I didn't know anybody yet. He called me a couple of times, asked me to the movies and stuff like that. He even gave me a gift—a watch. Then he flaked on me a few times, and I called him to find out what was going on. I had no idea. The next time I went to work, I got called into the office—his wife had called to complain that I was coming on to her husband. That was my welcome to the Pentagon. I was the new guy, and of course now there were all these rumors. Now everybody had an idea that I was gay.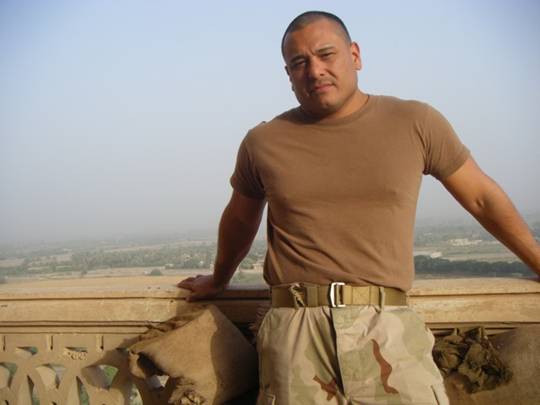 That hung over me the entire time I was at the Pentagon, but I dealt with it. I'd gone in with an agenda—to be a gay guy who was succeeding in the military, a gay guy who was the number-one man. So I never tried to deflect or deny my homosexuality, I just talked around it and never confirmed it, and I always did a little extra to project a positive image, to prove that there was absolutely no reason to disqualify me from service.
I was at the Pentagon for a two-year tour. I gained a lot of experience, and I got my first medals there. Then it was my turn for sea duty. In the Navy, you're supposed to do a two-year shore duty, then a two-year sea duty. I was a little apprehensive about going to a ship, but after being at the Pentagon, you kind of get to go where you want to go. I found a billet that counted as sea duty at a base in Naples, Italy. Nobody wanted to go to Naples at the time, because of petty crime and how dirty the city was, but I thought, "Italy? Are you kidding? Sign me up!"
From Rumors to Sailor of the Year
I picked up the Italian language right off the bat—it's so much like Spanish. Within three months I was conversational, and within six months I was fluent. I was the go-to person if you needed a translation. I got Sailor of the Year at that base as well. When my two years were up, I reenlisted and did my next duty on a ship home-ported about 40 miles north of Naples. It was a flagship, so we often carried the Sixth Fleet Admiral with us and the majority of the time we made diplomatic port visits. Before long, everybody on the ship knew that I was gay. In fact, my best friend on the ship was also gay and we always went out together. I knew Italian and had tons of Italian friends and connections, so people always wanted to go out with us. That was from 2001 to 2005. I think that's about the time when attitudes toward gays were beginning to change in the military. People were pretty cool about the gay thing. Those four years were probably the most fun years of my adult life.
After I left Italy, I worked processing naval messages in a telecommunications station. One day, I saw a message asking commanding officers to canvas for folks who had proficiency in foreign languages. I mentioned it to my supervisor, who sent me to take the Defense Language Aptitude Battery. I did phenomenally well on those tests, so I applied to become a linguist and they sent me to the Defense Language Institute in Monterey, California. I was studying Arabic there when my father and uncle passed away, so I was never able to finish those studies. However, the Navy had a new Spanish Language test and no one had passed it yet. I took the test, passed it, and they sent me to Texas to be a Spanish linguist.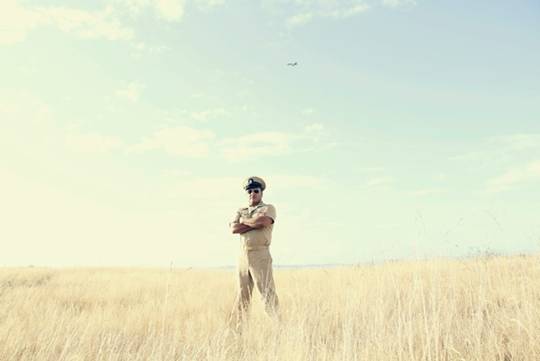 Suddenly, I was part of the intelligence community. I had a hard time adjusting. I didn't know what I was doing and I felt ostracized. It was as if I'd transferred to another branch of the service, it was a whole different community. After the indoctrination process, I got assigned to a division where my supervisors treated me with disdain. I was resented for not knowing a lot of things that I should have. Everybody else had been working in this field for 10 years, and when I showed up with a high rank, but no experience in intelligence, I got hell. I finally couldn't stand it anymore, so I put in a request to go to Iraq. I know that sounds drastic, but I also thought, "What kind of career am I going to have if I don't do something with it?" I didn't want to be one of those people who just hid out in the background while a war was going on.
Going to War
Even though I didn't believe that we should be at war in Iraq, I thought I should participate in it as a dedicated member of the military. Of course, as soon as my request to go to Iraq was approved, I started wondering what I'd gotten myself into. First I was sent off to combat training school, then I learned about my intelligence mission. We were a six-man Cryptologic Support Team. We were sent out to help augment the Army, to help out with their intelligence analysis. I was in Iraq during the time we were turning security back over to the Iraqis, so it wasn't at the height of combat, but I got to see some of the good things and some of the terrible things that we were doing there. I knew that someday I would be sending people to war. I thought it would be best for me to do so from a place of experience. It turned out to be a great learning experience, and serving in a war helped me earn the respect that I needed to be a leader back home.
One day while I was in Iraq, this guy told me that he'd stopped listening to the Black-Eyed Peas because they had a war protest song. I said, "Dude, they're just expressing themselves. Why do you think we're here? We're not here to protect our right to go to war. If you're mad at them for expressing their opinion, you're in the wrong business." All along, I've felt responsible to act as a check and a counterbalance, to ensure that the military culture isn't too narrow-minded or conservative. That's something else I have to offer the military.
After my six-month tour in Iraq, I came back to Texas. When I joined the Navy, this was the last place in the world I wanted to be stationed, but ten years later I was ready to come home. I've been here since 2008. The base was shorthanded when I first got here, and they put me in charge of a division that had no Division Officer and no Division Chief. Officers had been leaving constantly to augment the troops in Iraq and Afghanistan. That's not typical for the Navy, we usually do our job from ships. So I had to act as the Division Officer and Division Chief in a unit that was a mess, with no morale and a terrible work ethic. I didn't have the rank to lead a division yet, but I acted like I was qualified and set out to whip the group into shape. It took a lot of long hours and tough decisions, but eventually our commanding officer, after nine months, asked my division to stand up in an all-hands assembly. At the assembly, he announced that we were the division to aspire to. I was selected Senior Sailor of the Year and was the number-one Lead Petty Officer. That's the year I was selected for promotion to Chief. It's a board selection process, they look for sustained superior performance, and I had the record show it. They only made three Chiefs that year, and I was one of them. Of course, this was all before the repeal of 'Don't Ask, Don't Tell.'
On December 18, 2010, the U.S. Senate voted to repeal 'Don't Ask, Don't Tell.' The policy had been the focus of a heated debate for many years. Advocates of repeal argued that it was unfair to force gays and lesbians who wanted to serve their country to have to hide their sexual orientation. Over the years, the policy had resulted in thousands of discharges of qualified service members. The Haas, Jr. Fund and other funders supported research refuting supporters' arguments that open service by gay and lesbian soldiers would have an adverse effect on military readiness and unit cohesion. At the signing ceremony making the repeal official, President Obama stated that he was proud to sign a law that "will strengthen our national security and uphold the ideals that our fighting men and women risk their lives to defend." The repeal did not officially take effect until September 2011, so during most of that year gay and lesbian service members still faced the possibility of discharge.
My biggest fear was that someone was going to figure out that I was gay, and make sure that I didn't make rank and wouldn't be able to put on my anchors.
The Chief's Induction Program was on Whidbey Island in Washington. That's where I went through my six-week training program in 2011, before I was allowed to put on my anchors and become a Navy Chief. It was nerve-wracking for me. The Chief's Mess is like a fraternity, and there's still a good old boy mentality in some parts of it. My biggest fear was that someone was going to figure out that I was gay, and make sure that I didn't make rank and wouldn't be able to put on my anchors.
Days Before Repeal, I Got Pinned
Whidbey Island is a huge Navy base, and there were 70 other inductees and about 300 Chiefs. I didn't know if I was just being paranoid, but based on those numbers alone I knew there would be some homophobia there, so I was really guarded and stressed out. The ceremony for pinning the new Chiefs was on September 16, 2011. Four days after I got pinned, 'Don't Ask, Don't Tell' was repealed. I felt like the universe had given me its blessing.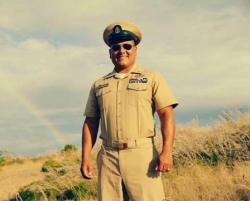 The repeal of 'Don't Ask, Don't Tell' was a huge weight off my shoulders. There was always a shadow before, the concern that someone would find out. Gays were forced to deceive, some people even had sham relationships, they'd make up opposite-sex romances. Some gay sailors are still timid about coming out.
I'm now the leader for the Texas chapter of OutServe, a support group for active-duty gay and lesbian members. Last year, I wanted to go to a conference for gay and lesbian military families, but I didn't want to be charged leave for the day. I believed that it was within my rights to ask for orders to go to the conference, so I put in a request. My supervisor wanted to know why I needed to go and I stumbled around for an answer. He finally said, "Can you just level with me?" He was super-supportive and seemed really genuine about it. I don't know if he knew that I was gay before that conversation. A lot of the men in the military have a hard time accepting that they have a respected colleague who's gay, especially one who's strong-headed and physically intimidating. In the junior ranks, the culture has already changed for the better. It's mostly the older people in the military who are holding on to the resistance against gays.
Standing Up Against Discrimination
As a Chief, I feel that I have an even stronger responsibility to stand up against discrimination. When I got back from my deployment in Iraq, a young sailor reported that he was being singled out by his branch Chief, being discriminated against because he was gay. I found others who confirmed that it was true, and my position as a Chief really came into play. I was able to talk to the leadership. By then everybody knew I was gay, and I'm sure that had an influence on their decision; the gay sailor was reassigned to another division for a fresh start.
From now on, supervisors will know that one of their colleagues is paying attention, and that this kind of behavior will no longer be accepted by the upper echelon. Now I can say, "I'm asking these questions because this means something to me. If there's discrimination here, I want to know about it." I couldn't say that before the repeal, but now I can. When I introduce myself to a division, I say, "One of my pet peeves is bigotry. I don't stand for discrimination. If you feel that you're being discriminated against because of your race or religion or sex or your sexual orientation, I want to know about it."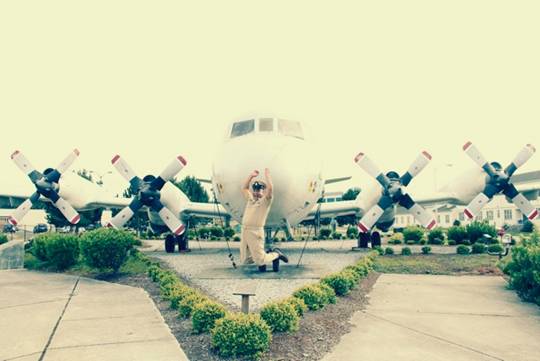 I've still got plenty of time to make Senior Chief, and I'm toying around with the idea of staying on for 30 years and going for Master Chief. Ideally, I'd like to become the Command Master Chief someday—to have the greatest impact on the greatest number of sailors.