Huyen "Kiki" Vo was born in 1991 in a small village in Vietnam. After her mother died in a devastating fire in their home, Kiki and her father and two of her sisters came to the United States for medical care. Their visas expired but they stayed in the country so the girls could continue to get the care they needed while pursuing an education. In 2012, Kiki applied for temporary work authorization and deferral of deportation under President Obama's Deferred Action for Childhood Arrivals (DACA) program. She is waiting along with millions of others for a long-term, permanent fix to the United States' deeply flawed immigration system.
A Quiet Childhood in Rural Vietnam
In our village, there was no electricity, no asphalt roads—just little farms. Everyone in the village knew each other and everybody grew their own crops. We had about two acres of land and my dad grew coffee beans and pepper trees and some fruits. He sold some of the coffee and peppers to make income, but other than that we just grew vegetables and animals to eat for ourselves. It was a very calm lifestyle. You'd wake up when the sun rose in the morning and you went to bed when the sun set. We would wake up early and get float-right to work. I have four younger sisters and my mom had a lot of work taking care of us.
We didn't go to a real school, it was just this shack up the street made out of banana leaves. There weren't any credentialed teachers, just someone from the village who knew how to read. Most of the time my dad was the one who taught us. He was very into making sure that we had an education, even though he only went to seventh grade. My dad was trying to save money so that we could all go to high school in Vung Tau, the closest city to our village.
A Devastating Fire
Being the oldest, I helped out with my sisters, but I was also very mischievous.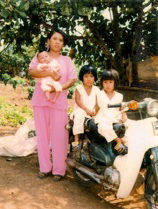 My mom had a shop where she sold homemade candies to the neighborhood kids to make extra money, a little hut out in front of our house. One night, I was studying with my next youngest sister by the light of a kerosene lamp as my dad was taking a nap. I said, "I don't think Mom is in the shop, let's go get some candy." On the way, we ran into our other sister. They both followed me and we were surprised to find that my mom was right at the door of the candy shop, pouring gasoline into a small bottle to put it into our motorcycle, our only transportation. My younger sister bent down next to her with the kerosene lamp to see what she was doing and when my mother looked up, the whole thing exploded. The flame of the kerosene lamp caught the fumes of the gas.
My sisters and I got so scared we ran inside to the far corner of the candy shop, which only had one door and no windows. The fire was right outside the door and there was no way out except through that door. My mom said, "Get out of there! Get out!" But we were too scared, we didn't want to leave. Some neighbors heard my mother screaming, "Fire!" People usually think of putting fire out with water, so the neighbors threw tons of water into the house. But the water made the flames expand more—they should have put the fire out with a blanket. The fire exploded, it got huge. My mom turned her back to the fire and was trying to cover us under her chest. Her back was burning really bad as she hovered over us.
My mom turned her back to the fire and was trying to cover us under her chest... The last thing I remember is when my dad covered himself up with a blanket, came into the hut, and carried us all out.
The last thing I remember is when my dad covered himself up with a blanket, came into the hut, and carried us all out. There were no ambulances that went straight to our village, so everybody in the village came around to help. We rode on the backs of their motorcycles into the next district and got into an ambulance from there. They say the wind on our skin made our burns even worse than they might have been.
Losing A Home, A Mother
All of the money we had went to treat my sisters and me, not my mother. She died in the hospital, but she didn't die because of her burns, she died because my father couldn't afford to pay any more. He still owed the hospital $200 for our treatment, so they cut off my mother's oxygen tank and when she died, they wouldn't even let my dad take her body home. There was one doctor in the hospital who empathized with my dad and he let us take my mom's body out from the backdoor of the hospital.
After the hospital released us, we had nothing left. All of our money went to the hospital and my mother's funeral. My dad couldn't work because he had to take care of us. I don't know how he managed. We even begged on the street. We went to this city where there were tourist attractions and we all sat together on the street begging for money so that we could eat. The sightseers would see our burns and give us money.
Someone saw us on the streets and our story was told in a Vietnamese newspaper—I still have the original clipping. This lady from the United States was in Vietnam touring and she read the newspaper story. She worked for a nonprofit that sponsors people to come to the United States for medical treatments. That's how we ended up coming here for medical treatments at the Shriners Hospital in Boston. I came with only my two burnt sisters and my father; my other two sisters stayed back in Vietnam with my grandparents.
In Boston, Endless Surgeries
In Boston, we were all continuously having surgeries. We hadn't healed from one surgery and they'd want us to have more. The charity that brought us to Boston just said, "Okay, here's the place you're going to live. Take care of yourself." That was it. We were living in a musty, cold basement, and we barely had enough money to take care of ourselves. It was a horrendous living situation. My dad couldn't work because he didn't have a work visa, just a visitor's visa, and he had to take care of us. We were all sick, cold, and exhausted.
We'd have multiple surgeries and would stay in the hospital for months at a time. The doctors knew about our living situation, so sometimes, even though we were supposed to be released, they'd keep us longer. They wanted us to heal correctly and they knew that at home we were not going to have enough food, we were not going to be warm enough.
I made friends in Boston and I learned English during that time. When we weren't in the hospital, we attended a bilingual education program. I still keep in contact with my fifth grade teacher who really helped me.
In the Middle of Recovery, A Difficult Decision
Sometimes I can't fully comprehend how many changes I've been through, but there's this one picture of my burns that for me signifies how different I am now. The photo was taken right before my first surgeries, two months after I came to the United States. My hands and fingers were all bent, my arm was deformed, bumpy and twisted. Basically, you can imagine the worst possible horrible thing—third-degree burns, down to the bones, tendons twisted. They put metal rods in all of my fingers. To me, it looks like I was an alien. If it were not for the Shriners, I wouldn't be able to write, I wouldn't have use of my fingers.
Our visas expired. My dad panicked—he was afraid that they were going to send us back to Vietnam before we were well enough. We were all in the middle of recovery, not done at all, and they wanted to send us back.
We lived in Boston for two years, then our visas expired. My dad panicked—he was afraid that they were going to send us back to Vietnam before we were well enough. We were all in the middle of recovery, not done at all, and they wanted to send us back. My dad had an uncle in California and there's a Shriners Hospital in Sacramento. I don't know how, but my dad managed to fundraise through the Vietnamese community in Boston for enough money to fly us all to California, to escape deportation and finish our medical treatment. We moved in 2004.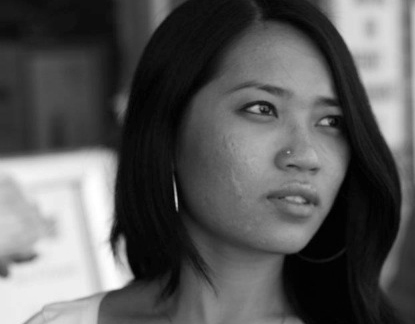 Despite the move to California, Kiki and her father and sisters could not escape their undocumented status, which meant they could not get decent jobs or health insurance or enjoy the other benefits of citizenship, including voting and getting a driver's license. They also faced the constant threat of being deported back to Vietnam. In June 2013, the U.S. Senate passed a bill that would offer a pathway to citizenship for Kiki's family and 11 million other undocumented people in this country who aspire to become U.S. citizens, but the House of Representatives has failed to act on similar legislation. A less comprehensive law, the DREAM Act, would provide a route to citizenship for undocumented children (also known as "Dreamers") who were brought to the United States by their parents. It, too, has been stalled in Congress for many years.
Parents of Dreamers Risk Everything for Their Children's Benefit
My dad hoped that because we came to the United States for medical treatment through a nonprofit organization, maybe we would have a good chance of getting humanitarian status, some kind of provisional status that would allow us to be here. In the meantime, he thought that if I went to college and worked hard, maybe in the future people would know that I'm a good person and they wouldn't want to deport me. If we worked hard, we'd deserve to stay here. My father didn't mind being blamed for things, he didn't mind being the scapegoat. The whole idea of the DREAM Act is that the parents made the decisions to come, their kids didn't. The parents broke the law, not the children. But at the same time, the parents made the decision for our benefit. My dad didn't choose to be here, to be embarrassed, to lose his pride. He'd rather have stayed in our village. What was he going to do, bring us back to Vietnam and beg for a living? He took that chance for us and he didn't get anything out of it for himself.
Depression, Connection, and Loss
My junior and senior years of high school were the worst for me. I was hit hard with depression and I attempted suicide. I felt no love from my father at all, he was so busy working all the time. I had already started having stress-induced seizures before that, the pressure of getting into good colleges was causing me great anxiety. So I purposefully overdosed on some medications I had and that night I had a really horrible seizure. I remember waking up and my dad was crying. In hospital, they asked me, "What happened today?" I was young, so I confessed everything. I stopped wanting to kill myself when I saw my dad cry that night. I could see that he actually loved me and that's all I needed to know.
In the summer after my junior year, we found out that my dad had liver cancer. I knew that there was no way he could be treated; he didn't have health insurance. Soon he got cirrhosis and became jaundiced. He kept telling me that I couldn't call an ambulance because every time he went to the emergency room, he thought they were going to deport him. He had the constant fear that they were going to deport all of us. But when he was in pain, I didn't listen to him—I'd call and the ambulance would bring my dad to the emergency room where he could get some pain treatment. I was with him every step of the way and that was the first time that I really bonded with my dad. Before that, we had lots of miscommunications. I felt really bad because it was such a last-minute connection and we both knew that he was going to die.
He kept telling me that I couldn't call an ambulance because…he thought they were going to deport him.
Ever since we came to California I'd been attending a burn camp. During my first year there, I met a lady who told me that if anything bad ever happened, she would take care of us. Five years later, when my dad was sick, she was there for us. She lived in the Bay Area and after work she'd drive all the way to Sacramento to be with us.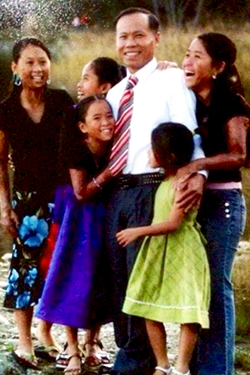 New Loss, New Hope
My dad needed a liver transplant, that's the only way he could have lived, but there was no way he could get a transplant without insurance and documentation. He kept getting sicker and finally reached a point where he couldn't stay at home anymore. On the night he was sent to a nursing home, I finally saw him break down. He cried and held the hand of the lady who was caring for us. He made her promise that she would continue to take care of us. She promised, and ever since then she's taken care of my sisters. In fact, because she became their legal guardian, they were able to get their documentation. The ironic part is that because I was already 18 when my dad died, I fell out of the loop. I could not be legally sponsored by her because she couldn't be my guardian. I was too old. And that's how I became a Dreamer.
Kiki's father died when she was 18. She and her sisters did well in high school and have since enrolled in three different University of California schools. Under the California Dream Act passed in 2011, Kiki and other undocumented students in the state are eligible for private college scholarships and state-supported financial aid. Kiki is attending U.C. Berkeley and hopes to stay in the United States to build a career and a successful life helping others. But the lack of national legislation to fix America's broken immigration system means that Kiki's life—and the lives of millions of other aspiring Americans—hang in the balance.
Finding A Silver Lining
Berkeley has been hard, academic-wise, but I have had really great support from the beginning. It wasn't like high school—people don't judge you by what you look like, but by who you are. I'm a social welfare major. All of the Shriners Hospitals, where I was treated, are free to children. They gave me another chance to live my life and now my biggest goal is to be a clinical social worker and work there some day. I want to give back to them for what they have given me. I've often visited and talked to their clinical social worker—she says I should come back one day and take over her job. I'll need to get a Ph.D. for that position, but for now I just want to find a job at a nonprofit that helps people and then apply for grad school in a year or two after I graduate.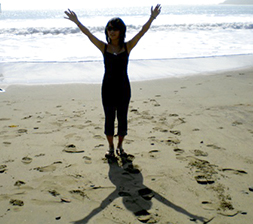 One of my sisters is at U.C. Davis now, and my other sister just graduated from high school and got into U.C. Santa Cruz. So my dad's dream is coming true and that means a lot to me. My father set a really high standard for all of us and because I'm the oldest child, I feel that I need to set a high pedestal, too. My sisters are following right behind me and I've always felt that I have to be strong for them. I try to make sure that I'm always growing. I believe that out of every bad thing there comes good, and now I have to make sure that I take advantage of every opportunity that comes my way.