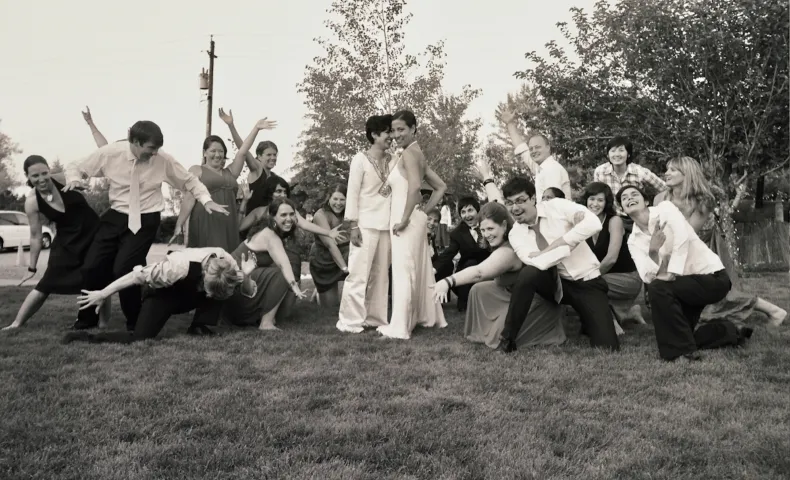 Sara & Paloma
Sara Razavi, 33, was born in Iran and came to the United States at age 10. She grew up in Orange County, California. Paloma Wu, 30, grew up in Reno, Nevada; her father is Taiwanese and her mother's family is from Georgia and New Jersey. The two met in San Francisco in 2005. Today, Sara is in business school at University of San Francisco, and Paloma is an Associate for a global law firm. Both Sara and Paloma were open with their families from an early age about the fact that they were gay. The couple was married in 2008; they live together in the Mission District of San Francisco.
Ok, But What About Grandkids?
PALOMA: Sara's family was totally open to her dressing in her brother's clothes while her twin sister dressed up in ruffled dresses. They were living in Pakistan after leaving Iran. They were waiting to get visas to the United States—and it was only her mom, aunt, and sister.
SARA: There were no men in the house at all.
PALOMA: With no men around, it was advantageous to have somebody in the house who looked to outsiders like a boy.
SARA: Strangers assumed I was a boy and my family allowed the misunderstandings to carry on. Also, nontraditional dressers run in our family history. My grandmother never wore dresses either—she always wore kurta pajamas. Our family was chill about what you looked like, which is unlike a lot of Iranian families—at least the Iranian families I knew growing up in north Orange County.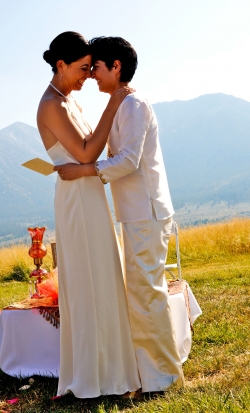 PALOMA: All my dad wanted to know when I told him I was gay was, "What about grandkids?" He's Taiwanese, and he cares about the lineage. I assured him that I planned to have children. That really is something we want. My dad is somewhat disconnected from his Taiwanese family, but not from his culture. A lot of things I thought were Asian turned out to be just him, and a lot of things I thought were just him are very Asian. Sara's family already knew that she was gay and about our life together.
Sara and Paloma got married shortly after the California Supreme Court ruled in 2008 that the state's ban on marriage by same-sex couples violated the state constitution. Their marriage occurred during the short period of time between the state Supreme Court ruling and the approval by California voters of Proposition 8, the November 2008 ballot initiative that once again limited the right to marry to heterosexual couples.
Coming out in Farsi
PALOMA: Both of our families were wonderful in helping us plan and put on the wedding events, but Sara told her grandpa all these things only months before the big ceremony. Her mother had said, "Let me be the one to tell him." But her mother did not and I was getting really nervous. "We're getting married very soon!" I said. "Your grandpa is supposed to be at the wedding!" We wanted to ask him to marry us, but he still didn't even know about us. So in one fell swoop, Sara comes out to him. He responds by saying that nature made a doe and a buck—not promising. The next day she asked him if he would marry us. We planned to have one person from each side of our family marry us, and her grandfather has officiated many Zoroastrian weddings. Having such little time to process, her grandfather said no. But he did agree to be there.
SARA: I think one of the problems in telling my grandpa was that I didn't know how to say it in Farsi.
Farsi is not gendered. So what I said was that I really love Paloma and I want her to be my share-the-same-roofer, which clearly meant that I wanted her as my marriage partner.
PALOMA: How did you say it?
SARA: I used the word hamsar, which means you share the same roof. You can say wife or husband, but a lot of people like to say, "The person I share a roof with." Farsi is not gendered. So what I said was that I really love Paloma and I want her to be my share-the-same-roofer, which clearly meant that I wanted her as my marriage partner.
PALOMA: Before the wedding ceremony, her grandfather ended up giving lots of advice to my aunt, who was the person on my side who officiated. Then in the middle of one part of the ceremony, when one of our friends was reading a poem in Farsi, her grandfather jumped up.
SARA: And chimed in!
PALOMA: And started reciting the poem with her!
SARA: Our wedding was great. I had wanted to move toward marriage early on, soon after I met Paloma.
PALOMA: Sara wanted to move in and get married and do the whole thing much more quickly than I did. I hemmed and hawed for four years, partly because of our differences. She was not the partner that I had pictured. For instance, she doesn't like pets and I love animals—if I weren't going to be a lawyer, I'd like to be a veterinarian. So I thought I needed to be with somebody who loves animals and she doesn't like them at all.
SARA: I don't hate them.
PALOMA: I love to be outdoors and Sara doesn't. I love the beach, she doesn't. There are many major differences between us. I know it sounds cheesy, but I think that what it comes down to is that although we don't have a lot in common, we have the same values. You have this sense that you can only be nurtured by somebody who feels the same way about the world as you do. But in truth, you can be nurtured by somebody who decides to nurture you. We have different tastes, but we share the same values.
SARA: Believe me, Match.com would not have set us together.
In the months after the state Supreme Court ruling and before voters approved Prop. 8, an estimated 18,000 same-sex couples were married in California. The state Supreme Court later ruled that all marriages that occurred during this time were valid under state law.
Picturing Happiness
PALOMA: The imagery of gay couples getting married made the idea of getting married to Sara come alive for me. I needed to picture myself happy in marriage, so I had to picture happy same-sex couples. I put a pretend ring on and imagined being married for a day. I called people whose marriages I respected. I wanted role models, I needed inspiration.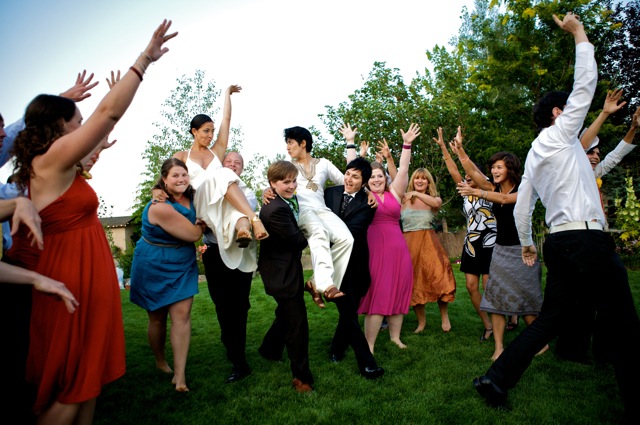 SARA: And her parents are lovely and their marriage lasted decades, but theirs was not quite the marriage relationship she hoped to have.
PALOMA: For Sara, the timing of the legal marriage stuff didn't affect our big wedding at all. In fact, she had wanted to get married for a long time, and she felt like the legal part of it was actually something that could go wrong.
SARA: I remember telling you that we should wait five years for the legal part to get sorted out.
PALOMA: Yeah, Sara saw it like a new electric car coming out—don't buy it until all the glitches are out.
The Legal Benefits of Marriage
SARA: When the whole marriage thing was happening in 2008, a majority of our community had decided not to get married. Some of them are Iranian lesbians a generation or two older than us. I felt that if they were not getting married, and they've got their lives together, then why are we rushing into this?
PALOMA: Sara got a book. It was really cute. She said, "Fine, I'll do my research."
SARA: It was called something like The Legal Benefits of Marriage.
PALOMA: After she read the whole thing from cover to cover, she said, "OK, let's do it." We were hoping to do the legal marriage and the ceremony at the same time, but in the last week of October, the polls were crazy. I talked to my lawyer friends about the chances that our marriage would get taken away if Prop. 8 passed, and the consensus was that constitutional amendments are not normally retroactive. So I reported back to Sara and we decided to do the legal thing before it was too late. Sara was super-nervous beforehand. She was …
SARA: Hyperventilating.
PALOMA: Which is so unlike her, because she's just cool as a cucumber.
The Civil and The Communal
SARA: I don't think either of us expected the civil ceremony to resonate so much. I really expected the big wedding to be the one that made us feel like we were married. I thought the legal ceremony would just be a bump in the road.
PALOMA: The legal marriage was nine months before our big wedding. But after the legal ceremony, I thought, "I'm married!" I felt married. To me, the two events meant two different things. The civil ceremony was just between us.
It felt to me like a real act of illumination between Sara and me. And then in our big wedding I felt like it was an illumination of our community.
SARA: Us and the government.
PALOMA: It felt to me like a real act of illumination between Sara and me. And then in our big wedding I felt like it was an illumination of our community. I think everybody should do a civil ceremony beforehand, then the big wedding can be all about the family and friends.
SARA: We got a little push back. Remember? The day the court said we could marry, before Prop. 8 passed, we were going to hang out with our Iranian community at a restaurant. Paloma came in and she was so excited.
PALOMA: And these Iranian lesbians who are a generation ahead of us …
SARA: They gave her this whole spiel on the patriarchy—they totally rained on her parade. Of course, they all ended up coming to our wedding and having a blast, so all's well.
Traditional Iranian, with a Few Twists
PALOMA: We had our big wedding in Gardnerville, Nevada, up in a valley—in the high desert—on a ranch.
SARA: Iranian weddings are traditionally very private, in someone's house. The reception is the big event. That confused my family. I'd refer to the ceremony, and they'd say, "What are you doing? Why does everyone need to see your ceremony?"
PALOMA: It was a big procession—I had five or six bridesmaids, plus my immediate family. Sara had her whole extended family. We paired them up and everybody walked in as a friend drummed down the aisle. They each peeled off to the sides, and we sat down behind the wedding table.
SARA: A traditional Iranian wedding table.
PALOMA: Then my aunt spoke about me as a little kid, told the story of my growing up. And she spoke about Sara too. My aunt is Buddhist, but my mother's side is Methodist and three generations of them have all been ministers. My aunt wrapped the event all up in a big Buddhist/Christian/Zoroastrian blessing. And then Sara's uncle spoke on behalf of her family.
SARA: My friend, Torange, read a poem in Farsi.
PALOMA: It was a traditional Iranian ceremony. We sat at the wedding table, and the women held a big shawl over our heads.
SARA: And the women, and then other people, rubbed two enormous cones of sugar over the shawl, showering sweetness on the couple's heads. But traditionally it's actually kind of mean, too, because the only people who can rub the cones are happily married women—no divorcees or widows.
PALOMA: But we didn't do it that way. Everybody could participate. The sugar fell onto the shawl, which was perforated, and the sugar rained down on us!
The Bride Has Gone to Pick Flowers. She's Not Here.
SARA: Each family arranges the marriage table in their own taste—ours was a gold and red theme. You have to have two sugar cones. And you have to have sweets. You have to have eggs, and all these particular things. A needle and thread to sew up your in-laws' lips …
PALOMA: Which we did not have on the table.
SARA: We repeated the same vows.
PALOMA: We did the traditional Iranian call-and-response thing. After I said my vows, I said to Sara, "Will you say your vows to me? Will you marry me?" Sara was supposed to pretend that she was being shy.
SARA: It's an Islamic thing that's also been made into an Iranian thing. In Islam things are not valid until they are confirmed three times—divorce, marriage, everything. Then it's written down and it's done. In the Iranian version, the bride is shy and she mumbles. And the family says this funny stuff. We put a guide in our program so that our friends would know how to participate.
PALOMA: So that people would know what to do.
SARA: They say things like, "The bride has gone to go pick flowers. She's not here."
PALOMA: "She's gone to read a book, she's not here." Then the third time you get it out of her and she finally says, "OK," and then she says her vows. And then everybody cheers! Excitement galore. Sara was cracking up.
Laughter, Gravity, and Bollywood Dancing
SARA: What we really loved, in retrospect, was laughing a lot. But there were somber moments too.
PALOMA: My friend read from the Massachusetts court case.*
SARA: Which deeply resonated with a lot of people.
PALOMA: She read this little excerpt about what an amazing life decision it is to marry another human being. And the last line is about why marriage is one of life's greatest acts of self-definition. A few straight friends told me later that they'd never thought of marriage as having that gravity, and now they do.
SARA: We placed pictures of our marriage license on a table you passed as you came into the pasture, where people could pick up their bottles of water and umbrellas.
PALOMA: You know it's a gay wedding if they have their freaking marriage certificate on display.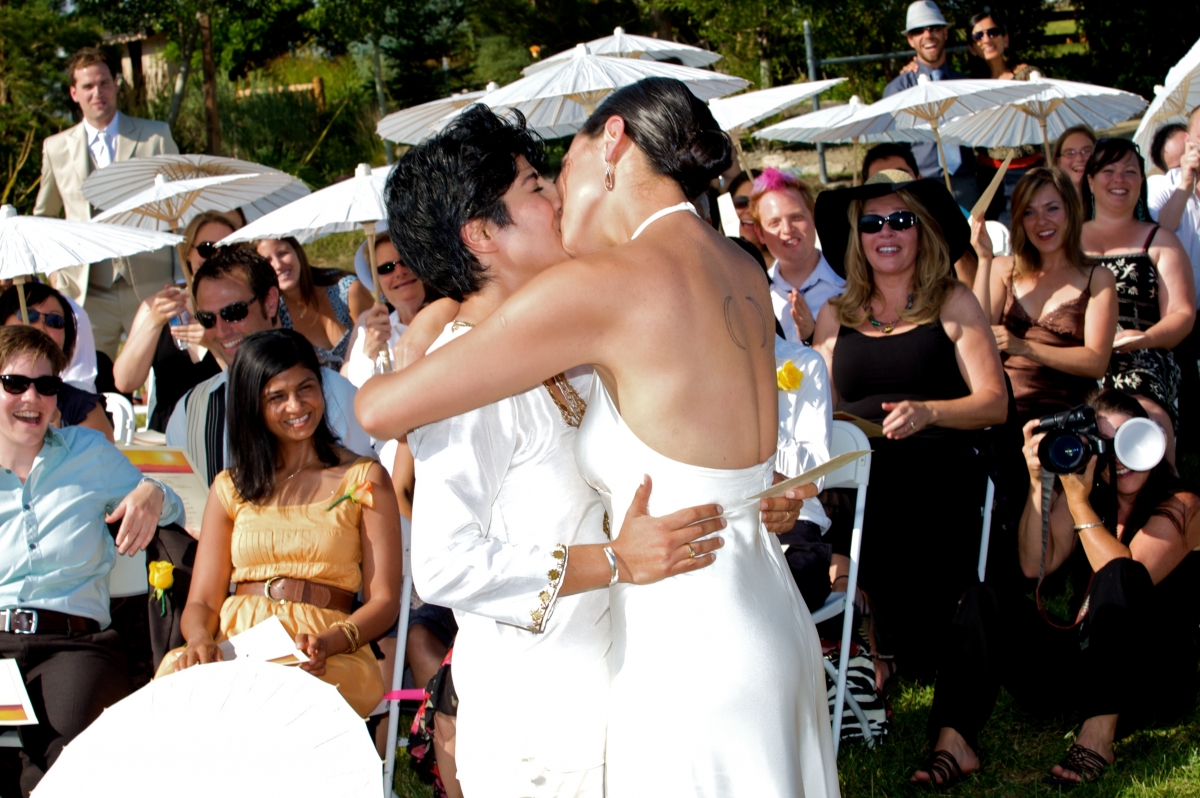 SARA: We had talked about the wedding kiss, because I don't do stuff like that in front of my family, nor had I ever seen any Iranian couple do that in front of any family.
PALOMA: But I gave her the biggest kiss ever. Sara's grandpa was throwing candy at us. Then he tried to show us how to put the candles out on the wedding table …
SARA: With the sugar candy.
PALOMA: Then we had a choreographed Bollywood dance.
SARA: We moved from the pasture into the backyard of the ranch, where the tent was.
PALOMA: But the Bollywood dance …
SARA: My fantasy was that it would spring up out of nowhere. We had actually choreographed it with 20 friends: 10 on my side, 10 on Paloma's side. At the end of my very close friend's wedding toast, we all jumped up.
PALOMA: We had created instructional PDFs and DVDs. We all learned the moves individually and then rehearsed together once, on the night before the wedding. It was a three-minute dance.
SARA: All I ever wanted for my wedding was a Bollywood dance number.
PALOMA: That was the only vision she had. I had a vision of my dress, and I had a vision of this and that, all kinds of details, but Sara said, "I don't care about all that. I just want a Bollywood dance. That's all I want." It was very well choreographed. Beautiful. We had this, in some ways, extravagant wedding—but we also had the civil ceremony with cheap pizza and beer afterward and friends hanging out. Both events were meaningful in very different ways. They were the important steps along the way. Being able to call each other "wives" makes things so much more clear. My dad went to Harvard and I remember asking him once, "What did it mean for you to come to school in America?" He said, "It just means you have less to explain." And that's what I feel about being married. You say that you're married, and everybody gets it.
What did it mean for you to come to school in America?" He said, "It just means you have less to explain." And that's what I feel about being married. You say that you're married, and everybody gets it.
The Haas, Jr. Fund supported marriage equality since 2001, with the goal of ensuring that more people could enjoy the same rights and opportunities that Paloma and Sara now enjoy because of their ability to say they are married.
*Goodridge v. Dept. of Public Health was a landmark state appellate court case dealing with same-sex marriage in Massachusetts. The November 18, 2003, decision was the first by a U.S. state's highest court to find that same-sex couples had the right to marry.
This story is excerpted and adapted from the book, Lawfully Wedded Wives, edited by Nona Caspers and Joell Hallowell. For more information, see herecomethebridesbook.com. Photography by Donna Reid.