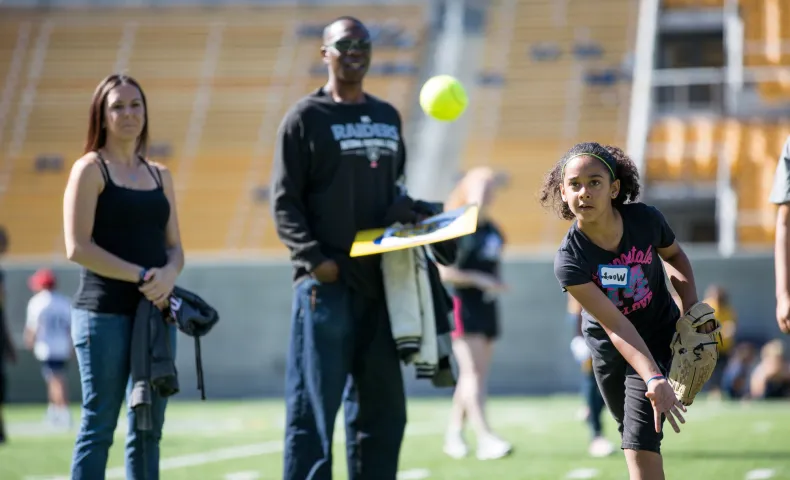 Honoring Gamechangers
Ask a group of people about the adults who influenced their lives when they were younger, and you're sure to hear a lot of different answers. Moms and Dads. Grandparents. Aunts and uncles. Teachers. For many of us, there's another group that makes the top of the list: sports coaches.
On February 6th in San Francisco, the community came together to honor the enormous difference coaches can make in shaping young people's futures, especially young people whose horizons may be limited because of their zip code or family resources. The event was the Coaching Corps Game Changer Awards.
The event featured talks and presentations by many sports legends who continue to give back to the community, from Major League Baseball coaches Tim Flannery, Chip Hale, Bruce Bochy and Bob Melvin to sporting greats Jerry West, Al Attles and Fred Biletnikoff. To me, the highlight of the evening was hearing from a less well-known star: 22-year-old volunteer coach Andrea "Dré" Quinones-Rivera.
Honored as Coaching Corps' Volunteer Coach of the Year, Coach Dré launched the U.C. Santa Cruz Chapter of Coaching Corps as an undergraduate student, bringing the joy and achievement of sports to countless young people whose families might not otherwise be able to afford it. I had the pleasure of meeting Dré once before and was so impressed that I invited her to talk to the Haas, Jr. Fund's trustees about the powerful impact of coaching. Now a medical student at U.C. San Francisco, Dré has a firsthand understanding of how a good coach can bring hope and direction to a young person's life—because she was a Coaching Corps kid herself.
As Dré told me, "Playing sports has done so much for me in terms of my development and my confidence. I definitely wouldn't be where I am today without an incredible coach and Coaching Corps. I'm so glad I have the chance to pass that on."
Here's a big high-five to Coach Dré and all the other volunteer coaches who are part of the Coaching Corps team and are leveling the playing field for all kids. Find out more about Coaching Corps here.
---
Sylvia Yee is a founder of Coaching Corps and Vice President of the Evelyn and Walter Haas, Jr. Fund. She is also the mother of two young men who benefited from the power of playing sports under the mentoring of volunteer coaches.