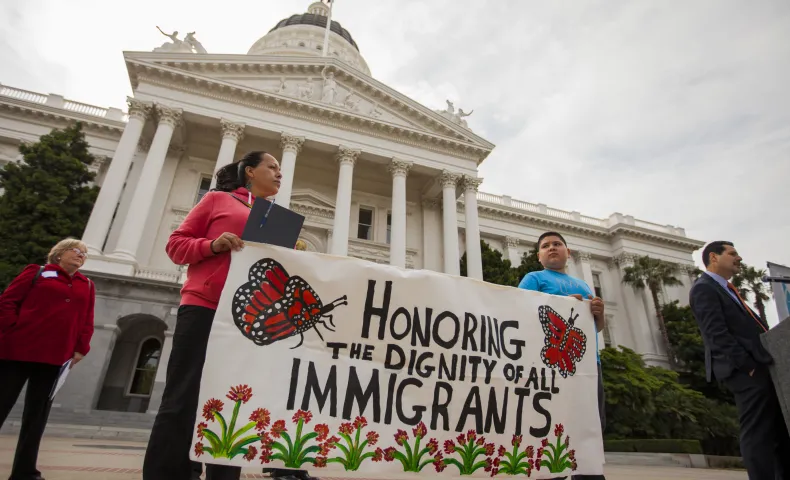 Celebrating California's Path to Inclusion
In 1994, California voters approved one of the harshest anti-immigrant laws in U.S. history, Proposition 187. Today, as we mark the 20th annual Immigrant Day in Sacramento, our state is recognized as having the strongest pro-immigrant laws in the country.
California's transformation shows that progress is possible even in states where anti-immigrant anger and discrimination are prevalent, such as modern day Arizona, Alabama or Georgia. Here, in the most diverse state in the nation, it took many years of hard work to turn the tide and help more people see that immigrants are not a problem but an asset for our communities and our economy.
A Dark Moment
When California voters approved Prop. 187, it was a dark time for immigrants in California. The proposal would have barred undocumented immigrants from attending public schools and receiving non-emergency health care, while also requiring that local police act as immigration agents for the federal government.
Fortunately, a federal district court struck down Prop. 187. But it was still a shock to many that almost six in 10 voters across the state had voted in favor of the ballot measure. At the time, it was hard to imagine that California could turn the page on this painful chapter in our state's history.
Despite rapid changes in the state's population, it was only in the last decade that the immigrant movement finally gained the strength and the depth required to achieve lasting progress against discrimination and inequality.
Statewide advocacy groups began to align their policy agendas and make a concerted push for action in Sacramento by combining sophisticated research and analysis, strategic communications, public education and organizing. And new immigrant rights coalitions like California Immigrant Youth Justice Alliance (CIYJA), Inland Coalition for Immigrant Justice and the San Diego Immigrant Rights Consortium formed to lift up the diversity of voices of immigrant communities across the state and add their potent grassroots power.
Resilience, Savvy and Results
Today, the results of all of this hard work are plain to see. First there was the TRUST Act, which limits the ability of local jails to hold undocumented immigrants so they could eventually be deported; this law has since been replicated in 360 jurisdictions across the country. Then came legislation allowing paid overtime for domestic workers, and providing driver's licenses for undocumented immigrants. California also was the first state to allow low-income undocumented children to be eligible for free or low-cost health insurance under the state's Medicaid program. And last but not least, California approved $15 million in state funding to help Californians gain citizenship and take advantage of Deferred Action for Childhood Arrivals (DACA), the federal policy providing Dreamers with temporary work permits and deportation relief.
These types of policies level the playing field and offer opportunity individuals and families, and they also benefit entire communities and states. Consider that an undocumented high school student in Arizona today cannot qualify for in-state tuition, in-state financial aid or healthcare coverage. She can't even get a driver's license. But if she lives in California, she can do all of these things. Thanks to recently passed legislation, she can even be admitted to the California Bar Association after attending law school and passing the bar exam. Here in California, we know that we all gain by offering immigrants a fair shot to develop their talents and contribute to the vitality of California..
The motto for this year's Immigrant Day is "20 Years of Resilience." It's a fitting theme given the turnaround that's happened in California over the last two decades. Yes, we still have a lot of work to do to create real opportunity for all Californians, including the millions of immigrants who live here. But we've made great strides—and we believe time will show that California is ahead of history in valuing diversity and inclusion.
The Haas, Jr. Fund, as a private foundation, does not support lobbying, and is not a sponsor of Immigrant Day.