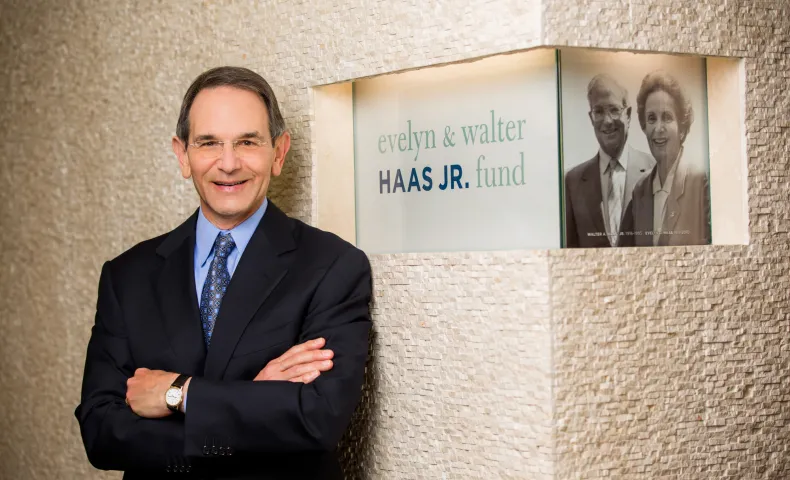 Ira Hirschfield to Step Down as President
Ira S. Hirschfield, President and Trustee of the Evelyn and Walter Haas, Jr. Fund in San Francisco, will be stepping down at the end of 2016. During his 28 years of visionary and highly effective leadership, the Haas, Jr. Fund has made grants totaling more than $500 million to organizations and initiatives that share the Fund's commitment to advancing rights and creating opportunities for all people.
A Passion for Philanthropy
"Ira has been a constant source of inspiration for our family, daring us to dream and challenging us to push the boundaries of what philanthropy can help people to accomplish," said Walter J. Haas, who chairs the Fund's board of trustees. "Because of Ira's bold leadership, the Haas, Jr. Fund and our partners have achieved results that many people initially thought weren't possible."
"From the transformation of Crissy Field in San Francisco to the national campaign for marriage equality," Mr. Haas continued, "Mr. Hirschfield has played a key leadership role in major local, statewide and national initiatives that reflect the Fund's core values of fairness, equality and opportunity."
"Working with the Haas Jr. Fund has allowed me to express my passion for the remarkable difference that philanthropy can make in people's lives and in the communities in which we live," Mr. Hirschfield said. "Every day, it's been a privilege to be inspired by the extraordinary trustee and staff of the Haas, Jr. Fund, and the many partners and community leaders with whom we do our work."
"From relentlessly working to open the doors of opportunity, to ending discriminatory behaviors, to creating places of joy and celebration—all of this is possible and can be catalyzed and nurtured by philanthropy," Mr. Hirschfield added.
Igniting Others to Dare to Dream
The following are some of the major initiatives and projects that the Haas, Jr. Fund has launched or supported under Mr. Hirschfield's leadership:
Gay and Lesbian Rights. When the Haas, Jr. Fund first invested in the drive for marriage equality in 2001, gay and lesbian couples were denied the freedom to marry in every state. Over the following 14 years, the Fund provided critical support to a movement that achieved marriage equality from coast to coast.
 
Immigrant Rights. The Haas, Jr. Fund has supported immigrant rights groups in California that advance solutions which have made the state a model for smart and compassionate immigration reform. For example, California has a state law allowing 605,000 undocumented immigrants to obtain driver's licenses.
 
Crissy Field and the Presidio. The Haas, Jr. Fund played a leading role in supporting the transformation of San Francisco's Crissy Field from a former military base into a 100-acre national park that now attracts 1 million visitors each year. The Fund also supported the revitalization of the Presidio, with extensive trails and San Francisco's only overnight campground. Over a period of more than 25 years, Mr. Hirschfield led the Fund's work with the Golden Gate National Parks Conservancy, the National Park Service and the Presidio Trust to ensure our national parks belong to everyone.
 
Haas Leadership Initiative. The Haas, Jr. Fund launched the Haas Leadership Initiative in 2005 and has become a major investor in efforts to build the skills and abilities of nonprofit and social movement leaders.
 
The Chronicle Season of Sharing Fund. In 1986, Walter A. Haas, Jr. and Mr. Hirschfield partnered with the San Francisco Chronicle to create the Chronicle Season of Sharing Fund. Over nearly three decades, Mr. Hirschfield has continued to play a leadership role in Season of Sharing as the annual campaign became a Bay Area institution, distributing more than $105 million to low-income residents in need.
 
Coaching Corps. The Fund helped create Coaching Corps, a nonprofit that uses the power of sports to level the playing field for children in underserved communities.
 
Education Equity. The Haas, Jr. Fund is partnering with the San Francisco Unified School District to close the opportunity gap for children from low-income areas and communities of color.
 
U.C. Berkeley. With lead support from the Haas, Jr. Fund in 2010, longtime Fund grantee U.C. Berkeley created the Initiative for Equity, Inclusion and Diversity, a sweeping effort to make equity and inclusion a priority in every corner of the Cal campus. The Haas, Jr. Fund also has supported scholarships and services for undocumented "Dreamer" students at Cal.
Mr. Hirschfield will remain as President and Trustee of the Haas, Jr. Fund until the end of December 2016. After stepping down from his current role and responsibilities, he will hold the honorary title of President Emeritus of the Fund. Additionally, Mr. Hirschfield will continue working on select legacy initiatives, directing the Fund's financial investments, and pursuing his lifelong efforts to improve and strengthen the field of philanthropy.
Upon learning of Mr. Hirschfield's plans, the Fund commenced a careful process of transition planning. The Fund will be hiring a search firm and launching a nationwide search for a new leader in the next several months.
Reflecting on Ira Hirschfield's Leadership
In his 28 years leading the Haas, Jr. Fund, Ira Hirschfield has worked with countless leaders to advance rights and create opportunities for all people. Several of those leaders recently offered their reflections on his leadership:
"Ira is a visionary leader with a deep commitment serving the full breadth of our community. His impact on the mission and accomplishments of the Parks Conservancy have been truly transformative—beginning with his role as a leading force in supporting us to dream big about transforming Crissy Field into a special place for the entire community. From the start, he and the Haas, Jr. Fund partnered with us to ensure that diverse community voices were heard, and that Crissy would be accessible and open for everyone—a place where people can connect to their community, to nature and to each other. Ira's vision has touched our community, our region and our nation in so many lasting and powerful ways advancing a more equitable society with equal rights for all."

Greg Moore, President and CEO, Golden Gate National Parks Conservancy
"Watching Ira's work in philanthropy over the years has given me an up-close look at how he ignites everyone around him to think bigger. He is a powerful advocate for bold and ambitious philanthropy, and for an approach to grantmaking that puts the power of people at its core and supports them to realize their hopes and dreams."

Sandra Hernandez, President and CEO, California HealthCare Foundation
"Ira Hirschfield's leadership, his vision and his passion for the Bay Area community have been absolutely essential to the success of the Chronicle Season of Sharing Fund, which has helped tens of thousands of Bay Area residents facing a life crisis such as keeping a roof over their heads and food on the table. Ever since Walter Haas, Jr. and Ira approached the Chronicle with the idea for this annual campaign in the 1980s, Ira has never stopped. He is an inspiring, tenacious and thoughtful partner in building Season of Sharing into one of the most successful newspaper campaigns of its kind in the country."

Jeffrey Johnson, Publisher, San Francisco Chronicle
"At a time when most funders and even many leaders in the LGBT movement believed that winning the freedom to marry would never be possible, Ira Hirschfield and the Haas, Jr. Fund stepped up and said, 'We're in.' They made a big bet on marriage, and it's a bet that paid off for gay and transgender people, our loved ones, and the entire country. Ira and the Fund's trustees and staff were true and indispensable partners all along the way, standing with us through the many ups and downs and helping us pull together the talent, buy-in, expertise, allies, and, yes, funding needed to go the distance. Without Haas, Jr., without Ira Hirschfield, we simply would not have reached the epic triumph we can now celebrate and build on today."

Evan Wolfson, Founder and President, Freedom to Marry
"The Haas family's love and support for U.C. Berkeley are legendary. Through Ira's leadership and vision, the Haas, Jr. Fund has become a crucial and strategic partner in supporting the University in its mission to achieve both access and excellence. Ira deeply understands that the fight for equity and inclusion has been a battle for the very soul of this great public research university. Not only has Ira brought awareness and resources to help expand access, opportunity and services to undocumented students, but the Fund's pioneering support has helped bring other like-minded funders to the table."

Robert Birgeneau, Chancellor Emeritus, U.C. Berkeley
"Ira Hirschfield was a critical early supporter of our work to lift up the prospects and aspirations of the people of the Tenderloin. At a time when our neighborhood was facing immense challenges, Ira and the Haas, Jr. Fund took a gamble on us and provided the critical support we needed to build and strengthen community and provide a real leg up for families in need."

Midge Wilson, Founder and Executive Director, Bay Area Women's and Children's Center
---
About the Evelyn and Walter Haas, Jr. Fund
Based in San Francisco, the Evelyn and Walter Haas, Jr. Fund works in partnership to build a just and compassionate society where all people have the opportunity to live, work and raise their families with dignity. The Fund invests in five key areas of focus: immigrant rights; gay and lesbian rights; education equity; the Haas Leadership Initiative; and community partnerships and initiatives. Since it was established by Evelyn and Walter Haas, Jr. in 1953, the Fund has made $553 million in grants.