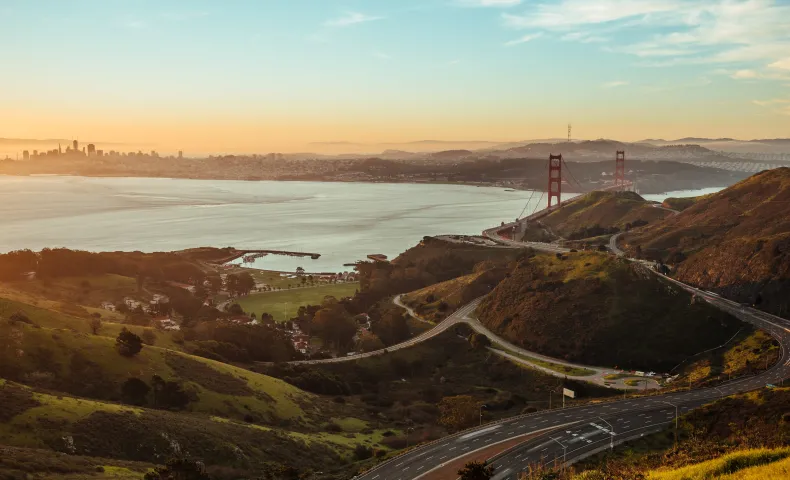 Reflecting on Our Recent Grantee Perception Survey
At the Evelyn and Walter Haas, Jr. Fund, we strive for our work—both what we do and how we do it—to always reflect the insights of our community partners. That's why we commissioned the Center for Effective Philanthropy (CEP) to conduct a survey of the Fund's grantee partners. This is the fifth time we have requested a Grantee Perception Report, and each time we have found them enormously helpful in gauging how we are doing and ways we can be better.    
This year's survey—conducted in February and March 2023—came at a time of transition for the Haas, Jr. Fund. We were in the midst of winding down our longstanding LGBT Equality program and shaping the contours of new programs on College Success and Democracy. We have also been developing new issue areas with a bolder commitment to equity and inclusion, so we had a large percentage of first-time grantee partners.  
Despite this time of change and amid the ongoing pandemic, we were pleased to see a solid 67% response rate and appreciate the candid and constructive feedback from our partners in the field.  
What We Learned from the Survey and How We're Responding
The following are some highlights from the survey in four key areas, along with reflections on how we're responding to these findings going forward.  
Community Impact
What the report said: The Haas, Jr. Fund ranked highly among peer funders in grantees' perceptions of our impact on their fields and in advancing the state of knowledge in the areas in which they work. We also rated highly in the extent to which grantees believe Haas Jr. has positively affected public policy in their areas of work. In open-ended responses, grantees referred to the Fund as "a respected leader in the field" and "a critical influence."  
What we're doing: It's gratifying to learn that our grantees believe the Fund's work is supporting them and achieving a community impact. Recently, we've increased our use of communications and convenings to lift up the remarkable work and the thought leadership of grantee partners, and to foster connections to other community leaders, funders, and policymakers. Going forward, we'll be prioritizing community engagement, multi-racial solidarity, narrative, and policy advocacy in our work with grantee partners as we chart a path to broader impact.
"Our [contact at Haas Jr.] has been a strong supporter of our work through internal and external challenges … We appreciate … regular and rapid communication, clear interest in the issue we work on, and willingness to be a thought partner and connector."

Grantee partner from the survey
Grantmaking
What the survey said: When it comes to our grantmaking practices, the Haas, Jr. Fund's ratings were largely in line with most other funders in our peer group. While we had a higher-than-average portion of grantees reporting that they receive unrestricted funding, the median grant length (1.7 years) among our grantees was lower than average. The size of the average grant, as well as the amount of non-monetary assistance we provide (such as field-building or capacity-building support) were fairly typical among our peers. Where we ranked higher was in our adoption of helpful and streamlined selection and reporting processes for grantees, and the provision of leadership development support.  
What we're doing: Continuing to improve and streamline our grantmaking practices is a priority across all Haas Jr. programs. We are firmly committed to providing longer-term and unrestricted funding for our grantee partners in 2024 and beyond, especially as we move past an initial phase with many newer grantees. We were pleased to see that grantees appreciate our recent efforts to create efficient grant application and reporting procedures, and we will keep refining those procedures as we move toward adopting a new grants management platform in the coming year.
"I believe [Haas Jr.] could be more explicit about transitioning to multiyear grantmaking. This would really help grantees like us make longer-term plans for our organizations."

Grantee partner from the survey
Diversity, Equity, and Inclusion
What the survey said: Grantees ranked Haas Jr. in the top tier among peer funders when it comes to demonstrating an explicit commitment to diversity, equity, and inclusion, combating racism in our work, and understanding the needs of the people and communities we serve. In addition, 97% of grantees confirmed that their grant from the Haas, Jr. Fund is primarily meant to benefit historically disadvantaged and marginalized groups. The survey showed that Haas Jr. has double the number of grantee respondents who identify as people of color and LGBTQ, in comparison to peer funders. Nevertheless, the results revealed that we can do better in understanding the cultural, social and economic factors that are impacting our grantees and their work.
What we're doing: Over the last two years, in an effort to better address root causes and community impact, the Haas, Jr. Fund has embarked on an intensive and ongoing journey to prioritize diversity, equity, and inclusion (DEI) both internally and through our grantmaking and partnerships. This work includes an in-depth analysis of our grantmaking to assure we are supporting organizations that are led by diverse leaders and people of color and that are addressing inherent power imbalances and serving the priorities of impacted communities. We were pleased to see that grantees recognize our commitment to these issues, and we will sustain and grow that commitment in close collaboration in the years to come.  
Relationships
What the report said: The CEP survey shows that we have work to do when it comes to building stronger relationships with grantees. While some of the written responses characterized Haas Jr. as "thoughtful," "extremely helpful," and "accessible," the quantitative results were mixed. The responses varied by program in a likely reflection of shifts in staffing and strategies; more than 40% of our grantees reported a change in their primary contact in the prior six months. Haas Jr. rated higher-than-average in our transparency and sharing how grantees' work fits with our broader goals. However, we rated below average in our approachability and responsiveness, with a lower percentage of grantees saying they had participated in a virtual or in-person site visit recently.  
What we're doing: With a full program team now in place and a return to regular travel and convenings over the past year, strengthening grantee relationships and accessibility are critical priorities. We are planning more visits with grantees, and we will step up our communications and relationship-building. Going forward, we'll be increasing opportunities for listening to and learning from grantees, and enhancing opportunities for collaborations.  
Appreciation  
We want to express a heartfelt thank you to our grantee partners for taking the time to complete the CEP survey and for offering many thoughtful insights. As noted above, we're working to address the issues the survey has raised, and we look forward to continuously gathering your constructive feedback. Our goal is to keep strengthening our relationships and core practices to ensure all of our partners are valued, supported, and heard.  
With respect and appreciation,
Robert