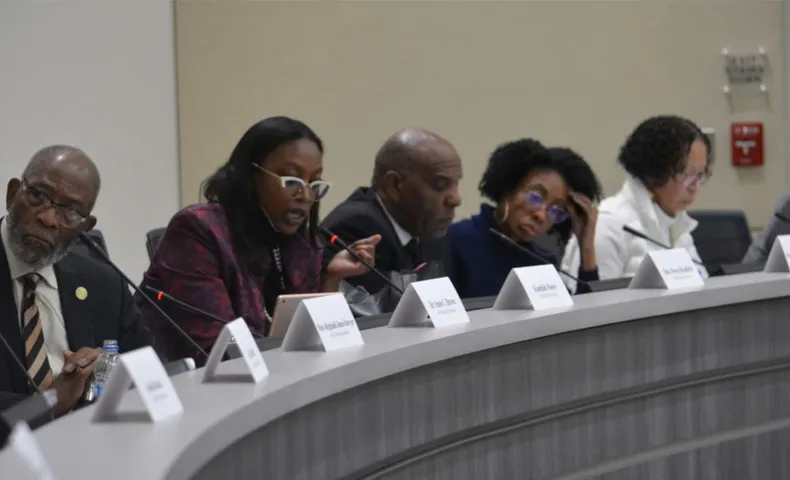 This Juneteenth, Let's Recommit to Building Power in Black Communities
Juneteenth is a time to remember the abomination of slavery in the United States, commemorate its end, and honor the contributions of Black Americans. It's also an opportunity to renew our commitment to seeking a more just, equitable and inclusive California. This year, the holiday lands on the brink of the release of a historic report from the California Task Force to Study and Develop Reparations Proposals for African Americans, which is due by July 1st. The report is a chance for Californians to take a sober look at our state's treatment of Black residents. Recognizing that history and its lasting effects, as Professor john powell, director of the Othering and Belonging Institute at UC Berkeley, recently said, is an important part of Juneteenth, because "[w]e can't make progress unless we have knowledge [of] where we are and where we have been."  
Last year, the Task Force issued an interim report on the history of slavery, discrimination, segregation, violence, and terror committed against African Americans in the United States, and California. While most people know that California joined the nation as a free state, many Black and Indigenous Californians lived in slavery in the years before the Civil War. The state also passed a fugitive slave law, which allowed Black Californians to be captured and trafficked to slave states.  
As the Fund's Democracy Program Director, I was especially interested in the interim report's discussion of the many ways that California has sought to prevent African Americans and other voters of color from voting and exercising power. Many of these constitutional provisions, statutes, and policies—which remained in place for more than a century—are the type we typically think of as Jim Crow tactics from the South.  
For example, when California was founded, only "white male citizen[s]" in the state could vote. California legislators actually rejected the 14th amendment, which granted former slaves citizenship and guaranteed equal protection under the law, as well as the 15th amendment, which gave Black men the right to vote, until 1959 and 1962, respectively. Once African Americans were guaranteed the right to vote, California passed other laws aimed at disenfranchising them. Voters enacted a literacy test in 1893 that remained in place until 1970. California passed a poll tax equivalent to a half-day's wage, which wasn't repealed until 1914; another poll tax was later enacted in 1924 and remained in effect until 1946.  
An additional legacy of our state's racist voting laws is felony disenfranchisement, or the denial of the vote to those with felony convictions even if they have completed their sentences.  Given the over-policing of Black communities and California's  historically racist criminal justice system, this policy had a disproportionate effect on Black Californians. California's felony disenfranchisement dates to its original constitution in 1849, which included a provision barring voting for those with a felony conviction that took 125 years to roll back. While in recent years, Californians on community supervision, on parole, and in jail have gotten the vote back, those in prison remain disenfranchised, disproportionately affecting Black Californians.
The legacy of all of these anti-Black policies has had longstanding effects on Black political participation and representation in California.  A 2022 census survey of voting and registration in the state found that Black voter registration lags by more than 10 percentage points behind whites in the state, and Black turnout in the 2022 general election was nearly 20 percentage points below white voter turnout. This far exceeds the voter disparity between white and Black voters in the rest of the country.  
In the face of these current realities, the Haas, Jr. Fund is proud of the tremendous work our grantees are doing to protect and advance Black voter participation in California. California Calls, for example, is leading a statewide network focused on organizing Black voters and other voters of color and getting them engaged in the policy fights affecting them. Initiate Justice, an organization working to activate people directly impacted by incarceration, is leading efforts to re-enfranchise Californians who are currently in prison. Faith in the Valley is leading efforts to educate voters in the Central Valley who are on parole and were re-enfranchised by Proposition 17. And the California Black Power Network has engaged thousands of Black Californians in listening sessions with the Reparations Task Force as it developed its report and recommendations.
We know there is much more work we and our partners in philanthropy can do to ensure that Black Californians vote and exercise political power. We can start by supporting more Black-led power building organizations in California; this work is an enduring focus of the California Black Freedom Fund, which the Haas, Jr. Fund helped to create in 2020.  We also can support the Black Equity Initiative of the Inland Empire in its mission to strengthen the capacity and sustainability of Black-led and Black-empowering organizations in the region to engage in community building, civic education, policy advocacy, and systems change work. 
Finally, regardless of how you feel about the righteousness or viability of reparations in California, the final report issued by the Reparations Task Force should be read, studied, and reckoned with by all. We owe it to ourselves to know our history, consider the possible solutions, and reflect on what we can do to make California a more equitable, just, and inclusive state.