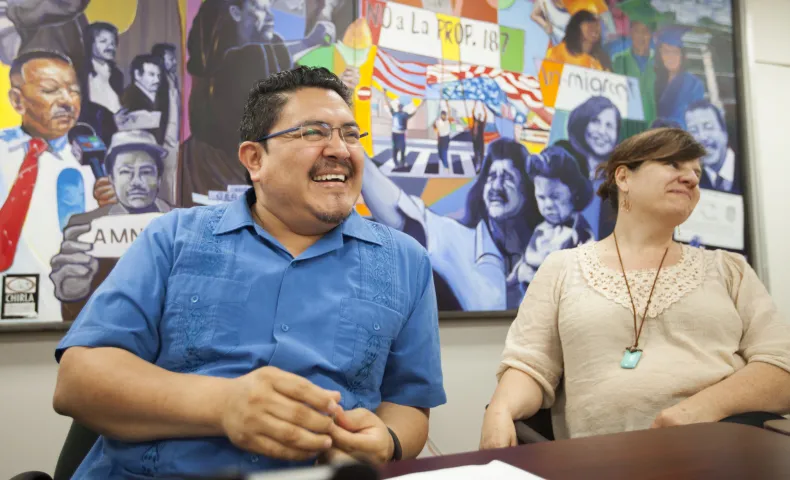 Why Don't Foundations Invest More in Social Sector Leadership?
This op-ed was originally published in the Chronicle of Philanthropy on July 14, 2014.
Many economists say the U.S. economic recovery will stay in the slow lane until American companies finally ramp up capital spending on things like equipment and technology. But there is one area where corporate America is definitely opening up its wallet. According to a recent study, spending on training and leadership development by U.S. companies grew by 15 percent in 2013 to more than $70 billion. That followed two years of 10-percent-or-higher growth in 2011 and 2012.
 
While business is investing in its people with renewed vigor, the social sector continues to lag in making these investments. The Foundation Center recently reported that foundation support for leadership development was less than 1 percent of overall giving between 1992 and 2011.
That's not nearly enough. We all know that programs and strategies don't solve problems; people do. So why aren't more foundations making leadership development an integral part of their grantmaking strategy? If we agree that strong leadership is a critical ingredient to grantee success, what is keeping us from maximizing the impact of our funding by investing more in the skills and capabilities of people who lead organizations, including staff and board members?
 
At the Evelyn and Walter Haas, Jr. Fund, our trustees strongly support leadership development based on their experience in both the corporate and philanthropic worlds and their intuitive understanding of the importance of investing in people. We dedicate between 10 and 12 percent of our annual grantmaking to strengthening the leadership of the organizations and the movements we support. Since 2005, the Haas Leadership Initiative has made over $18 million in multi-year grants to more than 100 grantees in our key priority areas– immigrant rights, education equity, and gay and lesbian rights.
We have seen time and again in our work how these leadership investments have contributed to grantee impact and success. Consider the case of the National Center for Lesbian Rights. Over five years, NCLR received $834,500 in support from the Haas, Jr. Fund, including $235,000 dedicated to strengthening the organization's leadership. The flexible, multi-year funding amounted to about $50,000 annually that NCLR used for consulting, coaching, training, and other activities to build and strengthen the organization's leadership at all levels.
Among the important results of this work is that NCLR, which previously relied on two overstretched leaders to run everything, was able to build a strong and collaborative senior staff team of five people. Relieved of many of the internal management responsibilities that had occupied so much of their time in years past, Executive Director Kate Kendell and Legal Director Shannon Minter have become even more powerful forces in the movement for marriage equality for same-sex couples. What's more, NCLR is widely recognized as a critical player in the movement's recent wins.
 
NCLR is not an isolated case. An independent, five-year evaluation of the Fund's early leadership investments showed that our support helped leaders get better results for their organizations and movements. Thirteen of the 14 organizations in the first cohort of our Flexible Leadership Awards program not only met their leadership development goals but, more importantly, achieved the strategic goals they had set for their organizations. In addition, their budgets grew on average by 55 percent despite the economic recession; and seven completed successful executive transitions between 2005 and 2010.
Of course, we are not alone in supporting leadership for the sector. A number of other foundations around the country have made investing in leadership a top priority.
The Annie E. Casey Foundation, for example, works with partners to develop current and emerging leaders in the social and public sectors around the country. The reason: Casey knows that its goal of improving conditions for kids requires building the skills of people to work together to untangle complex problems. In the domestic violence field, the Blue Shield of California Foundation is building a stronger network of service providers by investing in individual and organizational leadership through its Strong Field Project. And the Durfee Foundation of Los Angeles has created a multifaceted sabbatical program that strengthens the leadership of boards and senior teams while giving executives a chance to recharge and renew their commitment to their work.
 
These foundations are investing in leadership in order to advance their broader ambitions, and they are committing  substantial grantmaking resources to this work. While each foundation's leadership development approach is distinctive, they share attributes that our experience suggests are important. 
Chief among these is that leadership support is multi-year and is tailored to organizations' specific priorities and needs; in other words, this is not about a foundation coming in and telling grantees what they need to do. Nor is it simply about sending EDs to one-off trainings. Rather, it is about helping organizations identify and secure the leadership support they need at all levels so that they can reach their broader goals.
 
I am not one who believes the nonprofit and philanthropic sectors should indiscriminately follow the strategic expertise of the business sector. However, when the issue is leadership and talent, it's worth taking a cue from what the corporate world is doing. Unless we can unpack what is behind our sector's chronic underinvestment in leadership and turn things around, we will continue to overlook one of the most important ingredients of positive social change. Investing in leadership doesn't just deliver higher performance; it can also deliver a better, more equitable world.