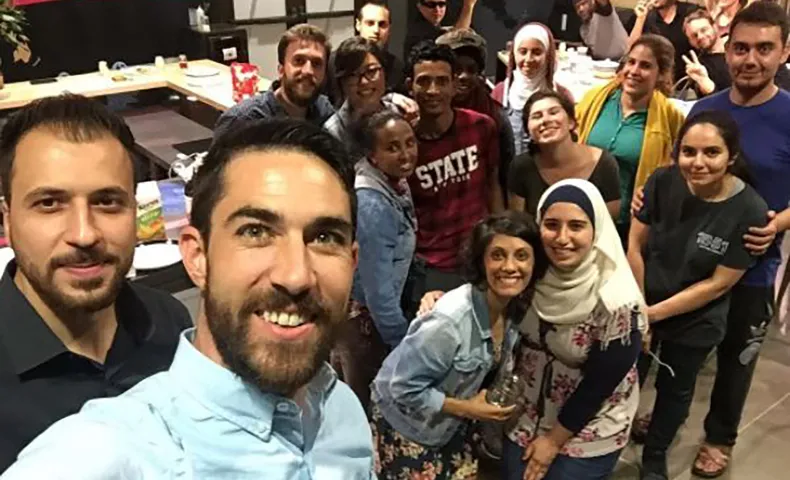 Why I Am Hopeful
This article was originally published in Philanthropy News Digest.
---
It all started with an email from a friend late last year. She said she was concerned about the tone of our politics and the direction in which our country was moving, and she wanted to do something to help. She was calling her senator, but she felt that wasn't enough.
A few weeks later, I found out about a new local café, 1951 Coffee Company, that provides jobs and training for newly arrived refugees. At a time when the nation was debating a controversial White House plan to ban Syrian refugees and close our borders to people from six mostly Muslim countries, the cafe's welcoming and affirmative mission struck a chord. One morning, I stopped in, had a great cup of coffee, and asked how the owners would feel about a community fundraiser to support their work.
The café owners were game, and so I emailed my friend and several neighbors to try and put together a fundraising committee. My friend ended up leading the group, and a neighbor who lives across the street solicited in-kind donations for the event. My brother's mother-in-law even got involved. The outpouring of support from many walks of life—PTA parents, professors, scientists, new volunteers, first-time donors—was truly amazing.
In the end, the May fundraiser attracted nearly two hundred people and netted over $37,000 for the café's work. It was a modern-day community barn raising.
Marches…and More
Given the considerable threats today to the causes and priorities that so many of us care so deeply about, it is easy to get discouraged and down. But the story of this small café gives me hope. At a time when so much is on the line, people are stepping out of their comfort zones and becoming more involved in our democracy. We are marching, participating in spur-of-the-moment protests, volunteering, giving money, and contacting our elected representatives—all in unprecedented numbers, and all in an effort to show we're paying attention and we care.
In conversations with leaders of our nonprofit partner organizations, the Evelyn and Walter Haas, Jr. Fund's staff is hearing a similar refrain. Many organizations are experiencing a flood of new donations and volunteers and offers to help. And perhaps the best news is the groundswell of grassroots action is getting results.
Mass protests and accompanying lawsuits sidelined the White House's ban on refugees from six mostly Muslim countries; a weakened (though still-alarming) ban is in effect pending a final Supreme Court decision in the fall.
The Deferred Action for Childhood Arrivals (DACA) program providing temporary relief from deportation for undocumented young people remains intact because of a wave of popular support from all sides of the political spectrum.
Congressional plans to strip health coverage from millions of vulnerable people face a steep uphill climb, thanks largely to a flood of constituents who have been writing to Congress and showing up at town hall meetings and Fourth of July parades to register their concern.
Granted, there are still plenty of policies and executive actions that are posing huge challenges for immigrants, LGBT people, low-income children, and other vulnerable populations and communities. But the heightened level of grassroots activism and engagement we're seeing makes me hopeful—and confident—that the values of fairness, equality, and opportunity ultimately will win the day.
New Allies, New Strategies
It's not just that community members across the nation are getting involved and making their voices heard. Among the other signs of hope:
New and powerful allies are stepping forward to make their opinions known. Consider the tech industry's powerful advocacy against the refugee travel ban.
People and organizations increasingly are working together across movements to build powerful coalitions. Consider the work of the Million Voters Project, a Haas, Jr. Fund-supported initiative that unites local and regional organizations working with Latinos, Asian Americans, African Americans and immigrants to get out the vote in 2018.
Allies are developing innovative strategies and are taking their work to new levels of scale and impact. For example, the Rev. Dr. William J. Barber II has turned his "Moral Monday" protests (which started in North Carolina) into a national movement to advance "the good of the whole."
Even as we are inspired by the new wave of activism we're seeing, it's important to remember that our work today is founded on the same fundamental principles that have guided social movements in the past. The bottom line is that "We the People" need to stand up and use our voices—and our votes—to make a difference. That's the only way real change happens, and it will require deep investments in community organizing, civic participation, movement-building, and leadership development.
I know these are precarious times for many communities across the country. And I understand that we can't be complacent or overly confident in the face of an onslaught of regressive policies out of Washington and many state capitals.
But from a little café here in the Bay Area to the National Mall in Washington to the streets and sidewalks of so many cities and towns where social justice organizations are organizing and attracting new supporters, there is something very powerful happening out there across the land. It's democracy in action, and it's an inspiring thing to see.