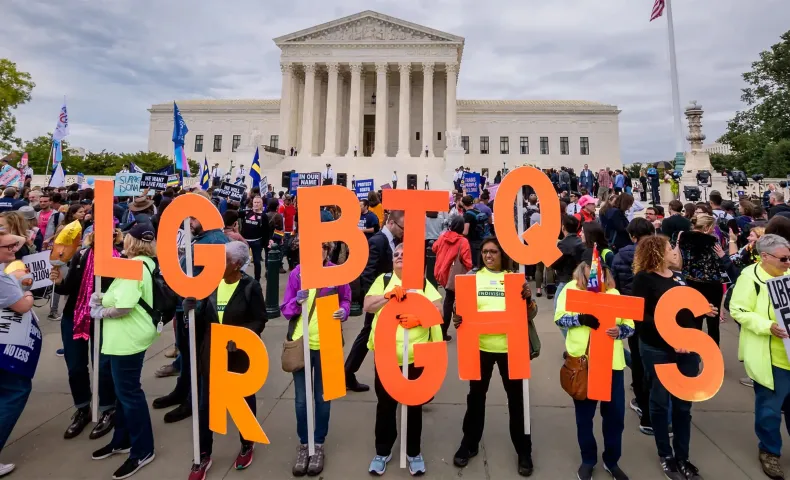 Winding Down Our LGBT Program
Today, the Evelyn and Walter Haas, Jr. Fund is announcing that, after 21 years and over $105 million in investments, we will be winding down our LGBT equality program over the next two years.
While letting go of a grantmaking program is always difficult, we couldn't be prouder of the transformational work of our LGBT movement partners. Over the past two decades, they have delivered tremendous gains for the LGBT community and advanced our nation's core values. That said, we know that the struggle to secure full equality for LGBT people is not over. Far from it. We are committed to providing two years of transitional support to our current LGBT grantees so they can continue their important work and plan for the future.
Two Decades of Historic Wins
When the Haas, Jr. Fund committed to this work in 2000, no U.S. state allowed same-sex couples to wed, openly gay people could not serve in the military, and a majority of the American public opposed marriage equality and believed gay and lesbian relations were morally wrong. It is astonishing how things have changed for the better. Now, LGBT equality has strong nationwide support.
Over the past 21 years, we were honored to stand with LGBT movement leaders as they achieved historic wins. The following are just a handful of the inspiring stories from this work that we carry forward:
This is just a small sampling of the activities and achievements of the 186 grantee partners we had the pleasure of working with and learning from over the last two decades. There are so many important things they taught us about how philanthropy can help move real change—by supporting leaders on the ground, doubling down on litigation and policy advocacy, lifting the voice of people most impacted, investing in narrative change, and more.
Many Thanks to Our Partners
Today, we are committed to applying these lessons across all of the Fund's programs as we devote our attention to a set of issues confronting California and our Bay Area community. Among our revised priorities: building a fairer, more representative democracy in California; advancing more humane approaches to immigration and expanding opportunities for immigrant youth and families in our state; and making higher education more affordable for lower-income California students.
As we embark on this transition, we thank the Fund's LGBT grantees for inspiring us to be better grantmakers and stronger partners. We also thank our colleague funders who joined us in supporting the LGBT movement's work, especially the Arcus, Gill, Horizons, Overbrook, and Pride foundations and the Wellspring Philanthropic Fund.
In addition, we want to thank our board of directors for having the courage to commit to this work early, and for staying with it when the going got tough. Last but not least, we thank the Fund's leaders and staff who have steered our LGBT program over two decades, including Senior Program Directors Matt Foreman and Tim Sweeney. Matt and Tim each brought decades of movement leadership to their work with us and guided our efforts on this issue with unique vision and purpose.
The Work Still Ahead
We know that the work of the LGBT movement is far from over. LGBT people, particularly transgender Americans, are once again a target in the nation's "culture wars," with an unprecedented number of anti-LGBT bills being introduced and passed in state legislatures. Furthermore, 31 states that are home to the majority of LGBT people and LGBT people of color still lack basic statutory nondiscrimination protections in housing, employment, public accommodations, and other areas.
As the Haas, Jr. Fund winds down its investments in LGBT equality over the coming two years, we are intent on providing current LGBT grantee partners with transitional support. This will include unrestricted general operating grants and capacity-building support for fundraising and other priorities. At the same time, we hope other funders will confront the injustices that continue to deprive LGBT people of full and equal participation in our society.
Thanks again to our many partners in this work over the past 21 years.
—
With appreciation and respect,

Cathy Cha
President & CEO
Evelyn and Walter Haas, Jr. Fund

Robert Joseph
Vice President of Programs
Evelyn and Walter Haas, Jr. Fund