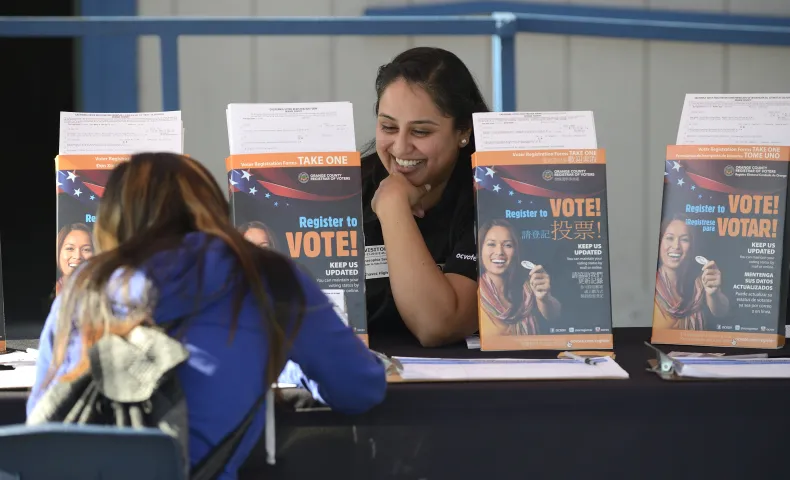 Working to Expand Voter Registration Access in California
As we mark National Voter Registration Day on September 19, Californians have a lot to celebrate about voter registration trends in our state. Over the past decade, our state has seen voter registration increase remarkably. Registration rates peaked for the 2021 special election, achieving the highest level in the state in 83 years. Much of that increase is thanks to innovations in policy that the state has adopted since 2012.  
Let's take a quick look at major policy advancements in California over the past 10 years or so: 
2012 – California launches online voter registration in English and Spanish, two months before the presidential election.

2013 - Online voter registration is translated into eight additional languages.  

2017 - Pre-voter registration becomes available to 16- and 17-year-olds online.  

2018 – "California New Motor Voter," also known as automatic voter registration, goes live at the Department of Motor Vehicles, allowing voters to register automatically when they submit their driver's license and ID applications, renewals, and when updating their address.  

2018 – Same-day voter registration becomes available at county elections offices.  

2020 – Same-day voter registration becomes available at every polling place and vote center.
The results of these policies are impressive. For example, in the 2020 election more than 175,000 voters took advantage of same-day registration at their polling place. Automatic voter registration now accounts for the largest share of new voter registrations in California, with nearly 4 million new, updated, and change-of-address registration transactions via the DMV in 2022. Plus, there were more than 128,000 young people pre-registered to vote as of February 2023, which means they will automatically become registered at 18.  
That's a lot of good news. Once voters are registered, there is an opportunity for elections officials, campaigns, and community-based organizations to contact them with election information, and hopefully turn those new registrants into voters.  
But there is still work to do. As of February 2023, there were nearly 4.7 million eligible but unregistered voters in California. A study by the Center for Inclusive Democracy at the USC Price School found that among those unregistered voters, significant disparities exist. For example, there are wide gaps in registration between young voters, Asian American, and Latino voters compared to all California voters.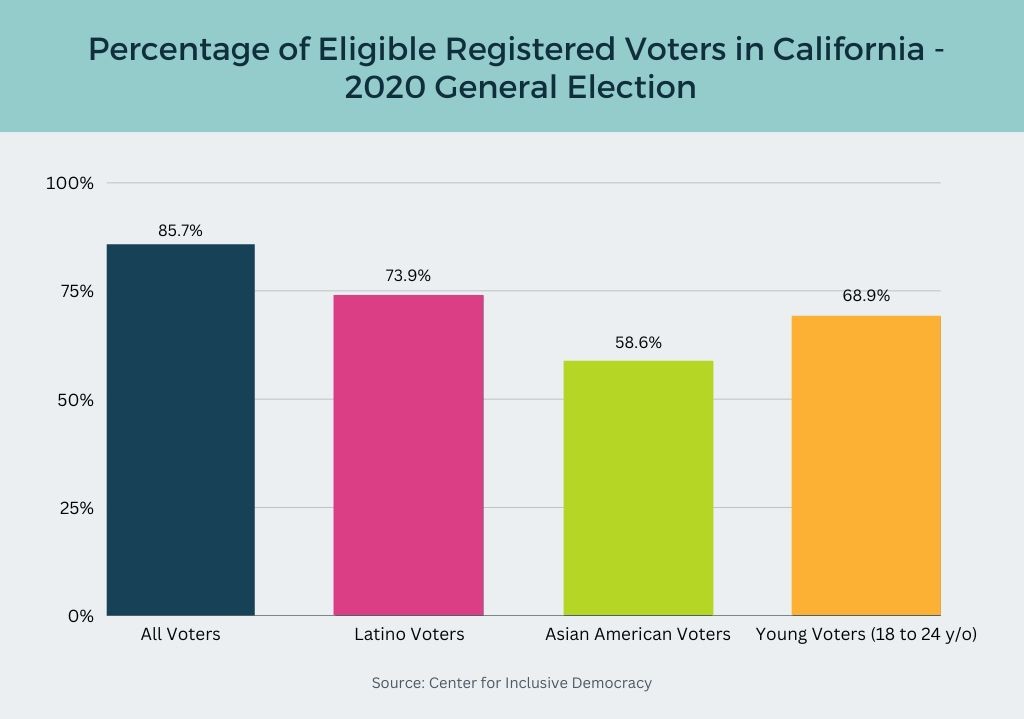 Census data examining the 2022 election also shows a voter registration gap between white and Black voters. The same data ranked California 38th among states and the District of Columbia in its voter registration rate. That's an improvement from 45th in 2010, but it still shows room for improvement. 
What We Can Do to Close Registration Gaps
At the Haas, Jr. Fund, we are working with partners to explore how to keep expanding access to voter registration in California.  Here are some of the ideas we are working on:
Expanding automatic voter registration (AVR) beyond the DMV. AVR has unquestionably been a success in increasing voter registration and enabling people to update their registrations. But we need to continue to study the process to make sure it is working to close registration gaps, and look to states like New York, which are seeking to bring AVR to agencies other than the DMV, such as when residents apply for public benefits.
Offer registration opportunities when Californians interact with government.  Not every voter goes to the DMV, and even if they do, they may move between renewals without updating their address. The state's public assistance offices are required to provide voter registration, but compliance with that law has been inconsistent, and registrations at these agencies was down 82% between 2016 and 2022.
Designate new agencies to register voters. There are many more agencies that could incorporate voter registration assistance into their interactions with voters, and the governor and secretary of state have authority to make it happen. For example, it would be great if people were offered registration and assistance with registration at parole offices, when they file their taxes, or apply for unemployment insurance. 
Boost public investments in civic engagement and voter registration for young people. The California legislature can increase funding for civic education in schools and colleges focused on registering voters and explaining the importance of voting. Research has long supported that the earlier people form voting habits, the better the chance of them becoming regular voters.  
Continue to research registration gaps and innovative voter registration policies. We need to continue to study who is missing from our registration rolls, how people are registering to vote, and ways to improve our data collection to better understand who's registered and who's not.
Support community-based organizations to spur civic engagement. Finally, we are investing in community-based organizations so they can engage their communities. By talking to voters and potential voters year-round about issues that are important to them, and how to get involved, they are inspiring people to be civically engaged and vote.  
While the Haas, Jr. Fund does not fund direct voter registration activities, we are honored to support and work with partners like the Center for Inclusive Democracy as it conducts important research on automatic voter registration, and same day registration and their impact on underrepresented voters. We are also supporting the Western Center on Law and Poverty to examine how to assure compliance with the National Voter Registration Act at public assistance offices. For information about voter registration rules for private foundations, see this primer from Bolder Advocacy.   
Voter registration shouldn't be a barrier to voting. National Voter Registration Day is a reminder that our work is far from done when it comes to making California a leader in reducing barriers to registration and voting.