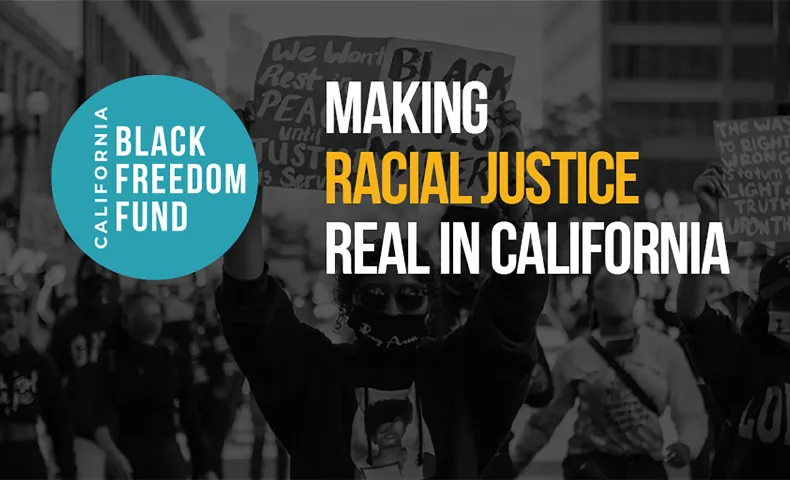 California Black Freedom Fund
The Haas, Jr. Fund has joined nearly two dozen funders to announce the launch of the California Black Freedom Fund, a new $100 million initiative dedicated to Black power-building and organizing in California. This first-of-its-kind fund is co-created with Black leaders and organizers to ensure that California's growing ecosystem of locally rooted Black-led organizing efforts have the sustained investments and resources they need to eradicate systemic and institutional racism.
"Over the past year, we've seen Black communities across the country step up boldly as the conscience of our nation to challenge the status quo. The California Black Freedom Fund represents a great opportunity to build on that momentum and support Black-led organizations and a movement that can keep racial justice front and center and reimagine a better future for all of us."

Cathy Cha, President and CEO, Evelyn and Walter Haas, Jr. Fund
Over the next five years, the California Black Freedom Fund will strategically increase the resources available to Black-led organizations throughout California through grantmaking and capacity building support. In its first round of grantmaking, the California Black Freedom Fund is investing over $6 million to support the following organizations:
Black Census and Redistricting Hub—A network of over 30 Black-led and Black-serving organizations maximizing participation in the census and redistricting process among hard to count Black communities.
Black Equity Collective—A community-public-private partnership strengthening the long-term capacity and infrastructure of Black-led and Black-empowering social justice organizations in Southern California (Los Angeles County and Inland Empire).
PICO California: Live Free/ Bring the HEAT—Organizing intervention to protect the basic health, safety, and well-being of all people by demanding a series of immediate and sweeping changes to the current policing system in the United States.
Three rounds of grantmaking are anticipated in 2021 to reach a wide and diverse set of Black-led organizations across the state, with the next round of grantmaking anticipated in late February 2021. 
It's time to make racial justice real in California. Join us! To learn more about the fund, please visit cablackfreedomfund.org and follow CBFF on Twitter, Facebook and Instagram.