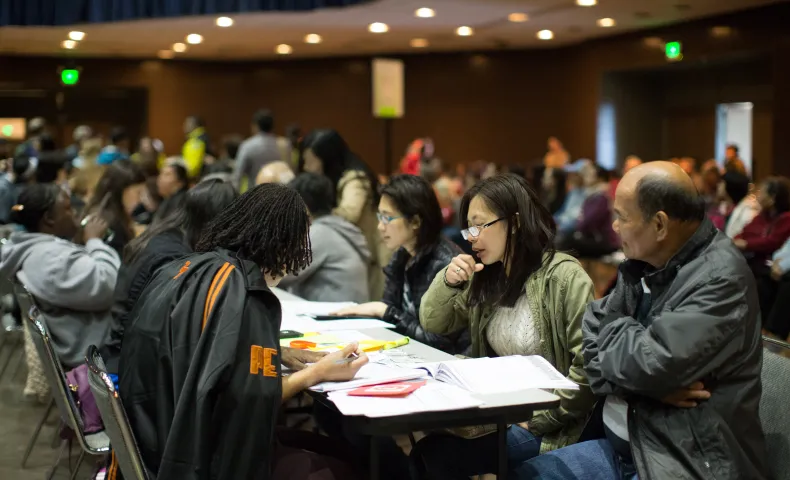 New Americans Campaign Launches
November 12, 2012—Los Angeles, CA
An unprecedented national network of more than 80 legal-service providers, businesses, faith-based organizations, community leaders and foundations has launched The New Americans Campaign, a nonpartisan project to modernize the system of naturalization assistance and to help more immigrants who are legal permanent residents become U.S. citizens. The campaign launches this week after a pilot phase; it focuses on cities across the country with large populations of citizenship-eligible residents.
Two former commissioners of the U.S. Immigration and Naturalization Service (INS), now known as the U.S. Citizenship and Immigration Services, are supporting the effort. Doris Meissner was INS Commissioner under President Bill Clinton and James W. Ziglar served in the same role under President George W. Bush; together they will form a bipartisan advisory committee to underscore the vital role that citizenship plays in strengthening American society. Meissner and Ziglar are senior fellows at the Migration Policy Institute, a nonpartisan immigration policy think tank in Washington, D.C.
More than eight million immigrants currently qualify for citizenship as legal residents, based on their "green card" status, which allows them to live and work in the U.S. on a permanent basis. Yet, only eight percent of them become citizens each year. They face a range of barriers, including high application fees and a complex citizenship process that can take up to two years to complete. Many also fall victim to unscrupulous attorneys and notaries who take advantage of individuals seeking legal assistance. The New Americans Campaign is paving an easier road for aspiring Americans to achieve the dream of becoming a citizen by modernizing and streamlining access to citizenship-support services over the next three years.
"The more our communities harness the civic and economic participation of new citizens, the stronger and more vital we will be as a nation," said Eric Cohen, executive director of the Immigrant Legal Resource Center, a national non-profit that provides legal trainings and advocacy to advance immigrant rights and that serves as the campaign's main coordinator. "The New Americans Campaign aims to fundamentally transform the entire system of naturalization assistance through new levels of collaboration and innovation among the non-profits, businesses and other institutions that assist legally qualified residents in becoming U.S. citizens."
Since beginning its pilot phase in July 2011, The New Americans Campaign has helped more than 30,000 legal permanent residents apply for citizenship, a process that usually takes up to two years to complete.
The campaign employs a number of innovative approaches, including:
Novel partnerships between service providers, elected officials, faith-based organizations, the business sector and media to reach aspiring citizens;
New technology tools to assist applicants; and
Outreach to rural and other hard-to-reach communities.
As a result, coalition members have reached more than 46,000 potential new citizens, particularly in communities that until now have lacked access to citizenship support services. The campaign has also saved applicants and their families more than $20 million in legal fees so far and is focusing its efforts in the cities of Charlotte, Dallas, Detroit, Houston, Los Angeles, Miami, New York and San Jose. More than 3.3 million citizenship-eligible individuals reside in these eight metropolitan areas, representing more than 40 percent of the pool of citizenship-eligible legal permanent residents in the United States.
Previously, service providers could only offer citizenship support to a limited number of individuals due to capacity and resource constraints. However, the New Americans Campaign has brought together leading nonprofit organizations nationally and locally to share best practices and resources and to streamline the citizenship preparedness process, such as holding jointly-organized workshops and capacity building trainings. These collaborative events allow service providers to assist 200-350 aspiring new citizens at one time, an increase of more than 500 percent. At joint workshops, individuals are pre-screened for eligibility and offered application assistance and materials to prepare for the citizenship exam. Campaign partners held more than 600 such events in the campaign's first year, and hundreds more are being planned.
This week, campaign partners in San Jose, Los Angeles and Houston are holding joint workshops where nearly 1,000 individuals across these cities will receive pro-bono legal assistance and other services to complete citizenship applications.
Campaign partners across the country are also developing other innovative strategies to make citizenship services more effective and accessible to provide legal immigrants the support they need to become Americans. Examples include:
Establishing partnerships with local libraries and schools to provide information and resources on citizenship, such as a "one-stop" citizenship-assistance program with Miami Dade County Public Schools and "Citizenship Corners" at local branches of the Los Angeles Public Library. These programs offer on-site consultations, application assistance, workshop referrals and access to education programs such as civics and English-language classes.
Utilizing new online platforms, such as CitizenshipWorks, a user-friendly online tool that enables service providers to quickly guide greater numbers of people through the citizenship application process. The program also makes conducting workshops in different languages easier and more efficient.
Employing familiar electronic tools to support applicants studying for citizenship tests, such as MP3 players with civics exam questions, vocabulary exercises and mock interviews.
Reaching audiences in new ways, like text messages to keep applicants informed.
Piloting corporate partnerships and workplace programs to raise awareness of the benefits of naturalization for both the aspiring citizen and the employer.
Creating a pipeline of volunteers and pro-bono legal help by working directly with local universities and attorney's associations.
Creating national partnerships with ethnic media companies to ensure consistent promotion of naturalization and assistance events on a mass scale.
A consortium of national private foundations has so far committed more than $20 million to the project. Founding sponsors of the New Americans Campaign include Carnegie Corporation of New York; The John S. and James L. Knight Foundation; Evelyn and Walter Haas, Jr. Fund; Grove Foundation, Open Society Foundations and The JPB Foundation (some of the funders have published additional information on their sites about their participation in The New Americans Campaign).
---
About the New Americans Campaign
The New Americans Campaign is a groundbreaking national network of legal-service providers, faith-based organizations, businesses, foundations and community leaders that is paving a better road to citizenship. We are modernizing and streamlining access to naturalization services, so that greater numbers of legally qualified permanent residents take the critical step to becoming American citizens. We are currently driving a national, nonpartisan citizenship campaign throughout the country, focused on eight major cities with large numbers of citizenship-eligible residents.
Our campaign brings together over 80 organizations across the country including the following key funders who have made an unprecedented investment in supporting aspiring citizens: Carnegie Corporation of New York; the John S. and James L. Knight Foundation; Evelyn and Walter Haas, Jr. Fund; Grove Foundation; Open Society Foundations and The JPB Foundation.
Our national partners include: Asian Pacific American Legal Center (APALC); Catholic Legal Immigration Network, Inc. (CLINIC); Immigrant Legal Resource Center (ILRC); Immigration Advocates Network (IAN); International Rescue Committee (IRC); National Association of Latino Elected and Appointed Officials (NALEO) Educational Fund; National Immigration Forum; National Partnership for New Americans (NPNA) and Pro Bono Net.
For a complete list of partners and for more information, please visit: www.newamericanscampaign.org