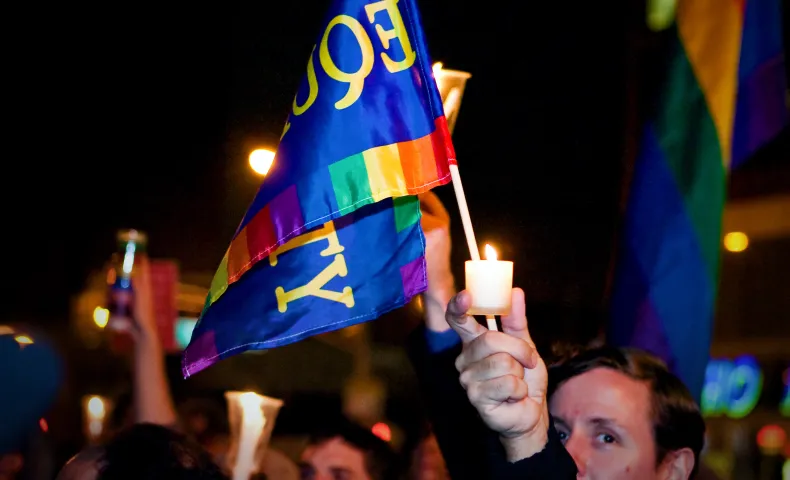 New York: A Milestone for Marriage Equality
When New York Governor Andrew Cuomo signed a law extending marriage rights to gay and lesbian couples in that state, it marked a high point in the continuing roller coaster ride to bring marriage equality to all Americans.
With the stroke of a pen on June 24, 2011, Governor Cuomo more than doubled the number of Americans who lived in states where gay and lesbian people are free to marry—from 16 million to 35 million. The victory was the result of the hard work and sacrifice of tens of thousands of people in New York and in every corner of the country who took a stand for equal rights for gays and lesbians.
Victory for Equal Rights
"This is a victory for all of the people working and volunteering within the gay and lesbian rights movement," said Ira S. Hirschfield, president of the Haas, Jr. Fund. "Just as important, it is a victory for the parents, families and friends of gay and lesbian Americans who have taken on this cause as their own, based on their firsthand understanding of the importance of equal marriage rights for all."
In 2001 the Evelyn and Walter Haas, Jr. Fund embraced marriage equality as a priority, based on our commitment to advancing and protecting fundamental rights and opportunities for all people. Among other activities, the Fund helped create Freedom to Marry, the national advocacy organization that, under the inspired leadership of Evan Wolfson, has played a crucial role in key advances for marriage equality. The Fund also helped found the Civil Marriage Collaborative, a group of foundations that worked to coordinate their support for marriage equality at the state and national levels.
In the first decade since making it a priority, the Haas, Jr. Fund has contributed more than $60 million to the cause of advancing gay and lesbian rights, including marriage equality and nondiscrimination.
More Work Ahead
In the aftermath of the victory in New York, attention turned to new frontiers in the struggle for equal marriage rights for gay and lesbian Americans. The movement is a difficult, up-and-down ride, and setbacks inevitably follow victories like the one in New York.
Who can forget the great excitement that supporters of the freedom to marry felt when, in May 2004, the Supreme Court of Massachusetts issued a ruling making that state the first in the country to make marriage legal for same-sex couples? Four years later, the California Supreme Court followed Massachusetts' lead and struck down the state's existing law limiting marriage to opposite-sex couples on constitutional grounds.
These high points were moments to savor and to celebrate, but each was followed soon enough by a series of setbacks. In the year after the Massachusetts decision, 13 states passed constitutional amendments officially depriving their gay and lesbian residents of this fundamental right. And, just six months after the California Supreme Court issued its opinion, the state's voters approved Proposition 8, which amended the state constitution to take same-sex couples' short-lived marriage rights away.
Just a couple years after the win in New York, the number of states supporting marriage equality for gays and lesbians more than doubled to 13 (plus the District of Columbia); others have "all-but-marriage" laws extending domestic partnership rights and allowing civil unions for same-sex couples. And in June 2013 the Supreme Court of the United States struck down federal discrimination against same-sex marriages.
Just a few years ago, the freedom to marry was considered an unattainable dream. Fast-forward to today, and the progress on this issue is clear.
This is a remarkable achievement—just a few years ago, the freedom to marry was considered an unattainable dream. Fast-forward to today, and the progress on this issue is clear. Not only are more states approving marriage or all-but-marriage for same-sex couples, but polls from Gallup, CNN, ABC News, and others show that a majority of Americans now say they support marriage equality.
Continuing the Conversation
Evan Wolfson, appearing on CNN on the night that marriage equality became law in New York, called it "a momentous day," but he acknowledged the work ahead. "We still have to work and have the conversations with our fellow Americans about why marriage matters," Wolfson said.
At the Haas, Jr. Fund, we are committed to keeping those conversations going, and to staying in the fight for marriage equality through both the highs and the lows. The Fund is committed to this work because the movement for marriage equality is a movement for broader acceptance of gay and lesbian people in this country. As Wolfson suggests, that can only happen as more and more Americans come to understand that gays and lesbians are simply looking to have the same rights that so many other Americans take for granted: the right to make a lifetime commitment to someone they love, and the right to be a family in the eyes of others.