Evelyn D. Haas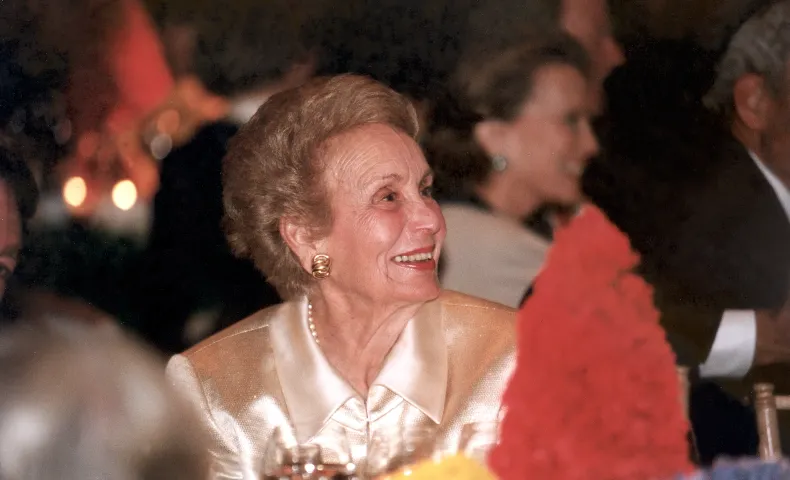 Evelyn D. Haas was a prominent Bay Area civic leader and philanthropist, whose dedication to public service touched the lives of millions of people through her involvement with civic and cultural institutions. She passed away on February 3rd, 2010 in San Francisco.
Born Evelyn Danzig in 1917, she grew up in New York City and graduated from Wheaton College in Massachusetts, where she developed her love of art. She met her future husband, Walter A. Haas, Jr., while he was attending Harvard Business School. They married and moved to San Francisco in 1940, where they raised their three children—Robert D. Haas, Betsy Haas Eisenhardt, and Walter J. Haas.
Mrs. Haas delighted in finding ways to make art accessible to all people, and is perhaps best known in the Bay Area for her leadership on the board of the San Francisco Museum of Modern Art. She and her husband were instrumental in helping raise the $95 million needed to build the new facility in 1995. Today, the museum attracts more than 700,000 visitors a year and, in part due to Evelyn's having led the museum's membership committee for many years, boasts a membership of more than 40,600 households—one of the largest of any modern art museum in the nation.
As a great lover of the outdoors who was committed to ensuring that all people have access to the Bay Area's beauty, Mrs. Haas, and her family, spearheaded the restoration of Crissy Field—a 100-acre shoreline park on the Golden Gate. The project is now regarded as a national model for how to create an urban park while engaging diverse communities in its stewardship, and more than eight million visitors have enjoyed Crissy Field since completion in 1999.
Evelyn was a leading advocate for the San Francisco Chronicle's annual Season of Sharing Fund, which her husband, Walter, first launched with the newspaper in 1986. After Walter's death in 1995, Mrs. Haas became even more active in the campaign as one of its most vocal proponents, writing personal letters each year to urge hundreds of friends and colleagues to help their Bay Area neighbors in crisis. Since 1986, Season of Sharing has provided more than $72.5 million in direct support to area residents.
Mrs. Haas also was a Life Governor of the San Francisco Symphony, with which she was involved for more than 40 years. With her leadership, the Fund provided the symphony with a $10 million lead challenge grant for the creation of "Keeping Score: MTT on Music," aimed at bringing the power and joy of classical music to millions of Americans' homes and schools.
In partnership with her husband, in continuing their shared philanthropy after his death, and in her own work as an active volunteer and community leader, Evelyn Haas acted from a strong, generous and committed spirit to effectively promote fairness and create opportunity for the most disenfranchised of the communities in which she so actively participated.
Read Mrs. Haas's obituary here.