University of California, Berkeley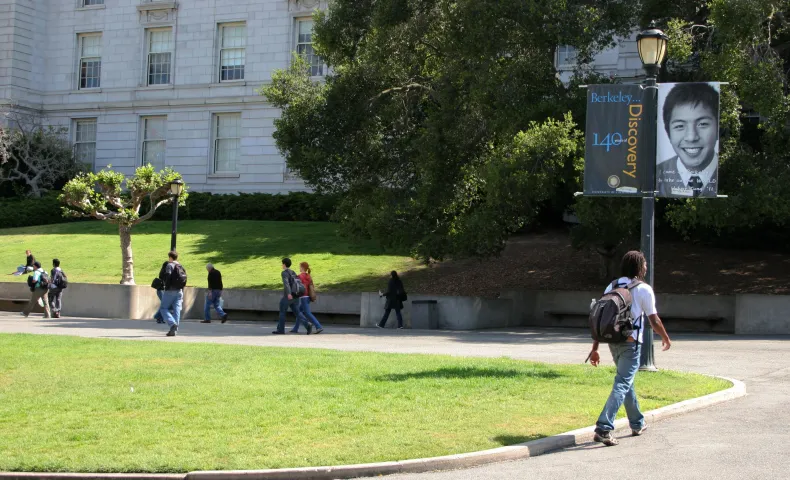 The University of California, Berkeley is known around the world for its tradition of excellence. Over the decades, the Haas, Jr. Fund has maintained a strong partnership with Cal, supporting a variety of key campus programs and initiatives, from its athletics facilities to the university's groundbreaking efforts to become an evermore inclusive and equitable institution.
Embracing Equity and Inclusion
In 2010, the Haas, Jr. Fund helped launch the U.C. Berkeley Initiative for Equity, Inclusion and Diversity. The sweeping initiative expands research and teaching on diversity issues, funds new scholarships for students from low-income families, and makes equity and inclusion a priority in every corner of the Cal campus. The Haas, Jr. Fund has invested more than $19 million in these efforts.
Supporting Undocumented Students
In 2012, the Haas, Jr. Fund partnered with Cal to ensure that a student's immigration status shouldn't be a barrier to a great education. The Fund provided a gift of $1 million to U.C. Berkeley for scholarships for undocumented students. This was the largest-ever gift for scholarships of this kind at the time, and it assisted nearly 200 undocumented students from 20 countries.
Enhancing the Student-Athlete and Fan Experience
The Haas, Jr. Fund has a history of involvement in Cal's athletics programs. In 1994, the Fund made the lead gift of $11 million to help rebuild the 12,000-seat home of the school's basketball and volleyball teams: the Walter A. Haas, Jr. Pavilion. The Fund's support for this $57 million athletic and activities center reflected the late Walter A. Haas, Jr.'s love for sports and his alma mater. (In 2014, the Fund made a $10 million grant to support renovations to the Pavilion.) In other investments, the Haas, Jr. Fund made a $15 million grant to support Cal's Student-Athlete High Performance Initiative Fund. This fund supports all of Cal's intercollegiate athletics, including the construction of a sports training center that provides equipment and academic resources to help student athletes build strength both on and off the sports field.
Investing in Key Facilities and Programs
Other Haas, Jr. Fund grants to Cal include $500,000 to the university's Bancroft Library, a vital custodian of California's historical and cultural heritage, for its building renovation and improvements to create greater access for students, scholars and the public; and $350,000 to the Haas School of Business to research the effectiveness of socially responsible corporate business practices and for general support. The Fund has also helped support recent capital improvements at the Haas School of Business.