Leveling the Playing Field for Dreamers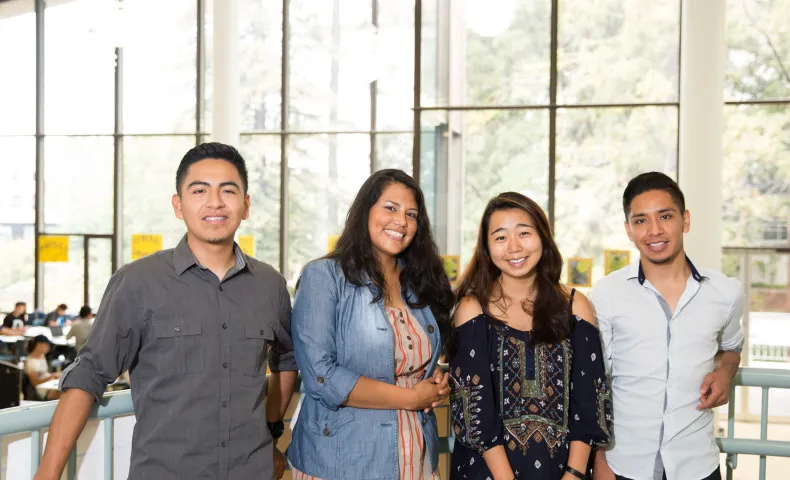 U.C. Berkeley has become a national leader among institutions of higher education in opening its doors and providing dedicated support to undocumented students.
As a longtime supporter of Cal, the Haas, Jr. Fund partners with the university to help Dreamer students create a brighter future in the only home country most of them have ever known.
Expanding Access to Education for Dreamers
In December 2012, the Haas, Jr. Fund joined with Cal to announce a gift of $1 million for scholarships for undocumented students at the university. The scholarships are intended to help level the playing field for Dreamers who have excelled in school, and yet do not have access to the same sources of financial support as their peers. The Fund's gift remains one of the largest-ever scholarship programs of its kind. So far, it has assisted nearly 200 undocumented students from 20 countries.
Providing Dreamer Students with Needed Support and Services
Also in 2012, a gift from Elise Haas in honor of her father, a Haas, Jr. Fund trustee, supported the creation of the Robert D. Haas Dreamers Resource Center at Cal. This first-of-its-kind program provides Dreamer students at the university with academic counseling, mental health support, legal services, financial aid advice, emergency grants, peer support and a textbook lending library.
Telling the Stories of Dreamers
The success of the Dreamer movement is in large part the result of Dreamers coming out of the shadows and sharing their stories of how they came to this country and their hopes for the future. The Fund has been honored to help share the stories of a number of Cal's inspiring undocumented students, through the first-person stories series. Get to know some of these students in the video below:
Learn more about the Undocumented Student Program at Cal.