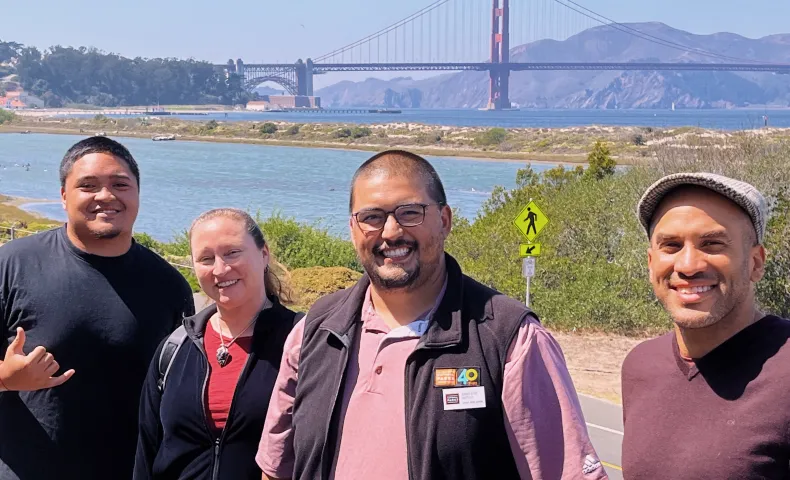 A New Vision for Leadership at the Crissy Field Center
San Francisco's Crissy Field is open and free for all to explore, but there is a special place at its heart that's reserved for youth, educators, and public schools: the Crissy Field Center. Since 1986 when the Haas Jr. Fund supported early planning to reimagine a former U.S. Army airfield as a vibrant, multi-use green space accessible to the community, youth engagement programs have been a priority. The programs use nature and the outdoors as learning landscapes for young people to explore and connect to the environment and social justice issues, and provides a beautiful and calm respite from what can be tough urban living. And now those programs have a brand-new home that includes a state-of-the-art two-story building featuring learning labs, art and cooking spaces, a field station, a courtyard, and two outdoor playscapes.
The Crissy Field Center upgrade was part of the Presidio Tunnel Tops project that developed a gorgeous new 14-acre parkland overlooking the Bay. The Center has been increasing its partnerships with local schools and community groups and becoming more intentional on who it serves and the types of programs it offers. It's another success story of the longstanding partnership between the Golden Gate National Parks Conservancy (GGNPC), the National Park Service, and the Presidio Trust, three organizations that have worked with the Haas, Jr. Fund and other partners over many years to center equity and access in this unique public space.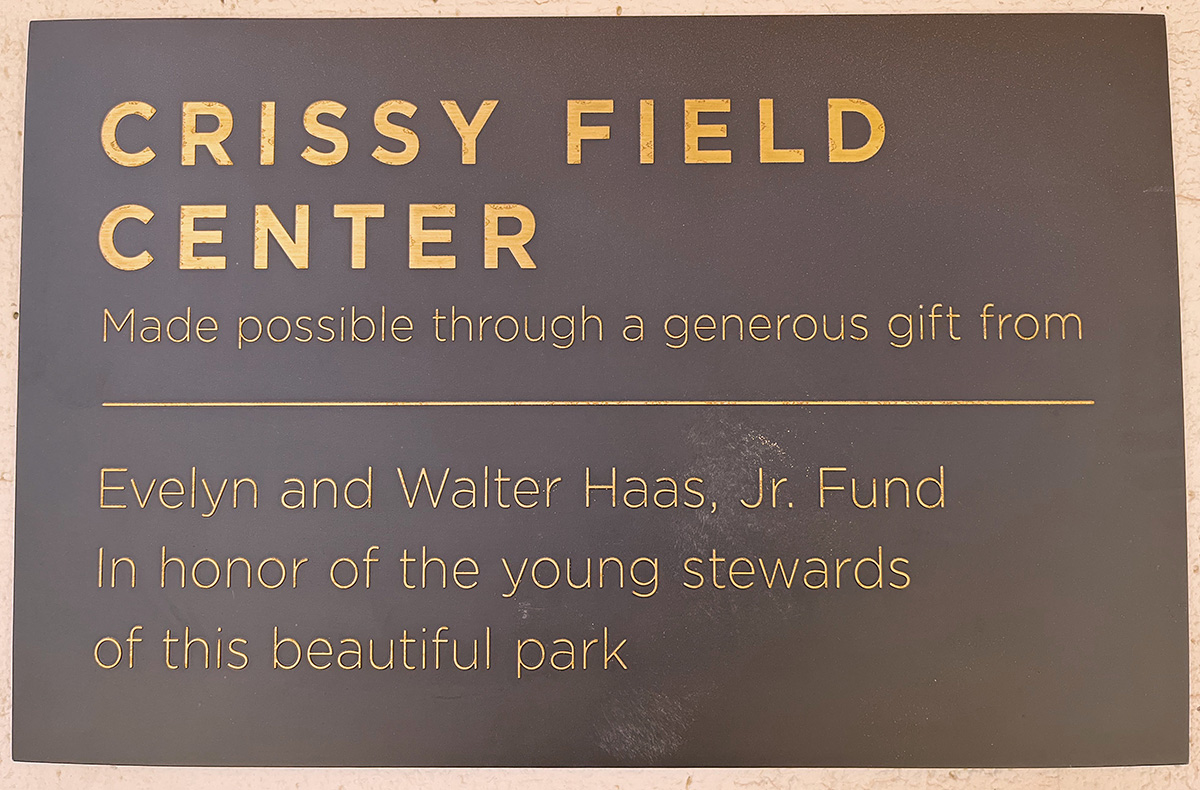 We spoke with Ernesto Pepito, associate director of youth leadership, and Dylan Neopmuceno, a former youth participant and now a lead adventure guide, to learn how the Center has impacted their lives and evolved over time.
Dylan, tell us about your journey with the Crissy Field Center.
It was at the end of 6th grade when the coordinator of the afterschool programs at my school, (Lawton Alternative School), told me about a paid summer opportunity at the Crissy Field Center. I joined the Urban Trail Blazers program, earned some money, and really started to get connected to the Presidio and nature. It was that summer that I started to really find myself, and I continued with the program through 7th and 8th grade. The atmosphere of the Center made me step outside of my comfort zone. I started doing volunteer work, I branched out and met new people, and became more comfortable with the outdoors.
During my high school years I became serious about playing rugby, but an injury dashed my hopes of playing professionally. I was in a mentally dark place at that time and the youth center brought me back. I'm now the lead adventure guide, and I'm helping other young people find themselves and connect with nature.
Ernesto, you've been part of the Crissy Field Center for many years. How have the center and its programs evolved over time?
I think how the center started and how it has evolved are very different stories. We started off as the only program serving young people in the Presidio area, and now we have YMCA and other summer camps all around. But we've always tried to meet the moment. We are not just any summer program, we are about community engagement. That is our niche. We are partnering with schools and community groups that don't traditionally come here. Our LINC summer program is for high school youth aimed at building career and leadership skills. It is also a paid opportunity, we award $2,300 to youth for successful completion. With this new home in the Presidio Tunnel Tops, we serve as a base for schools to visit the park and the campgrounds without competing with the general public.
What do you love most about the programs here at the youth center?
Dylan: The sense of community and the family I have here. The sense of belonging I had here was something I missed in the other spaces I was in. But Crissy Field Center, the folks here, and the long-lasting friendships I've formed here have kept me going through all the ups and downs of my life. As a youth leader now, I want kids to know they don't need to put themselves down for anybody else. They don't need any external energy to get them down. Part of the program is about discovering yourself and finding a sense of belonging and power.
Ernesto: Mentorship is a huge part of what I think is transformative about our work here. It is about allowing ourselves to set up programs that are not just one or two visits but we really get to know young people over the whole summer. Dylan's a great example. We had enough different programs at different levels that we were able to bring him in over and over again. Now he's part of a brand new approach to the adventure guide program: a part-time workforce development opportunity that allows young folks to play a key role in public engagement at the Tunnel Tops while also participating in professional development training and career exploration opportunities.
We co-design the programs with young people. They get to practice being in charge, problem solve, and learn to work together. Our programs are about much more than connecting youth to nature; they're about connecting them to themselves and their communities, and helping them develop passions and strengths that will serve them all their lives.