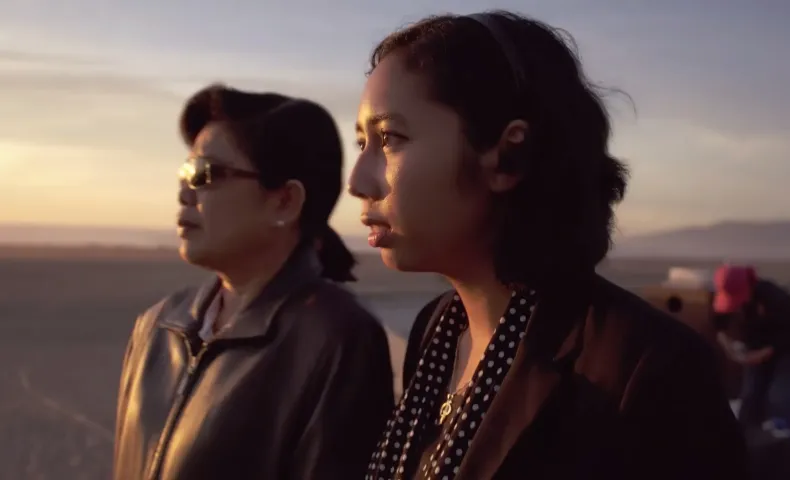 Siti Dyannie Rahmaputri
Siti Dyannie Rahmaputri ("Putri") was born in 1993 in Jakarta, Indonesia. She is an only child. Putri and her parents left Indonesia for the United States on temporary visas when she was 11. Her father had been a banker in Indonesia and her mother had a college degree. Determined to get Putri a quality education in America, the family applied for permanent residency but were turned down. As undocumented workers, Putri's parents for many years have subsisted on under-the-radar jobs in gas stations, small shops, dry cleaners and liquor stores. Sitri was preparing to enter college when the family faced the threat of being deported back to Indonesia. Their dream of a new life in America was at risk.
A Childhood Filled With Music, Followed by California Dreams
I had the best childhood ever. My parents didn't have me until 10 years after they got married, so they really put a lot of love and investment into me—and they especially wanted to make sure that I gained a good education. At the same time, they let me have lots of free time and they allowed me to become a singer when I was in kindergarten. There was a boom of child stars in Indonesia in the 1990s and I was really into singing, so it was great. I even made a music video. It was just pop songs—songs by a six-year-old for six-year-olds. But I stopped singing around fourth grade because that's when we started moving around to West Sumatra and other cities. My dad was in banking and he was always moving around to different branches.
In Jakarta, we were middle-class and lived in a nice house, but my dad had to take early retirement. I don't know why, but something happened. They just suddenly said: "We're going to America, say goodbye to everything you have here." I was 11 years old at that time, so going to America just meant going to Disneyland for me. But my mom said that we were going to America so that I could get the highest education possible—and that has really motivated me ever since.
We're going to America, say goodbye to everything you have here.
Finding A Voice in a New Language
We came to the United States on a six-month visa and my parents thought that they could apply for residency once they got here. That's what they thought—that after a couple of years they could become permanent residents. But that didn't happen, and my mom and dad still have never been able to work here legally. My mom had an associate degree from Indonesia. She was an English major, but that didn't help her at all. My dad was a little bit better off than my mom because he used to work at the American embassy back in the 70s, before he was banker. He has a better grasp of English than my mom.
My mom started out working at a liquor store and then at a dry cleaner—that's what she's been doing for the last five years, and my dad has been working various jobs to feed the family.
I'd been studying some English in Indonesia, but when I got to San Francisco and started school at James Lick Middle School in seventh grade, I had no idea what my classmates or my teachers were talking about. But in eighth grade, I ended up being in the school musical—Grease. I only had very few speaking lines, but I did have a solo song. Singing together with my new American friends was a fun experience and it didn't really require a common language. Just music.
I was surprised that I got straight-As in middle school, even though I'd just gotten here. It was because of those good grades that I was accepted into a very selective public high school, Lowell High School in San Francisco. I had to work really hard there. But I really enjoyed it; it was fun, and I made a lot of friends. The student population was something like 75% Asian, unlike my middle school where I think there were only three Asians in the entire school.
I was not the best high school student, but I was in the honors program for math, I took a lot of AP classes during my junior and senior years, and I even took honors Japanese—I studied Japanese for all four years.
We Might Have a Problem
As she made her way through high school, Putri began to understand the challenges that she and her family faced because they were undocumented. Because of the California Dream Act passed in 2011, undocumented young people who came to the United States with their parents ("Dreamers") were eligible for student financial aid and private scholarships at state colleges and universities. But the lack of national legislation to fix the country's broken immigration system meant that Putri and her parents faced the prospect of never being able to find legitimate work in the United States or get health insurance, driver's licenses, passports and other things that many Americans take for granted. They also faced the constant threat of deportation.
All along, my parents had given me little hints about our immigration status. I had friends who were from Asia and Indonesia who could easily go in and out of the United States and visit their old countries whenever they wanted to—but we couldn't do that. I started to realize that I might have a problem. By the end of high school, I understood that we were undocumented and that it really put me in a limitation.
I had to start thinking about where to go to college. From a very young age I wanted to go into the medical field—I loved the sciences—and after taking AP Psychology, I found that I really liked psychology. If you put psychology and chemistry together, there's neuroscience and neurobiology. I knew that's what I wanted to do, but I didn't know how to get there. In my senior year of high school I got accepted into a lot of the UC schools, to some private schools out of state, and even to a university in Japan. But my parents' health was not very stable at the time, my dad had just gotten an operation for prostate cancer and we didn't know whether his cancer would come back. Being the only child, I felt like there was no way I could leave my parents behind after high school. I knew that I should stay close to home.
The Deportation Rug Is Pulled Out
When I really started to get concerned about my immigration status, a counselor encouraged me to go to the Asian Law Caucus in Chinatown. I'd always thought that since my parents already had a lawyer, I didn't need one. But I finally realized that I needed to take some action on my own and that's when I met with an immigration attorney. My lawyer said, "You're a Dreamer student, right?" I said, "I guess so." My lawyer introduced me to a group of undocumented Asian students called ASPIRE. That's when I first got involved in the immigration movement. At that time, I was ASPIRE's youngest member and the only high school student.
At the end of my first semester I found out that my parents and I were in deportation proceedings. I had just turned 18 and thought that I'd be safe at community college for at least those two years. But then it was clear that we might be deported.
At Lowell, they always push you to go to one of the UCs, but I knew my parents would go into debt if I went to a four-year university, so instead I went to Diablo Valley, a community college in the East Bay. I rented an apartment over there with some other students. I liked it there, but at the end of my first semester I found out that my parents and I were in deportation proceedings. Their application to become permanent residents had been declined. It came as a shock to me. I had just turned 18 and thought that I'd be safe at community college for at least those two years. But then it was clear that my parents and I might be deported.
You Must Leave This Country by June 1st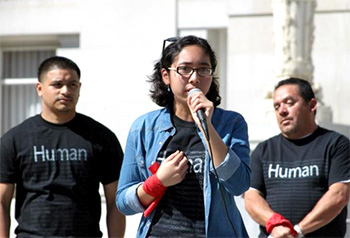 The United States has been deporting close to 400,000 people each year, according to Haas, Jr. Fund grantee the National Immigration Law Center (NILC). The federal agency responsible for deportations is Immigration and Customs Enforcement (ICE), a part of the U.S. Department of Homeland Security. Under a 2011 policy called "prosecutorial discretion," ICE stated that it would not use its resources to deport immigrants it considers "low priority," such as those without any criminal records. However, the tide of deportations has not let up and aspiring Americans like Putri and her parents continue to face long and unnecessary detentions, unfair and costly legal proceedings and unjust deportations.
We were advised to file for a prosecutorial discretion. We directly asked ICE to stop the deportation. When we went to the ICE offices in San Francisco to meet the immigration officer in charge of my parents' case, I was sitting between our lawyer and my mom and dad. The officer asked me when my last day of school for the spring semester was. I told him that it was over at the end of May. He turned to my parents and our lawyer: "If the prosecutorial discretion is not approved, you must leave this country by June 1st."
This was during my second semester of community college and I thought that I had to end my education, that I only had a few months to say goodbye to my friends and my community. Although we weren't detained during that time, they took our pictures and fingerprints and we were told we had to report to ICE every month. And because our deportation date was on June 1st, we had to show that we had bought our airplane tickets by March 1st.
Studying for Classes from the Offices of ICE
I didn't cry at all, I tried to be brave. My parents were in shock, so I kept quiet while they took our photos. We were fingerprinted at the detention center and that's where we saw a lot of people in handcuffs and cuffs on their waists and ankles. The detainees just happened to be in a room we were in at the time. My parents held onto me really tight to make sure that I was right there near them. Even the immigration officer said, "I'm very sorry. I didn't mean to show you this side of the offices." It was scary, but it was a good experience for me to see that side of ICE. It got me thinking about the privilege I had, how thankful I am for all the help and support from the community.
Checking in with ICE every month was not how I would have chosen to spend my time while trying to do my best in college, but I made the best of it. I studied in the waiting room and my mom and I even made jokes about it, teasing that we liked going there because our immigration officer was good looking. Truthfully, going to the ICE offices was always pretty scary. We were all relieved when my lawyer called to tell me that ICE had approved our prosecutorial discretion and extended our deportation date to December 31, 2012. It took some of the pressure off.
Relief from Deportation for Me—But What About My Parents?"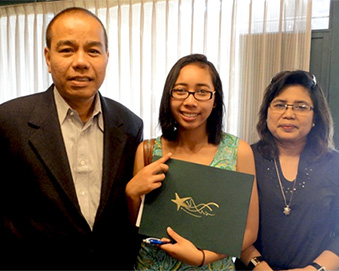 In June 2012, President Obama approved a new policy allowing certain undocumented immigrants who came to the United States as children to apply for temporary work authorization and a two-year reprieve from deportation. The Deferred Action for Childhood Arrivals (DACA) policy was an important (albeit temporary) victory for Dreamers, but it is no substitute for broader legislation providing a pathway to citizenship for Dreamers and other undocumented immigrants.
Then DACA came up and my deportation was deferred for two years, from 2012 to 2014. At the time, it was a big relief for me. But what about my parents? They still had to leave the country by the end of 2012. They had already decided that if they were actually deported, they would leave me behind. They didn't want me to quit college. And I didn't want to waste all of the sacrifices my parents had already made for me. I knew I had to stay.
A Decision is Won, But Fear lingers
In December 2012, the Asian Law Caucus launched an online campaign calling for prosecutorial discretion for the families of Putri and another student. In just a few weeks, the campaign collected roughly 1,600 signatures, and Putri appeared on television and did newspaper interviews making the case for the two families to stay in the United States. By January 2013, ICE had granted prosecutorial discretion to both families so they do not face an imminent threat of being deported. Putri has since enrolled in the neurobiology program at U.C. Berkeley.
After I got my AA degree in Biology at Diablo Valley College, applied to four UCs, and was accepted into all of them. I chose Berkeley and got into the program that I really wanted: Neurobiology.
Even though things are going so well for me, sometimes my fears continue to linger. And my parents are still scared of getting deported and being separated from me. But I plan to keep working hard to deserve the privileges I have in America. I used to think that I didn't have the power to make changes or influence anything, but now I feel something different—now I really want to share what I've learned. I want to open up and reach out.