How to Build an Organization That Values Collaboration
The Center for Community Change's new report, Change Starts Here, should be required reading for anyone who is interested in what it will take for the social justice movement to keep innovating, expanding its impact, and cultivating new talent and energy in the years ahead.
The report tells the story of the CCC's multi-year effort to transform itself as an organization. Executive Director Deepak Bhargava explains it this way, "As we considered what needed to happen to address the huge and daunting issues of inequality and injustice in this country, there was a realization that launching more campaigns wouldn't be enough. We needed to reinvent the organization — and we needed to reinvent ourselves."
CCC's new report documents this reinvention effort, called CCC of the Future. Among the organization's key priorities were providing focused leadership development for staff; emphasizing collaborative skills and personal change; and fostering an organizational culture that values learning and partnership. A dedicated staff member whose primary role was to oversee and implement the change effort kept the work alive in the face of the many other urgent demands.
Making this kind of investment might sound like a heavy lift for many social justice organizations and their leaders, considering how stretched they already are. But the Change Starts Here report shows why it is so important.
I have so much respect and appreciation for CCC not only for taking on this hard work, but also for making the time to reflect on what they're learning and then having the courage to share their story publicly. In doing so, CCC is helping pioneer new ways of pursuing social justice that may be more powerful and more sustainable.
The work of social change can take a heavy toll on individuals and institutions, contributing to exhaustion and burnout. And organizations are sometimes so deep in fighting today's battles that they fail to invest for tomorrow.
CCC is showing what happens when a leading organization in the sector decides to say, "Enough." Its story shows what can be achieved when an organization and its leaders make a commitment to changing not just the outside world but also the "inside" behaviors and systems that are wearing down its people and keeping them from achieving their true potential.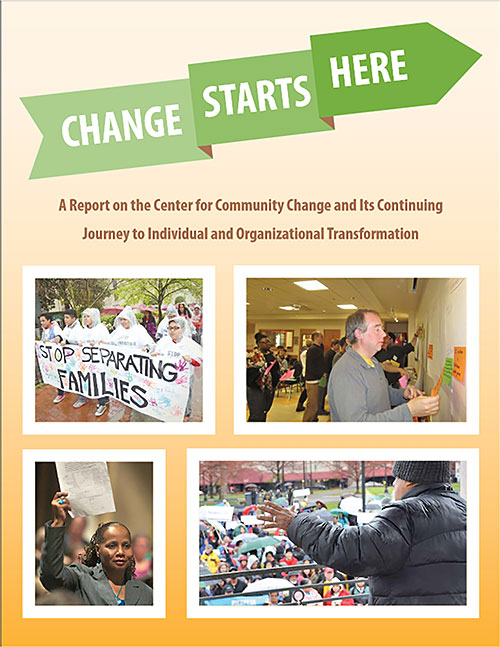 In the words of Pamela Chiang, who led the CCC transformation effort, "This is about getting better results for the organization and the movements we're involved in. If we can collaborate effectively, work through our differences and deepen trust, there's no limit to what we can achieve in this world."
Download the full report, or visit the Center for Community Change website to learn more.