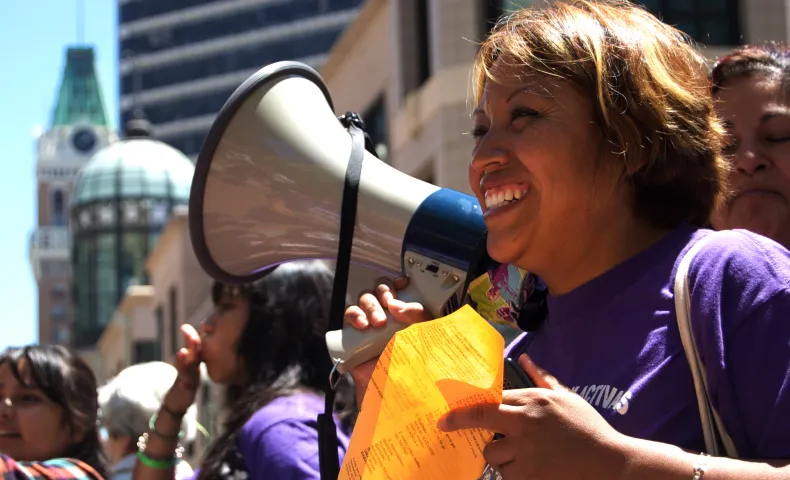 Lifting Up Community Voices
No matter where we are on the political spectrum, I think we can all agree that more participation in our democracy makes the country stronger.
As we mark the 50-year anniversary of the Stonewall Uprising for LGBT rights, it's exciting to see how new communities are making their voices heard today. From Black Lives Matter to the #MeToo movement, we've seen a powerful surge of enthusiasm and energy from the grassroots across the country. Unprecedented numbers of new leaders, voters, volunteers, and donors are stepping forward and working for change.
Turning Up Turnout
One place where this upsurge in participation has been readily apparent is Orange County, California. In the November 2018 election, voter turnout in the county topped an amazing 71 percent. The comparable figure in the last midterm election: less than 45 percent. One clear result of the rising rates of voter participation? The faces of the county's elected officials are becoming more reflective of its rapidly changing population.
Over the past several years, Orange County was one of four areas across California where the Haas, Jr. Fund has been working alongside other funders and local organizations to nurture and build broad-based social change movements. The focus of our work together: nonpartisan efforts to mobilize traditionally underrepresented communities—Latino and Asian immigrants, African Americans, and low-income residents—to participate more actively in civic life and develop a stronger voice on issues that affect them.
Because of this work, we know that the jump in voter participation in Orange County in 2018 was not a chance occurrence or a one-time thing. It's the result of years of hard and intentional work undertaken by groups focused on issues from immigrant rights and affordable housing to education and health care. It's also the result of funders coming together and supporting visionary local leaders to work on community-owned priorities.
The Orange County story was one of many highlights of an election that saw women, candidates of color, LGBT candidates, and younger people running for office and winning in record numbers. It's a powerful reminder of what happens when we create new on-ramps to voting, civic participation, and leadership for people who for too long have been left out of decision making.
Now, the Haas, Jr. Fund is joining with other funders and local leaders to apply what we've learned in Orange County to other places. For example, community leaders in the diverse Central California of Fresno are coming together across race, issue, and neighborhood lines to work on issues of common concern.
Lessons for Philanthropy
This work holds important lessons for philanthropy—and for all of the U.S.—as more and more communities experience the transformative demographic shifts we've seen in Orange County, Fresno, and throughout California:
There is power in supporting people and communities to exercise their democratic rights.
There is power in creating opportunities for underrepresented populations to develop and hone their leadership skills.
And there is power in giving organizations and movements at all levels the reliable, flexible resources they need to work together and advance a positive vision for our communities and our society.
Let's use the rest of 2019 to apply these lessons in a way that will further strengthen our democracy by getting more disenfranchised people excited and involved in the process. Grassroots organizations that are doing this work in California and nationwide urgently need support for community organizing, leadership development, technology, and more.
Now is the time for philanthropy to step up and respond. Together, we can lay the groundwork for bigger, bolder, and broader participation in 2020 and far into the future.