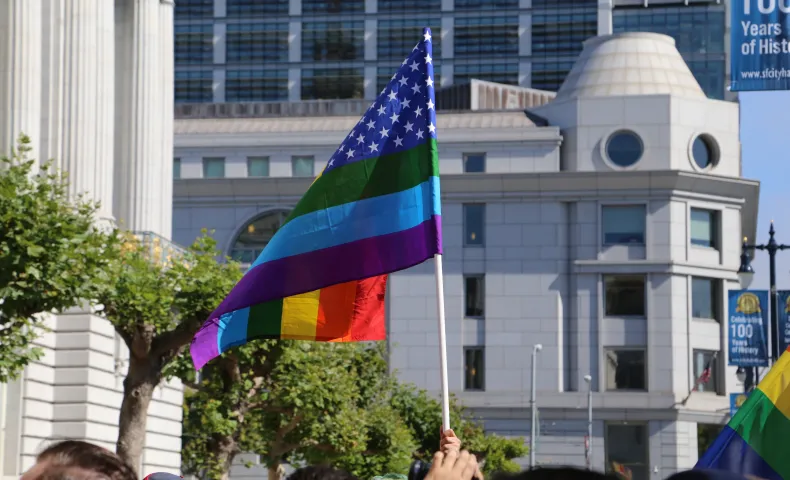 Philanthropy's Role in the Marriage Win
This op-ed was originally published by the Chronicle of Philanthropy here.
---
The Supreme Court's freedom-to-marry ruling was a momentous and inspiring win not just for gay people and our loved ones but also for America, a giant leap forward on our journey to a more perfect union.
The decision not only required the freedom to marry throughout the land but signaled that it is time to end the "gay exception" to the law in all other areas. And while its overdue arrival may have felt like a "thunderbolt of justice" with accelerating momentum, in President Obama's words, this transformative triumph was in fact the result of long, hard, and tenacious work over many decades.
There has been an extraordinary amount of interest in understanding how the freedom-to-marry movement came so far, ostensibly so fast.
Clearly, many forces have been at play, but the important role of philanthropy—which embraced a sustained campaign to promote the idea and invested $120 million in it—cannot and should not be overlooked. Moreover, the role of foundations offers some important lessons about how philanthropy can best advance social change. Among them:
Get behind a big vision and take risks.
In 2000, when I working as a lawyer at Lambda Legal, I was approached by leaders of the Evelyn & Walter Haas Jr. Fund for some advice. The fund had recently decided to invest in gay rights as part of a broader focus on civil rights and equal opportunities. The question at the heart of our conversation: How could the foundation best advance rights and dignity for gay people?
I was able to persuade Haas Jr. that fighting for, let alone winning, the freedom to marry would propel equality and inclusion for gay people in ways nothing else could.
At the time, there wasn't even agreement within the LGBT movement that working on marriage was the way to go, and many leaders rolled their eyes at what they saw as my quixotic or misplaced vision.
But Haas Jr. made a big bet and became the first foundation, started by gay or straight donors, to make the fight for marriage a priority. Its $2.5 million challenge grant in 2001 helped me start Freedom to Marry, the campaign to win marriage nationwide. We hoped that this initial grant—then the largest foundation award in the history of the gay movement—from a highly respected, nongay foundation would swiftly help open the doors of many other foundations supporting social-justice causes. We were wrong.
For the first couple of years, it was exceptionally difficult to raise foundation money for marriage—it was perceived as too risky. Fortunately, the few foundations that stepped up with my "build it and they will come" approach ultimately proved enough to get things rolling. However, we could have evolved beyond a transactional, cobble-it-together model to a true campaign much sooner had the money been available from the start.
Finance smart strategies and give leaders plenty of freedom and long-term support.
The marriage movement endured its share of bruising losses, such as in November 2004, when 11 states adopted anti-marriage constitutional amendments; in 2006, when we lost a string of state court cases; and in the 2008, with the passage of California ballot measure Proposition 8.
In the wake of these defeats, foundations could have stepped back or pushed for a go-slower approach. Instead, grant makers embraced the view that while you always want to win, sometimes the best you can do is to fight well so as to at least "lose forward," preparing yourself to win the next time.
Most of our foundation supporters stayed with us through these tough times. In early 2005, for example, the Gill Foundation and Haas Jr. were instrumental in bringing key grant makers and LGBT movement leaders together to rearticulate and recommit to the goal of winning the freedom to marry and to the strategy to make it happen.
We came up with a way to get more foundation money into state-based work by starting the Civil Marriage Collaborative, which ended up generating an additional $19 million for the Freedom to Marry strategy. Foundations also increased support to several key players working with us on essential elements, such as conducting research, pursuing lawsuits, and mobilizing activists.
Ultimately the marriage cause brought in mostly new money, predominantly nongay, and the excitement around the campaign and its increasing success in turn galvanized giving by individuals, gay and nongay, so substantially that the pie for the gay-rights movement as a whole was much bigger.
Give money early and then help pay for expansion long before a crisis hits.
After the 2004 losses and in the years leading up to the attack we knew was coming in California (what became Proposition 8), we all understood that we had to find a better way to talk to the public about the importance of the freedom to marry. We also knew that would take unprecedented investments in research and communications—not just message but message delivery.
Unfortunately, even in California we weren't able to bring the scale of resources needed. As a result, we were swamped by the fear-mongering of Proposition 8's proponents. We learned yet again that hearts and minds needed to be changed before a marriage fight went to the ballot.
As we rebounded, several of my foundation supporters and movement colleagues urged me to morph Freedom to Marry from the catalyst and strategy center it had primarily been to the full-fledged, on-the-ground national campaign we had long called for. Once again, grant makers increased their support, enabling us to vastly expand—and setting the stage for dramatic wins from 2010 on.
Today the Freedom to Marry campaign is viewed as a model, but for much of the time it felt like more of a muddle. A ton of credit goes to the foundations and donors (including contributors to our 501(c)(4) arm enabling our lobbying and ballot-measure work) that not only launched but sustained us through the ups and downs. Supporters of social-justice movements should apply these lessons to the enormously important work that remains, today and long beyond.
---
Evan Wolfson is the founder and president of Freedom to Marry.