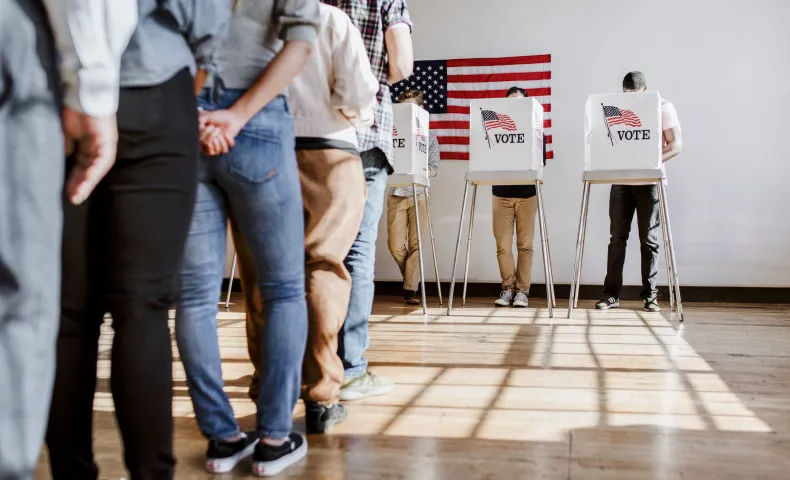 Poll: Californians Identify Problems, Solutions for Advancing A Multiracial Democracy
The Institute of Governmental Studies (IGS) at UC Berkeley, with support from the Evelyn and Walter Haas, Jr. Fund, released polls this year that looked at how Californians are feeling about their democracy. The results offer an important snapshot of where there is progress and how far we still have to go to achieve a truly inclusive, multiracial democracy in California.  
First, the concerning. The poll demonstrated that gaps in participation for underrepresented communities are still deeply troubling. IGS found that regular voters tend to be far older and whiter than all registered voters. Young people and Latinos are particularly underrepresented in the electorate. Young people and people of color also have lower registration rates.
During a September convening on the poll results, a diverse panel of government and nonprofit leaders discussed the implications for democracy in California. Said panelist Assemblymember Gail Pellerin, "We are not doing enough to reach out to people who are young voters and the BIPOC community, and there's a lot of work we need to do to make sure we are connecting with voters."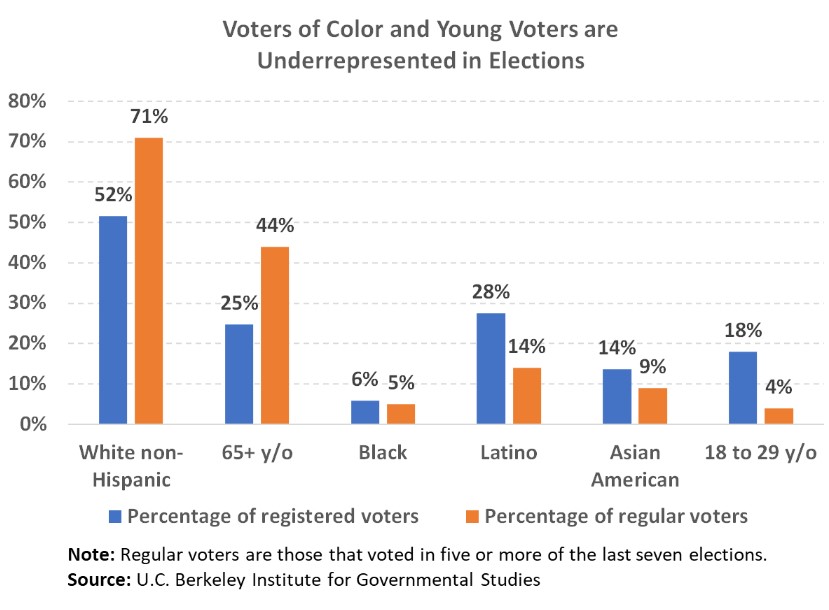 The poll also showed that Californians understand that these participation gaps are a problem. Most voters believe disparate voting rates represent a threat to democracy in California. In fact, 54% of respondents said lower voting rates for voters of color are a major concern, and another 20% believe these disparities are a minor concern. Similarly, 48% believe disparate voting rates for young voters compared to older voters are a major concern, and another 27% believe they are a minor concern.  
Moving to Solutions
It's not just that Californians are aware of the problem; they want lawmakers to do something to make democracy fairer and more representative. During the September panel, Mark Philpart, executive director of the California Black Freedom Fund, reflected on how the state government "scrambled" during the Covid-19 pandemic and the racial reckoning to connect with and support community-based organizations to reach people with information about vaccines and racial equity issues.  
When it comes to supporting the same groups to do voter outreach and engagement, Philpart said the state has dropped the ball. "A few years later, the spigot is turned off and [government officials] expect that infrastructure to be maintained without support. It's just not feasible. And so, I think we have to take a very hard look at how we can have sustained money from the state invested in community organizations."  
The IGS poll shows that voters support Philpart's suggestion. In fact, two-thirds of voters believe the state government has a responsibility to expand voter outreach with the goal of increasing voter participation among underrepresented groups.  
Added Assemblymember Pellerin, "Voter outreach is not something we do just around election time. We need to continue to do voter outreach throughout the year to engage voters from trusted messengers."
Voters' Main Concerns About Democracy in California
IGS found that the overall level of satisfaction with California's democracy is disturbingly low, with just a slim majority, 53%, saying they are moderately or extremely satisfied. Some of the other areas that the poll found Californians were concerned about included:
Californians' concerns about their democracy are understandable given the high level of political polarization across the country and the inability of elected leaders to address core issues from systemic racism to immigration. Yet, the IGS poll also points to solutions that can restore trust. For example:  
Nearly half of voters (47%) want to see "independent redistricting"; only 20% were opposed.  This would be a way to combat gerrymandering by taking the drawing of political districts out of the hands of lawmakers.
Voters support publicly financed elections (53%), which could be a way to curb the influence of corporations, lower the cost of running for office, and restore confidence in elected officials.  
Voters support giving non-citizen parents voting rights in school board elections by a 51% to 42% margin. Reforms like this, which have been implemented in San Francisco and passed by voters in Oakland, have the potential to expand the electorate, and could help address the underrepresentation of people of color.  
"Authentic Engagement" Needed
The IGS poll provides inspiration and guidance as California strives to build a more inclusive democracy that we can all be proud of. While reforms are necessary, we also need to double down on the hard, long-term work of authentic engagement with voters who are being left out.  
As Veronica Carrizales, vice president of policy and external affairs at longtime Haas Jr. grantee partner California Calls said, "While progress has been made to increase voter registration and access to voting, more is needed to strengthen our democracy. What's critical is year-round education, engagement and organizing of voters who are typically neglected by traditional campaigns and need more information to feel empowered to vote."
Mark Philpart of the California Black Freedom Fund agreed, "These statistics and what we've seen from the poll kind of reiterate the need for deeper investment, more sustained investment, so that organizations...can do the important work of reaching their communities. One of the important things that stood out to me that I think is really important to hold is that these numbers aren't destiny, they can change. So when we talk about the trusted organizations and where people get trusted information, if we were investing in our community organizations, we would see an uptick."
---
To learn more about the poll and the findings, please visit the UC Berkeley Institute of Governmental Studies' website.  A recording of the September panel discussion on the results can be viewed here.