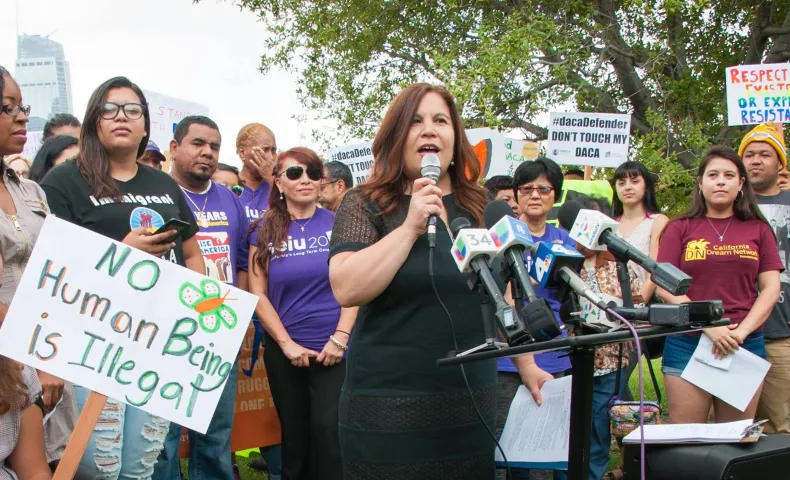 Supercharging Advocacy for Immigrant Rights
At the Haas, Jr. Fund, we're keenly aware of the threat to our values of equality and justice as people continue to be excluded from the political, economic, and social opportunities that should be afforded to everyone. We also recognize the major role philanthropy can play in supporting organizations that are combatting inequality, increasing participation and fair representation, and advancing a vision of a society where there is no us and them, but a "bigger we."
As the philanthropic sector continues to grow with private, community and corporate foundations, LLCs and individual donors—all of which have different abilities to support advocacy—it's important to consider our opportunities to do more. At Haas Jr., we're learning how we can be bolder as a private foundation and how to encourage our funder colleagues to do the same.
This year, we'll have conversations with diverse nonprofit leaders to understand how their work is evolving to meet the moment with urgency and innovation, and build stronger community voice. We'll also explore the permissible ways private and other philanthropic entities can legally support advocacy and, ultimately, deeper community change.
Conversation with Angelica Salas
Angelica Salas is executive director of CHIRLA, a Los Angeles-based organization working to build political power for immigrants and refugees in California. She has deep roots in advocacy and political organizing and has led CHIRLA to become one of the largest and most effective advocates for immigrant rights—in communities, in the courts, and in the halls of power.
It was clear to Angelica from the start of her career that the political system was mostly shutting out immigrant communities and rendering them invisible to elected officials and candidates running for office. Over time, she realized she needed to use all of the political organizing and advocacy tools available to change the status quo.
Haas Jr.'s vice president of programs, Robert Joseph, recently sat down with Angelica to learn how and why CHIRLA leaders created two new organization to supercharge their advocacy.
What strategies and tools are you using to strengthen advocacy for immigrant rights?
We are building political power, people power and advocacy power to keep pushing for what we deserve. There's nothing like winning something for yourself. We know that diminishing our demands is not going to win. The win will come when we have compelled our political actors to take our community into account. When their political lives become dependent on our ability to have better lives in this country, that's when we have won. And that in short is our strategy.
As for tools, we were running up on our limit for advocacy with our 501(c)(3) so that's when we built another sister organization, the CHIRLA Action Fund, which is a 501(c)(4), to enhance our direct advocacy capabilities. But even that had its limits. We lacked the capacity to create a political path for leaders in our own community. So, we founded the CHIRLA Action Fund Immigrant Power PAC, which allows us to develop a national agenda for immigration reform and support leaders from within to run for office and represent us. The PAC work allowed us to be on the same footing as those working against us.
I see a lot of hurt because of people's immigration status. I see the inability to connect with loved ones in our home countries, and simple things like traveling to a different city than your own to watch your kids play sports is not an option because of the constant fear of deportation. And I know these experiences are replicated in the millions and that's why we have to make a change. We want people to be able to live their full selves and not have to face constant barriers due to their immigration status.
How does CHIRLA utilize (c)(3) and (c)(4) entities?
Through education and outreach, our nonprofit 501(c)(3) opens the door for people to become part of our organizing base. They hear about our legal services work and come to the clinics with their needs, or they hear about a protest organized by us and want to join in. We have a membership program now that allows us to bring people in more deeply. Members that support our Action Fund and the PAC have direct input in shaping our agenda. They show up for endorsement committees, and for candidate forums, and get-out-the-vote campaigns.
What are some successes you've seen?
Our members feel powerful. Through the CHIRLA Action Fund and the Power PAC, elected leaders are coming to them to win their support. In many places such as the Antelope Valley (located in northern Los Angeles County), our community is incredibly invisible. Through our PAC we are able to bring members who live in the area to become part of the committee that endorses candidates. Now all of a sudden, the candidate has to have a conversation with them about what they are going to do if they win this endorsement and this race. We shift the power dynamics in this moment with these elected officials. Going forward, the officials seek to maintain a relationship with our members who are part of the endorsement committee. They know our members are the activists and organizers who will hold them accountable and help them move a policy agenda.
What are some of the challenges you've faced?
I don't think people recognize how much it takes to do this work right. We are essentially running three different organizations, with completely different boards, finance departments and time tracking for payroll. It takes a lot of internal design to help everyone understand the rules and the boundaries of each organizing structure. But my perspective is that this is the need of our time. So many right-wing, anti-immigrant groups have put in the time and learned the system and we have got to do it too. It is the only way to get the exponential growth that we need to succeed.
How can philanthropy help?
Supporting innovative and legally permissible advocacy approaches is critical towards the advancement of our policy goals and immigrants' political standing in this country. Philanthropy could be huge in helping organizations build the understanding and the skills they need to be bolder and more direct with their advocacy work.
The other need is to support fundraising innovation in the political space. We know how to fundraise for a non-lobbying organization, but we are challenged to craft a good pitch to political donors who are not accustomed to connecting their giving to long term movement change.
Most of the political money starts at the national level, and by the time donors decide to fund local campaigns it is too late. To garner support against Governor Newsom's recall election last October, for instance, we were able to start early because we had some money saved up. Most of our colleagues were barely standing up their campaigns a couple of months or even weeks before the elections. For me, it is critical that we get dollars to the field early in the game. My hope is that more foundations are able to support political and advocacy work to their maximum legal capacity.
Do you have closing thoughts to share?
I want to finish by saying there is so much more to build here, and I feel like we're only just beginning. The potential to make a difference in people's lives is huge and we have to invest in it. I'm committed. I'm actually obsessed with this, because I think it offers a path towards the kind of society we want. The (c)(3) and (c)(4) work can help us get the engagement and the coalition building we need for success. Without the (c)(4) we're walking without one of the most powerful tools we have at our disposal to advance our cause.