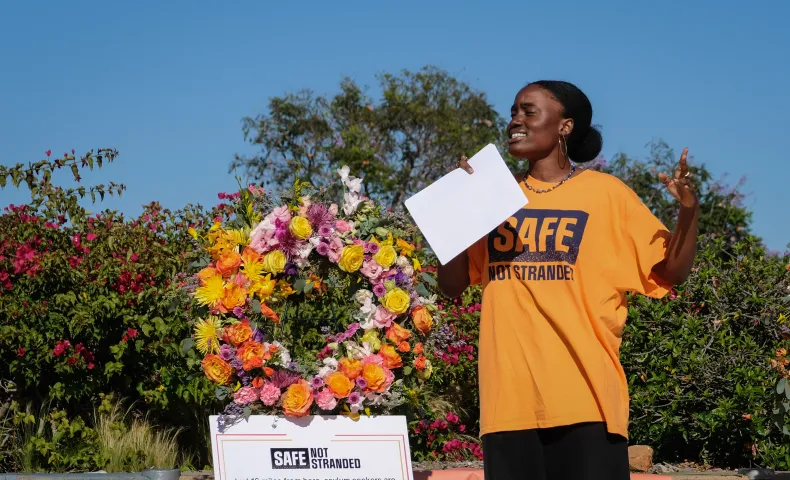 Victory in Remain in Mexico Case Offers Hope for Immigrants—and Some Lessons for Philanthropy
By Karen Tumlin, Justice Action Center and Dan Torres, Haas, Jr. Fund
---
Amid a bleak U.S. Supreme Court term, there was one glimmer of good news: in a 6-3 opinion in Biden v. Texas, the Court opened the door for the Biden Administration to finally get rid of Remain in Mexico (RMX). The Biden Administration has long promised to end this Trump-era program, which has left 71,000 asylum seekers marooned in dangerous camps in Mexican border towns.
This win at the Supreme Court came after months of coalition work and an "inside-outside" strategy involving immigration advocacy organizations, Supreme Court litigators, and narrative experts. With more than 70 organizational partners, the #SafeNotStranded campaign organized by Justice Action Center, Families Belong Together, and FWD.us lifted up the stories of the people whose lives were derailed by the U.S. government's embrace of a cruel and disastrous policy that put migrants at grave risk.
Among those affected was Johanna. After experiencing years of violence in Honduras, she and her son Juan fled to seek asylum in the U.S. But due to the Remain in Mexico program, they were sent to Mexico to await their court hearing. Forced to survive in a makeshift refugee camp in an area controlled by a cartel, their greatest fears soon came true: Juan and Johanna were kidnapped and held captive for two months. After being released, Johanna made the agonizing choice to send Juan to the U.S. border alone to seek protection as an unaccompanied child. It was the only way she could see to save Juan from further danger.
The Supreme Court decision is welcome news because of the promise of greater safety for migrants like Johanna and Juan. The ruling also is a reminder to immigrant advocates and their supporters that we cannot shy away from courtroom battles, no matter how challenging they may seem. In Texas and other states, anti-immigrant attorneys general continue their strategy of filing lawsuits to stop the Biden administration's immigrant-inclusive agenda. Those of us on the pro-immigrant side must stay engaged and stand up in the courts for justice, dignity and the rule of law.
The #SafeNotStranded campaign showed that achieving victories for immigrants in today's judicial climate takes time, coordination, and ample resources. The coalition involved in this campaign worked hand in hand with Supreme Court litigators on a strategy designed to appeal to liberal and conservative justices alike. A key priority was sharing the human side of this issue. In order to accomplish this, the Justice Action Center and the Refugee and Immigrant Center for Education and Legal Services (RAICES) partnered to put together a "human stories brief", allowing for a single, powerful vehicle to share immigrant stories with the Court.
DACA in Jeopardy?
The Supreme Court term that ended in 2022 makes clear that we have entered a new era in litigation at the higher Court. Advocates must prepare for devastating rollbacks to civil and human rights, as an emboldened majority appears dead set on undoing hard-fought protections for vulnerable populations.
The stakes are especially high for the immigrant rights community. Earlier this month, the Fifth Circuit Court of Appeals heard oral argument in a Texas challenge to DACA, the 10-year-old policy that has granted more than 825,000 undocumented youth the chance to pursue their professional and educational goals free from fear of deportation. If the court rules in Texas's favor, the entire program would be in jeopardy. It is a near certainty that the case will end up in the Supreme Court, which allowed the DACA program to continue in a 2020 decision without ruling on the legality of the program. Given the changes in the makeup of the Court since then, DACA could face a serious challenge.
While DACA is the most visible of the major court cases focused on immigration, it is by no means the only issue. Other current cases that could end up before the Supreme Court in the next year include: challenges to the Biden administration's plans to end Title 42, (the Trump-era program that expels immigrants without a hearing); and cases focused on the Biden administration's immigration enforcement priorities.
It is easy to look at the current Supreme Court and be discouraged about the possibility that it will rollback the rights of our immigrant communities. But, movement lawyers have a different vantage point. We know that we can win if we build strong coalitions and if we combine legal work with strategic efforts to shape a positive, pro-immigrant narrative while highlighting the costs of anti-immigrant policies like mass deportation.
Philanthropy can play a huge role in this work by supporting everything from litigation strategies to coalition building and narrative change. Foundations also can work with movement partners on well coordinated strategies connecting litigation with organizing on the ground. The recent win in Biden v. Texas makes clear that with time, energy, and resources, all hope is not lost—even at the Supreme Court.