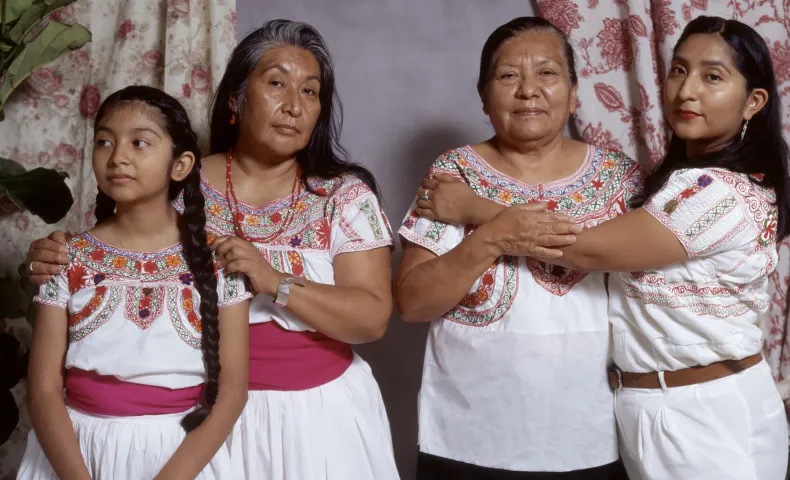 The Power of Language in Building Community
Photo: Odilia (second from left) and her family.
California's racial, linguistic, and ethnic diversity have long added to its dynamism and wealth. It is home to over 200 languages and approximately 43% of the people over the age of five speak a language other than English at home. Creating an inclusive California requires making information accessible for communities that do not speak English. Whether an immigrant needs information from a child's school to understand their child's special education needs, gets admitted into a hospital for a surgery, or interacts with a law enforcement officer during a traffic stop, linguistically and culturally competent communication can be a matter of justice and equity.
Odilia Romero is an incredibly inspiring leader who is working in the space of language accessibility and immigrant rights. She is the cofounder and executive director of Comunidades Indigenas en Liderazgo (CIELO), a Los Angeles-based nonprofit that works to advance dignity and visibility for Indigenous migrant communities. Our Immigrant Rights program director, Dan Torres, recently sat down with her to learn more about her work and the power of language justice.
---
Torres: How did your childhood influence how you think about language justice and equal rights for Indigenous migrants?
Romero: When I came here, all I knew was the Zapotec language. I was put in public schools and nobody knew what I spoke. I knew people were laughing at me and saying things about me, but I didn't understand. I didn't know how to read in Spanish or English so that really set me back from the start. And I think that's why I do this job—because I have experienced the language barrier and I know what happens when your language and culture are taken from you.
Torres: A lot of people think about language access merely as providing information in English and Spanish. Why is that harmful?
Romero: The imposition of Spanish and English is so deadly to us. Not only do you leave behind a world of birds, water and rivers and encounter all of this cement when you come here, but you also have to encounter these threatening languages. It's a gun to your head at all times, because if you don't speak Spanish or English, your survival in school and society is really at risk. We need to think of language access as a human right. Indigenous Peoples already existed in America and we had our own languages, and then colonization happened and it all went away. It's still being taken away.
Torres: What can philanthropy and government do to help?
Romero: We need to rethink the power of language in building community, culture and power for Indigenous Peoples. At CIELO, we organize an annual literature conference to raise awareness about how our languages have survived. Together with our other cultural programs, that creates a sense of belonging where people see they deserve a place to share their stories and speak and sing in their languages—a place where they can show up as their true selves.
Torres: CIELO's work also goes beyond cultural programming to partnership with government and law enforcement to educate them about Indigenous communities and their needs. Can you share more about that work?
Romero: In 2010 there was a fatal police shooting of a Guatemalan immigrant who spoke the K'iche' language after police were trying to communicate with him in English and Spanish. And it showed how these language barriers are really a matter of life and death. Now we work with the LAPD (Los Angeles Police Department) to provide cultural and language awareness training for their officers. We even provide language cards that officers can use in the community to help them communicate with people in various Indigenous languages.
We also created the National Indigenous Interpreters Conference to try and support the community of interpreters working with our population. Whether you're in a hospital or in court or other places, all they usually provide is Spanish and English interpreters. And all that does is deprive Indigenous people of their rights to equal care and equal justice.
Torres: The Covid-19 crisis hit Indigenous communities especially hard. What should people know about these communities' needs as we try to promote a more equitable recovery?
Romero: One thing we did as Covid hit was start a special fund to try and respond to the impact of the pandemic on undocumented Indigenous people who were particularly at risk because they mostly work in the service sector and lost their incomes. Since then we have been able to provide what we call "solidarity funds" to 2,500 Indigenous migrant families to help support their basic needs. And by surveying those families, we were able to generate a detailed map of where these families live across the LA area.
Torres: That sounds like a great tool for service providers and government.
Romero: It's also a tool for demonstrating that these communities exist and they need services. There's something that happens in this country where people love Indigenous clothes and Indigenous food, but they don't really know or care about Indigenous people. Our job is to change that.
---
Romero arrived in the United States when she was 10 years old after growing up in an Indigenous Zapotecan community in Mexico. She is a longtime interpreter of Zapotec, Spanish and English for Indigenous communities in Los Angeles and throughout California. At CIELO, a Haas, Jr. Fund grantee, Romero leads a team of organizers, advocates and activists who are working to bring visibility and resources to Indigenous migrants.