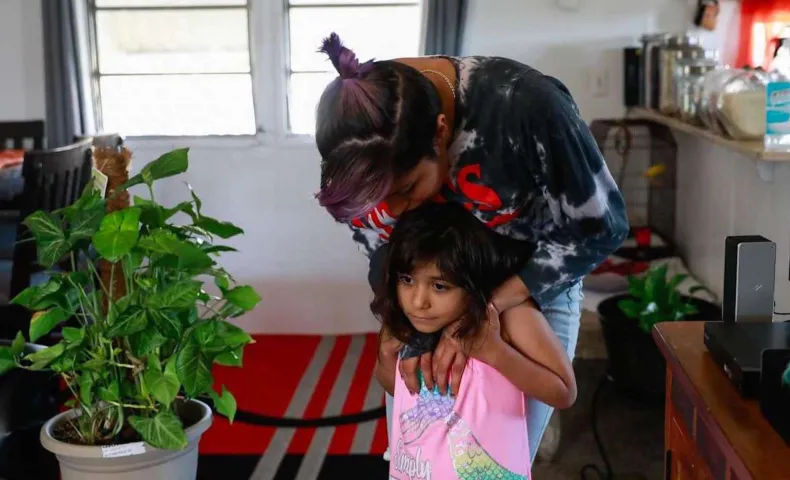 A Surge in Need
Contribute to the Chronicle Season of Sharing Fund here.
---
Across the Bay Area and around the country, people are just plain tired of Covid-19. We want to regain some semblance of normalcy and move on with our lives.
But for many of our neighbors, getting through the pandemic and moving on is going to be a huge and difficult climb. Despite an unprecedented wave of emergency government support, countless individuals and families are reeling from the effects of illness and job losses. People are struggling to hold onto their homes and meet basic needs.
At the Chronicle Season of Sharing Fund, we are doing our best to help our Bay Area neighbors cope and find their way to a better, more stable life. Consider the story of Janet Magaña de Cuevas, a medical assistant who lives in Vallejo. She and her husband both were hospitalized with Covid-19, and they continued to test positive for weeks after getting back home. Unable to work for months, they struggled to keep their five children housed and fed. That's when Season of Sharing stepped in to cover a month and a half of the family's mortgage; as a result, they were able to pay off other outstanding bills.
Janet's family is a perfect example of the ways in which many of our Bay Area neighbors have fallen through the cracks. The focus of a lot of Covid-19 relief packages, for example, has been in rental assistance. But Janet and Jorge moved from Oakland to Vallejo so they could buy a home, so they were out of luck. Other families have missed out on critically needed rental aid and eviction protections because of bureaucratic red tape or because their landlords declined to participate. Meanwhile, many undocumented Californians who are struggling to stay in their homes are reluctant to participate in a government program, even though California opened up its rental assistance to cover them.
Support for Our Neighbors
The Season of Sharing Fund was created by the Haas, Jr. Fund and the San Francisco Chronicle in 1986 to provide temporary emergency assistance to our Bay Area neighbors in need, regardless of immigration status and regardless of whether you own or rent your home. Since the start of the Covid-19 crisis, we have been scrambling to respond to a surge in need for mortgage and rental assistance, help with medical costs, food aid, and more. At the same time that we applaud state and local leaders for stepping up with unprecedented amounts of relief for individuals and families affected by the pandemic, we've also seen firsthand how that relief is not enough.
With Covid-19 and the California wildfires and other urgent causes competing for the attention and compassion of people across our community, we understand how donors might feel overwhelmed and burned out. But Season of Sharing needs continued support so we can keep our Bay Area neighbors housed, nourished and cared for at a time when so many are living so close to the edge.
Toward Recovery and Renewal
I was reminded of the lasting value of what Season of Sharing does when our team recently visited with Jack Hendrix, a former house painter who was evicted from his home in the wake of a cancer diagnosis in 2018. While Hendrix and his family fought the illegal eviction, a social worker found him a better home with Season of Sharing covering his move-in costs. And today, Hendrix is cancer-free and happily ensconced in the new home with his pug, Gizmo.
It's the kind of story that helps you remember the incredible rewards that come from helping your neighbors. And it's a story made possible by the generous donors to the Chronicle Season of Season Fund. Coming out of the pandemic, Season of Sharing is now equipped to serve even more neighbors like Jack Hendrix and Janet Magaña de Cuevas and their families. By responding rapidly when the need strikes, we provide hope, relief and opportunity in a time of crisis.
Contribute now to the Chronicle Season of Sharing Fund during our 35th annual campaign here.
Thank you for your support!