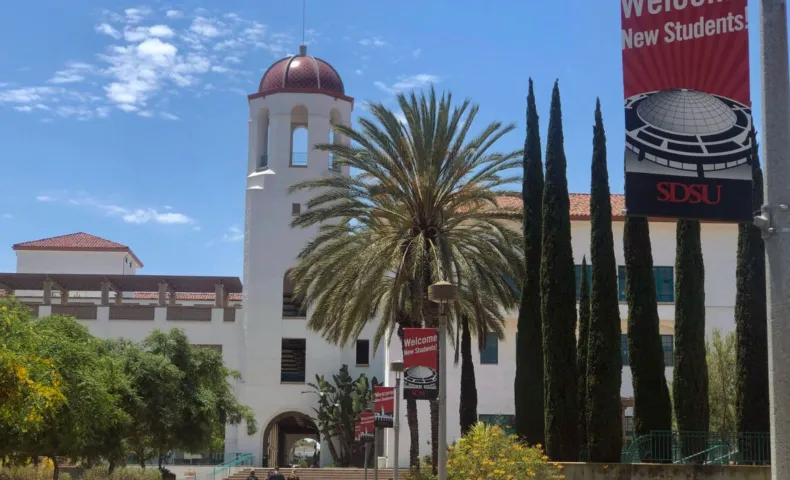 College remains a sure path to success
The Biden administration continues to explore ways to forgive student loan debt for hundreds of thousands of borrowers across the country, even after an unfavorable Supreme Court ruling in June. That's a good thing. But what's concerning is how the debate on this issue—and the focus on students with crushing levels of debt—have contributed to the myth that college is unaffordable and, as a result, not worth it.
The truth is, going to college offers huge payoffs, especially for students from lower-income families; and in California, we're making important progress in creating an affordable, debt-free path to college. Today, over half of students on University of California (55%) and California State University (51%) campuses pay no tuition because of a combination of federal, state and institutional aid. Where many students are struggling and need more support is in meeting the increasing costs of housing, food, books, technology, child care and other necessities.
When I was growing up, my dad was a sheet metal worker and my mom was a secretary. Despite not attending college themselves, my parents were determined to give their three children the opportunity to earn a baccalaureate degree. I am glad we weren't dissuaded from going to college by the costs involved. It's paid off many times over for my siblings and me; and now the next generation in our family have all gone to college as well.
That's why I get so concerned when I see studies showing that Americans increasingly don't see the value in a college education. For example, a recent Wall Street Journal/NORC poll found that more than half of Americans don't believe a college degree is worth the cost. One result of this misperception is that enrollment rates and undergraduate credential completions both are lower than they were before the pandemic.
These trends run counter to the irrefutable fact that a four-year degree is an increasingly important investment in the 21st-century economy. The research is clear: College graduates have greater success in the job market and accumulate much higher levels of wealth over time. In fact, the wage difference between college and high school graduates is at its highest point ever. Perhaps most important, students from low-income households are five times more likely to move out of poverty if they earn a college degree.
To preserve the promise of higher education, we must reshape the narrative surrounding its payoffs and work relentlessly to improve affordability. Over the past year, advocates in California successfully pushed for crucial reforms that, if they are fully funded, will create a clearer pathway to a debt-free higher education for students across the state. Most significant were changes to the Cal Grant program, the state's largest financial aid program, that removed barriers to financial aid based on a student's age, time since high school graduation and GPA.
It is encouraging to see California taking these and other steps toward enabling a debt-free path to college for more students—and yet more reforms are needed.
For example, students need more financial support for their basic needs. Today, all 10 University of California campuses and 12 of 23 California State University campuses have centers that provide for basic needs such as food, emergency housing and a comprehensive range of support services for students. In addition, all CSU campuses offer emergency housing support, food assistance and financial assistance. Especially at a time of rising costs for housing, food and other necessities, basic needs are fundamental to students' self-confidence and success in higher education. And government, philanthropy and educational institutions can and should be doing more to help.
There's no question that it's easier to go to college if your family is well-off. A July study referenced in the New York Times showed that 1 in 6 students at some of the nation's most elite schools have parents in the top 1% of families ranked by income. But that shouldn't discourage students from lower-income families from pursuing their college dreams.
As a first-generation Latina student, I didn't know how to find more resources to support my college journey—my family and I were on our own. It doesn't have to be that way. The state of California and our colleges and universities need to keep working hard to demystify financial aid and make sure students know about all resources available to support them on their higher education journey. It all starts with making sure students are completing their financial aid applications for state and federal assistance, which is the focus of a new state policy holding California high schools accountable for doing so.
As we look ahead to the 2023-24 school year, let's commit to making sure all students have the information, financial resources, and support they need to achieve their college dreams.  And if you or a family member are considering going to college, don't let the headlines scare you away. College is more valuable today than it was 25 years ago—and we need to keep working to help students find their way to an affordable degree and the undeniable rewards that come with it.