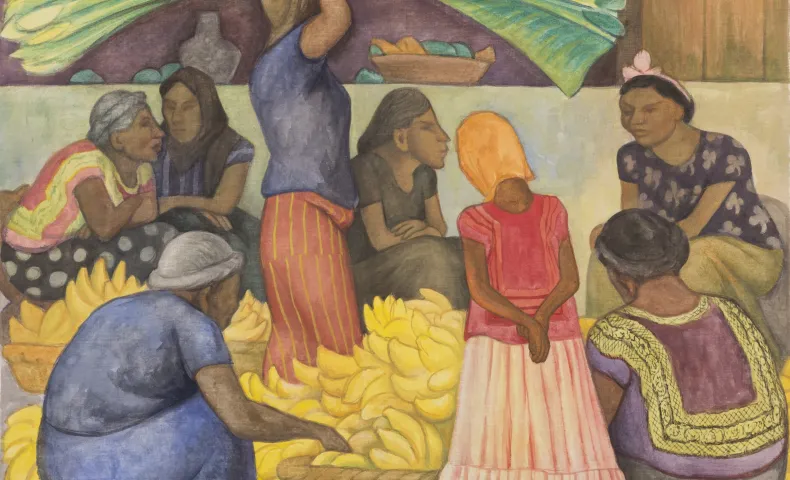 Diego Rivera's America at SFMOMA
We are excited to celebrate the opening of Diego Rivera's America, a major exhibit featuring over 150 artworks of Diego Rivera, at the San Francisco Museum of Modern Art (SFMOMA). On view from July 16, 2022 to January 2, 2023, the exhibition focuses on the Mexican painter's work from the 1920s to the mid-1940s, the richest years of Rivera's prolific career. During these two key decades, Rivera created a new vision for North America, informed by his travels in Mexico and the United States.
Supported in part by the museum's Evelyn D. Haas Exhibition Fund, the exhibit examines Rivera's work thematically, with galleries dedicated to places like Tehuantepec and Manhattan that captured his imagination, and to his favorite subjects, such as street markets, popular celebrations and images of industry. It features paintings, drawings and frescoes borrowed from public and private collections in Mexico, the U.S. and the U.K., reuniting many for the first time since the artist's death.
"In this moment of fear and uncertainty for our basic rights, Diego Rivera's unrelenting focus on bringing dignity to the lives and struggles of marginalized and native peoples is inspiring. His work reminds us of how art can plant the seeds for greater awareness of our shared humanity and the need for change,," said Cathy Cha, President and CEO of the Haas, Jr. Fund.
Haas, Jr. Fund cofounder Evelyn D. Haas was the longest-serving trustee on the board of SFMOMA, serving as board chair, president and vice president. She had a profound love for the museum and was committed to ensuring that the community could enjoy broader access to SFMOMA's world-class art collection and exhibitions.