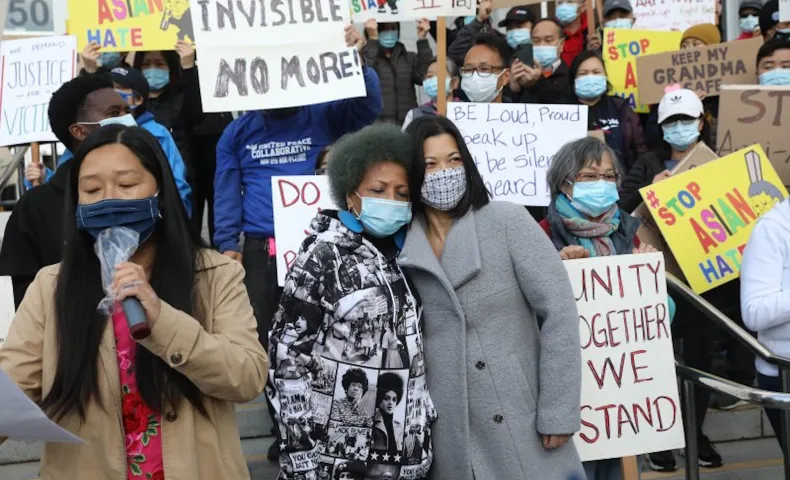 A Call for Cross-Racial Solidarity
Following an incredibly long year of sheltering, distancing, and working with partners on a range of social justice and community matters, I recently ventured beyond my home in the Bay Area for a much-needed break to visit friends and explore Southern California. During the pandemic, I've often recharged with hikes along local trails, and I was excited for an opportunity to check out some different terrain.
One morning, I visited a coastal park just north of San Diego. Despite our masks, my fellow hikers seemed as thrilled as I was to be in the great outdoors and away from Zoom. As I headed up a winding path from the shoreline, a flustered-looking, middle-aged white woman approached me hurriedly using a folded magazine to cover her mouth.
I thought she might have gotten lost in the myriad of intersecting trails among the pines and tall shrubs. I greeted her and she responded pleasantly, and then she said quickly in an almost conspiratorial tone: "It's because of these Asians we have to wear these damn masks. You know they've been eating bats, dogs and other crazy things!"
It turns it out, she was very lost. And there's no vacation from racism in this country. Not for any of us.
I firmly shared my disagreement and went on my way as she pressed her case more loudly at my departing backside. As a Black man, sadly, thoughts of getting Amy Cooper'ed are never too far from my mind.
From Crisis to Opportunity
Since the pandemic and the former president's racist remarks on its origin, we've seen a rash of anti-Asian violence that has stoked mixed reactions across the nation: fear, hate and resistance. Every crisis presents an opportunity, and the Haas, Jr. Fund is responding to this one by supporting the AAPI community in organizing against racism and combatting harmful misconceptions of Asian Americans.
The incidents of anti-Asian violence over the past year have also sparked difficult but productive dialogue on the long and complicated history and relationship between AAPI and Black Americans. It's important that we recognize that the anti-Blackness and anti-Asian sentiment that is prevalent in this country also exists in both communities.
At the same time, it's often overlooked that Asian and Black people have also worked in solidarity in the fight against colonization and for civil rights since the 1950s and 1960s. More recently, Asians for Black Lives formed in the wake of Michael Brown's killing in Ferguson, Missouri, in 2014, and has helped organize massive multiracial protests in response to George Floyd's murder last year. AAPI leaders also were quick to condemn the complicit acts of Tou Thao, a Hmong-American policer officer, who restrained nearby onlookers as his white colleague Derek Chauvin pressed a knee to Floyd's neck. And, in response to the rash of anti-Asian hate this spring, Black and Asian American communities came together for large rallies in New York, San Francisco and Oakland in collective resistance against systemic racism and violence suffered by both communities in this country.
What Philanthropy Can Do
Now, it's more important than ever that we recognize how events over the past year have reinforced the interconnectedness of marginalized communities, including people of color, women, youth, LGBT people, lower-income people, immigrants and undocumented residents. We all face the same growing threat of fear, othering and violence that was on full display January 6 when the former president incited a fascist mob to mount an attack on the Capitol.
This is a perilous time for our democracy, our freedom and our lives. Since January, we've seen a backlash in the form of blatant voter suppression laws across dozens of states and localities intent on reducing the power and voice of marginalized populations, particularly Blacks, Latinos and youth. In response, the days of "Oppression Olympics" must end. There's no difference between gold, silver and bronze when you're effectively competing for the top spot among marginalized groups rather than working together to end oppression once and for all.
At the Haas, Jr. Fund, we believe philanthropy can play an important role in advancing cross-racial solidarity. We've learned from our partners working in different communities of color that they need consistent, flexible resources to cultivate authentic and trustful alliances. It takes dedicated time to identify commonalities across their work and to craft shared agendas. Funders can help by investing in convening, technical assistance and facilitation, as well as aligned advocacy efforts. Just creating opportunities for people and communities to come together regularly to build relationships and share ideas can be a vital spark for change.
We hope you'll join us in resisting hate and efforts to divide us by seeking ways to strengthen multi-racial alliances. In closing, I'd like to share some words of encouragement for the next time you get a break from work and possibly go out for a recharging hike or relaxing stroll. In the event you encounter passersby who may have lost their way, offer whatever assistance you can—and then keep moving forward with hope and belief in the power of working together for change.