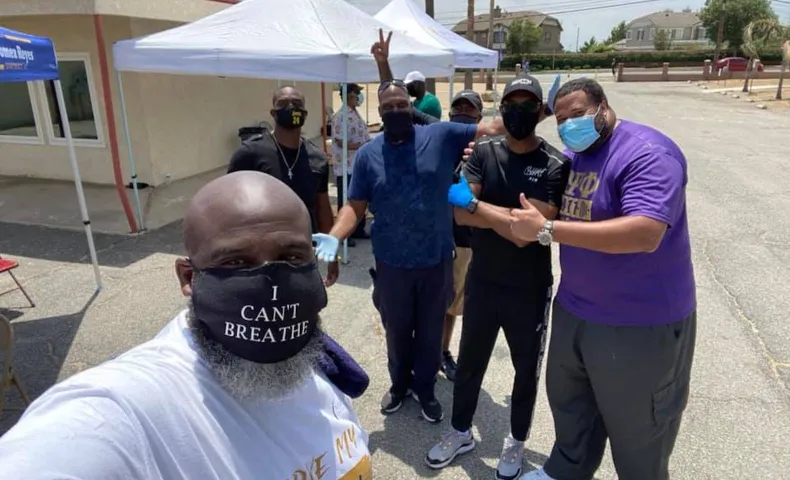 Rev. Samuel Casey on Shaping a More Racially Just America
What is the significance of the California Black Freedom Fund in this moment, and in shaping a racially just California?
In order for Black people and Black communities to be successful, there needs to be consistent and intentional investment in general operating support for Black-led organizations. In California, we need to rebuild our network of small to mid-sized African American churches in San Bernardino, Riverside, San Diego, Los Angeles, and the Bay Area to begin to organize. It's absolutely critical to the work of ending mass incarceration, ensuring equal access to health care, improving educational opportunity, and sparking broad civic engagement and leadership in these communities.
The California Black Freedom Fund represents an effort to dismantle systemic racism, even in the philanthropic community. Foundations and society often expect Black organizations to do more with less than their counterparts. They tell us to make bricks without straw. And that just isn't sustainable. It's time to build and invest in movement building specifically for Black communities.
Why is it critical for philanthropy to fund grassroots advocates and community leaders, especially Black leaders? What have been some of the key gaps?
I think the gaps show up in the fact that philanthropy really had to catch up in 2020 with all those new grants after George Floyd was killed. And even then it wasn't enough. If we had really invested four or five years ago, we might have had a completely different story, and maybe even a different government in DC. So yes it's critical to fund Black-led groups, and foundations need to do it more proactively and intentionally.
We continue to see blatant efforts to keep Black people from voting and participating in the civic process. And we continue to see Black communities facing huge challenges. By funding Black grassroots advocates and community leaders, philanthropy is recognizing that these problems demand sustained attention. And they are recognizing the power of the truth.
Because the truth lies in these communities. And when you bring that truth to light for the general public and for decisionmakers like a county board of supervisors or a senator or assembly member, it's hard to deny it. Our work at COPE is primarily about bringing the truth and that tends to get people to come to the table, even from opposing opinions.
Why is it important to you as a movement and grassroots leader? Why are you involved in this effort?
At COPE, we've been able to sustain 20 years of work, and we've gone from an organization of myself and one other individual to a group with a staff of 14. I'm involved in this work because I have seen the impact it can have on people and communities. I've seen how our staff are looked to as experts and as partners in addressing important issues in our region and across the state. And I've seen what it means for people and communities when they feel heard.
I am involved in this effort because I want more Black-led organizations to experience that kind of growth and impact. And not just because those organizations have good intentions, but because they deserve it. They are doing important work, and they deserve more support.
What's your message to Black organizers, specifically in California?
I think we have to do a better job of teaching the philanthropic community about the challenges in our communities, and also the challenges we face in our organizations. It's not only about being able to pay staff well but being able to have systems in place around technology and ways to capture and manage data and invest in training. My mentor, the late Reverend Eugene Williams, said we need to talk about what's in the warehouse before we go to the retail floor. For Black-led groups, it's the warehouse where we need help and investment.
And I also think Black organizers should remember that the fight for justice is and has always been a community effort. We have to find the commonality where we can learn to work together. Sometimes that's difficult because we've got to wrestle through who's going to get the credit, but we've got to wrestle through. That's the only way we're going to have the impact we all want for our communities.
What is your call to philanthropy?
I believe foundations need to do a better job of really learning about the work of Black organizations, and Black power-building organizations in particular. And philanthropy also needs to look within itself at the racist ideologies and anti-Blackness that sometimes are part of the processes and structures of philanthropy going back decades. It's time for foundations to provide space for Black leaders and Black organizations to really reach their potential.
The sacred text I read says your treasures are where your heart is. And so I would say to philanthropy that where you put your treasures says a lot. How are you engaging Black communities more deeply in your work? And how are you investing in their freedom? Those are the questions for philanthropy. I am delighted to be part of an initiative that is making those questions clear.