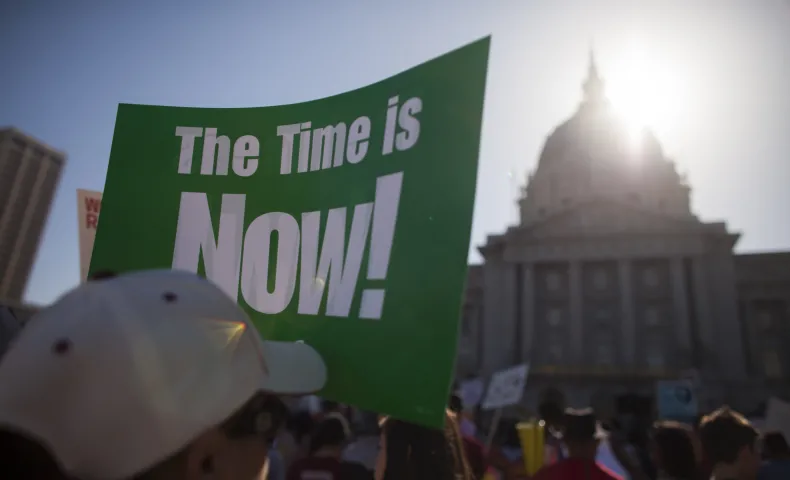 IT'S UP TO ALL OF US
As we enter the new year, it's stunning to think about how much our world has changed, and how fast. A year ago, we didn't know how a virus on the other side of the world would affect our country. We didn't know that record numbers of our neighbors would seek food assistance at rates not seen since the Great Depression. We didn't know the names Ahmaud Arbery, George Floyd, and Breonna Taylor.
It was a year like no other, full of new challenges and heartache but also real inspiration as we saw communities across the country march and speak out—and vote—for change. It was a year when we showed it's up to all of us to make our government and our systems—from healthcare to criminal justice to education to democracy itself—more racially just and accountable for meeting people's needs. 2020 taught us we are resilient. It also showed us that we don't want to go back to the status quo, and that we need to think and work in new ways to bring about the change we seek.
As we look forward to 2021 and the possibilities as well as the challenges ahead, I am writing to share some news about the evolution of our work at the Evelyn and Walter Haas, Jr. Fund.
Democracy. Immigrant Rights. LGBT Equality. College Success. The refreshed set of priorities we're focused on are integral to advancing equality and justice. They also reflect the commitment of our founders and our board to help create a more just society where every person can thrive and live with dignity and hope.
We're already deep into a number of new partnerships and investments on these issues that have us excited about the path forward. For example:
We're building on 2020's successful voter outreach efforts in communities of color, including our investments in messaging about voting by mail to immigrant and Black communities. We're using lessons from that effort to support grassroots groups year-round so they can organize their communities to stand up during election seasons and in between.
We're working with community leaders and funders to explore how best to support Black power building as the work of undoing systemic racism continues.
We're partnering with the Chronicle Season of Sharing Fund to raise a record amount of support for emergency response for our Bay Area neighbors in need.
And, as part of our continuing commitment to investing in leaders, we're building new pathways to leadership for people of color in the nonprofit sector, elected office, the judiciary and other key decision-making roles.
The past year put a spotlight on some of our country's greatest weaknesses, inequities and divisions. In this new year and beyond, we have a historic chance to reimagine how things are.
We're so grateful for you and what you're doing, and we look forward to working with you in the weeks and months ahead. Best wishes to you and your loved ones for good health and a brighter 2021.