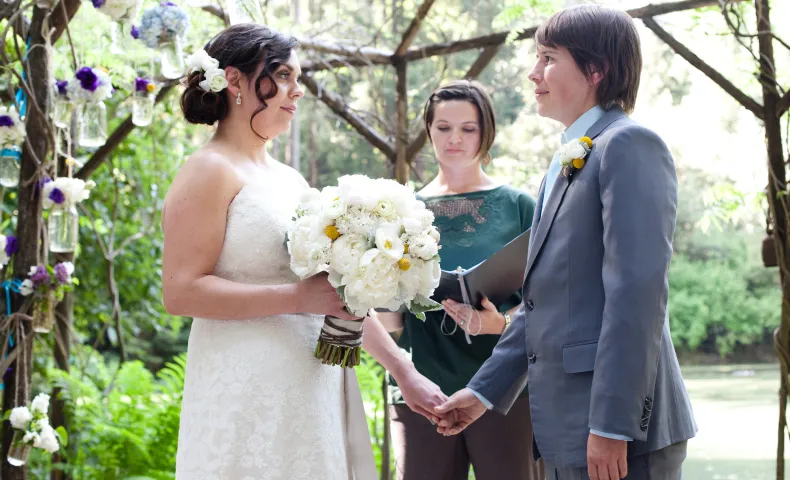 America is Ready for Marriage Equality
Matt Foreman is Senior Director of Gay and Immigrant Rights Programs with the Evelyn and Walter Haas, Jr. Fund. He recently discussed the status of the movement for marriage equality for same-sex couples in anticipation of the Supreme Court decision later this month.
---
Where does the movement for marriage now stand?
While it's impossible to make a definitive prediction, most experts believe the Supreme Court's ruling will extend the freedom to marry to all 50 states. But, that won't mean that either the struggle for marriage equality, or for equal rights for LGBT Americans, is over.
Let's start with the good news. What are the biggest successes of the gay and lesbian rights movement in recent years?
By any objective measure, the movement has made extraordinary progress in a short period of time. Over the last two decades, the number of states protecting lesbian, gay and bisexual people from discrimination has more than doubled to 22, and these states plus the District of Columbia cover 44 percent of the U.S. population.
In addition, the number of states (including the District of Columbia) extending marriage equality or "all-but-marriage" rights to same-sex couples grew from just one in 2001 to 37 today, and these jurisdictions now cover 72% of the U.S. population. And, thanks to the Supreme Court's 2013 decision striking down the Defense of Marriage Act, married same-sex couples now have access to almost all of the hundreds of rights and responsibilities that come with marriage under federal law. These are real, tangible benefits that profoundly affect gay couples' day-to-day lives.
These gains have been propelled by an extraordinary change in public attitudes toward gay people. In 2001, when the Haas, Jr. Fund began its focus on gay issues, only one-third of Americans supported the freedom to marry; today, nearly two-thirds do. Click here to visit the Fund's timeline on marriage equality.
OK, so what's the not-so-good news?
Given all these gains, it's little wonder that the media is full of people saying the fight for marriage equality has already been won, that gay and lesbian equality is inevitable, and that the opponents of equality are in full-scale retreat.
I could not disagree more. If the Supreme Court comes down on the side of marriage equality, it will be a history-making moment. But that doesn't mean the fight is over. Opponents of marriage equality already have demonstrated that they are determined to undermine any progress on this issue through "religious liberty" laws that allow discrimination against LGBT people and gay couples to continue. In the past year, five states have enacted laws like this, and many more have considered them. A favorable Supreme Court ruling will inspire opponents to work even harder to try and negate the gains we've made.
In addition, a favorable Supreme Court ruling doesn't change the fact that there are still 28 states that don't provide basic civil rights protections to LGBT people. Anti-gay discrimination is not an abstract issue or a historical artifact. Recent studies have found that between 8% and 17% of lesbian and gay workers have experienced being unfairly fired or denied employment, and between 13% and 47% of transgender workers report being denied employment. A report released last year by the Equal Rights Center, a non-gay civil rights organization, found that nearly half (48%) of older gay couples inquiring about housing in a senior housing facility faced some form of adverse treatment.
What needs to happen for the movement to go the next round and take on these remaining problems?
The most important thing is that none of us who support gay and lesbian equality should buy into the notion that we're done, or that all's well for LGBT people across the United States. We need to keep fighting to protect the gains we've made, and to make equality a reality for gay and lesbian people everywhere.