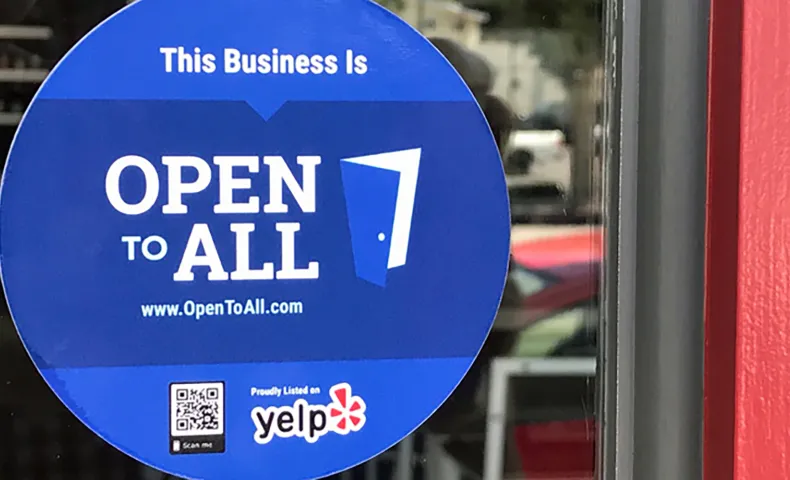 Businesses Unite Against Discrimination
An overwhelming majority of Americans believe discrimination is wrong. They understand that our nation, our communities, and our organizations are stronger when we respect the human dignity of all people, and when everyone has an opportunity to participate in the economy and civic life.
But discrimination and intolerance remain a fact of life for too many people across the country—because of their religion, race, ethnicity, sexual orientation, gender identity, or other factors. That's why it's so inspiring to see more than 4,000 business join a national campaign to say that we can do—and be—better. The campaign is called "Open to All" and it is based on a simple and unifying idea: More than 50 years after the Civil Rights Act of 1964, businesses in the United States should not be closing their doors to people because of what they look like or who they are.
To date, under the leadership of the Movement Advancement Project, the campaign has recruited a diverse army of small, medium-sized, and large businesses across the country to pledge that they are "Open to All." The coalition includes everyone from Marriott International and Old Navy to the Hair Theatre Salon in St. Louis, Missouri (slogan: "It's All About the Hair"). The high-profile initiative—with viral videos, a dedicated website, and window stickers for participating businesses—is a project of the Movement Advancement Project, a longtime Haas, Jr. Fund grantee.
Now the campaign has signed on its first official city partner. In March, San Francisco Mayor London Breed officially proclaimed San Francisco to be an "Open to All City" and said residents are likely to start seeing "Open to All" signs in Muni buses and storefront windows.
The Open to All campaign had its origins in a Supreme Court case, Masterpiece Cakeshop vs. Colorado Civil Rights Commission. In that case, a Colorado baker refused to sell a gay couple a wedding cake because of the baker's religious beliefs. The case, together with an inconclusive ruling from the High Court, introduced many troubling questions, such as: Can someone be turned away from a nursing home because they are gay? Can a caterer decline to prepare a feast celebrating the end of Ramadan? Can a doctor decline treatment to an unmarried pregnant woman?
Today, there are more than a dozen legal cases making their way through the courts to try and convince the Supreme Court that "religious freedom" claims should override basic civil rights protections. As the nation continues to wrestle with these issues, Open to All plans to keep on recruiting supporters, engaging the public, and sending a loud-and-clear message that no one should be turned away from a business because of intolerance and hate.
Watch the latest Open to All ad entitled "Three Words" which demonstrates the importance of businesses treating everyone equally.