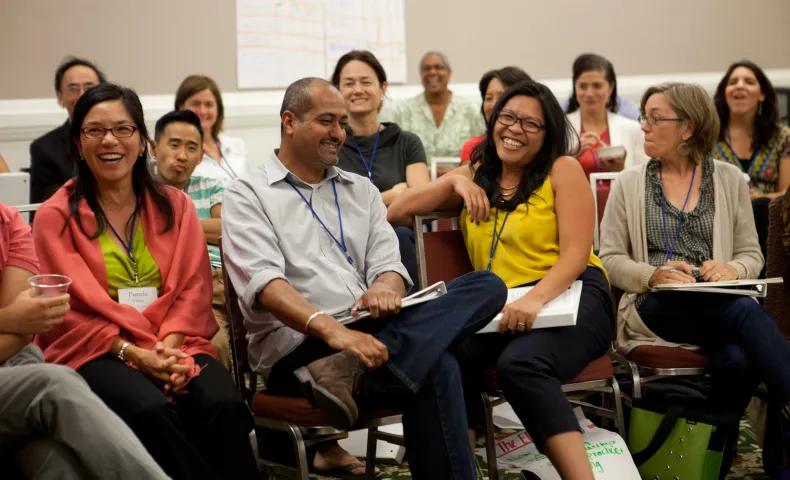 How Are We Doing?
The Haas, Jr. Fund recently commissioned the Center for Effective Philanthropy to conduct a survey of the Fund's grantees. The Center's Grantee Perception Reports provide an opportunity for foundations to get anonymous and candid feedback from grantees about how we are doing and where we can do better, while benchmarking our results against those of our peers.
The Haas, Jr. Fund has commissioned these reports three times before, starting in 2004. We do this because we believe it is important for us to see where we are making progress and where we need to do better. These surveys are one of several ways we monitor and assess our customer service and our grantmaking.
Here are a few highlights from the 2015 report:
IMPACT. Overall, the trustees and staff of the Fund were gratified to see that grantees rate us highly for the impact the Fund has in the fields we work in, including our work to advance knowledge and affect public policy. They also said they appreciate the "more than grantmaking" approach we take in our work.
GRANTMAKING PROCESSES. It wasn't that long ago that grantees were telling us that our grant processes were "onerous" and "burdensome." In the 2015 report, however, grantees reported spending 60 percent less time on the Fund's proposal and selection processes than with the typical funder. This is a marked improvement over the earlier surveys and is due to deliberate attention to streamlining our procedures and investments in technology.
RELATIONSHIPS. While the Fund was ranked in the 69th percentile overall in funder-grantee relations, we slipped back from where we were in 2012 in how grantees rated the responsiveness of our staff, which we learned was related to how often grantees had contact with their program officer and their desire for more conversations and interaction with their program officer. We think this finding may be related to the number of "more than grantmaking" roles our staff play. This feedback is important food for thought as we weigh the tradeoffs necessary to deploy staff time as effectively as possible.
MULTIYEAR GRANTS. The CEP report indicated that other foundations give a higher percent of multiyear grants than the Fund, although a significant proportion (39%) of our grants is over two years. Before the economic downturn in 2009, about half of our grants were for two years or more. Given current economic conditions, we are assessing if we might increase the proportion of multiyear grants. We want to thank everyone who took the time to complete the 2015 survey for your candid feedback about how the Fund is doing. Please know that we read the results and your comments carefully, and we continue to spend time as a staff discussing how to respond to your feedback so we can keep improving on what we do.
For those of you who did not have a chance to take the survey and would like to share your thoughts about how we are doing and how we can do better, please feel free to reach out to any staff member directly through our website.