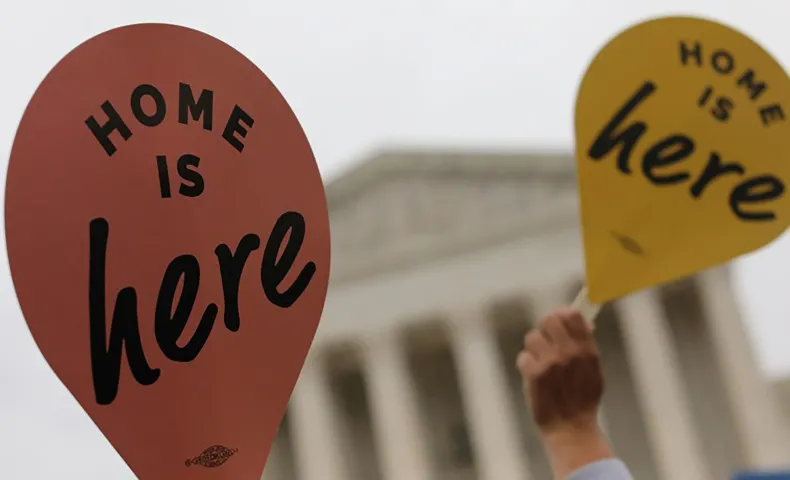 "We Stand With You"
At a challenging time for all of us, I wanted to send a note to the young people across our country who are undocumented.
With the Supreme Court's ruling today that the Trump administration cannot end the Deferred Action for Childhood Arrivals (DACA) program, we can all breathe a sigh of relief—for now.
This has been a time of great fear and uncertainty for you, your families and immigrant communities across the country. I know I stand with many others in saying that we are with you. You are not alone.
Ever since you banded together more than a decade ago to share your stories and your call for respect and belonging, you have inspired all of us with your commitment to the American ideals of freedom and opportunity.
You made DACA happen. It's because of your advocacy and your leadership that the U.S. government decided in 2012 to address a painful truth. As undocumented young people, you were growing up and getting an education without any assurance that you could find jobs and a stable life in the only country that many of you have ever known, and with the shadow of deportation as a constant companion and threat.
Through DACA, 800,000 of you were able to obtain work permits and a temporary reprieve from deportation. In the process, you won the hearts of people across the United States by pursuing your dreams and by eagerly seeking opportunities to contribute to your communities and the economy.
Despite the efforts of some to cast you and your families as a threat to jobs and public resources for others, the United States is without a doubt better, stronger and more prosperous because of you. The latest research shows that DACA recipients and your households pay $5.7 billion in federal taxes and $3.1 billion in state and local taxes each year. In addition, the payroll taxes you pay support Social Security and Medicare to the tune of more than $40 billion each year.
And today, in the middle of the Covid-19 crisis, you are contributing even more. You and your families are disproportionately likely to be working in frontline, "essential" jobs that are keeping our country going—often at great risk to your safety and health.
In addition, we hear new stories every day about undocumented young people making amazing contributions to the fight against the virus. Whether it's Dr. Jirayut Latthivongskorn, known as "New," taking care of patients with Covid-19 at San Francisco General Hospital. Or Joana Cabrera, a young UC Berkeley graduate who helped develop a system that has increased the capacity for coronavirus testing at UC San Francisco. Because 26,000 of you are in front-line jobs fighting C-19, there has been real concern that the end of DACA would significantly weaken our healthcare system's response to the pandemic.
DACA was a temporary solution, and it was always understood that the federal government would ultimately need to create a pathway to true and lasting citizenship for undocumented Americans of all ages. As we keep working to address the Covid-19 crisis and look to emerging on the other side, we need you to stay safe and healthy, continue your life-saving work, keep strengthening our economy, and keep inspiring us through your stories and your voices.
I want you to know that you have many allies in philanthropy, in higher education, in business, in government and in your communities. And we will keep on fighting for you in the same way that you keep on fighting for your dreams—with passion, courage and an abiding commitment to the founding ideals of the nation we share.
With gratitude and admiration,
– Cathy Cha