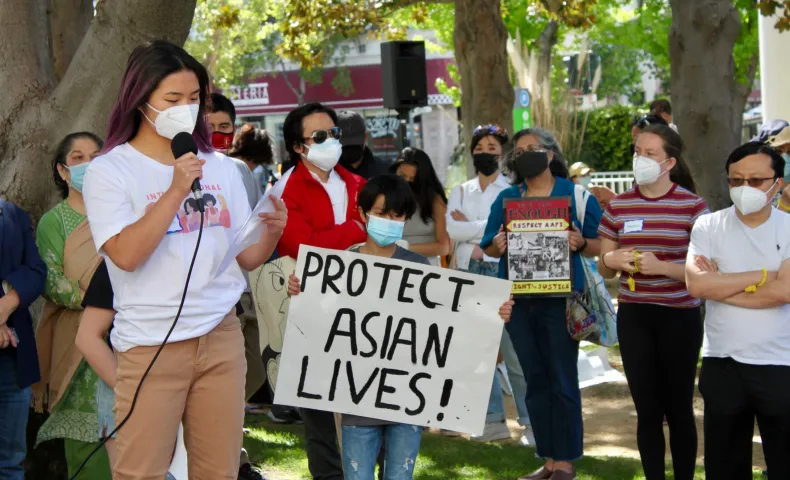 Next Gen Organizing for Change
"What is our response?"
That was the question driving a series of conversations among Asian American activists and leaders after a horrific episode of gun violence in Atlanta in March 2021 left eight people dead, including six Asian women. It was only the latest manifestation of the United States' long history of anti-Asian racism and violence—and community leaders felt it was time to stand up and say, "Enough." They also believed the time was right for a ramped-up effort to build the visibility, power, and voice of Asian Americans and Pacific Islanders (AAPIs) while shattering harmful stereotypes that have brought longstanding harm to the community.
The result of those conversations is an ambitious new initiative called Activate California that is committed to engaging AAPI communities, especially younger AAPI Californians, as more active participants in democracy and civic life. The power-building initiative launched earlier this year recently announced the appointment of its new director, Jonathan Tran.
Activating a New Generation
"I am honored to be leading Activate California as we set out together to change history for AAPI communities and demand dignity, justice, and inclusion," said Tran, who has worked on issues affecting AAPI communities in government, philanthropy, and the civil rights community, most recently as a senior leader with The California Endowment. "We want to organize and activate a new generation of AAPI community members to build their power and work in concert with other communities to end systemic racism once and for all.
Tran is the son of ethnic Chinese parents who came to the United States from Vietnam. After watching his immigrant parents struggle to provide for him and his sister while they were growing up in Los Angeles, Tran said he decided on a career in social justice. "I saw how immigrants and communities of color face so many uphill challenges in this country," he said. "I wanted to do what I could to expand opportunities for families like mine."
"Unheard and Unseen"
Activate California's focus on mobilizing a new generation of AAPI voters and leaders to shape their community story and speak up for their interests stems from the fact that AAPIs are too often unheard and unseen in elections and civic life.
Today, one in six Californians are AAPIs; they are the fastest growing minority group in the country. Yet barely one-third of young AAPI Californians (ages 18-24) voted in the 2020 election, and Asians are significantly underrepresented among elected officials and corporate CEOs. "The invisibility of our communities is a huge part of the struggle," Tran said.
Tran added that many people in the United States also do not fully appreciate or understand the diversity of Asian American communities. "The reality is that Asia is a giant part of the world with many cultures, and many of these populations face unique challenges as immigrants here in the United States." As an example, he cited the vast disparities experienced by immigrants from Southeast Asian countries on issues from health outcomes and healthcare access to educational attainment, jobs, poverty, and incomes.
Adding to the challenges, Asian Americans and Pacific Islanders also face high levels of hate-fueled violence, with the latest wave of vitriol and attacks fueled by the Covid-19 pandemic. California has led the U.S. in the number of anti-Asian hate incidents, with 38.1% of all reported nationwide.
"It's time for bold new approaches to bringing safety, opportunity, and power to AAPI communities," said Robert Joseph, vice president of programs with the Haas, Jr. Fund. "We are delighted that Jonathan has agreed to bring his leadership to the work of making Activate California a force for change and cross-racial solidarity."
Next Gen Innovation Needed
Activate California is a project of Asian American Futures, a national nonprofit organization created in 2021 to ensure Asian Americans and Pacific Islanders are seen, heard, empowered, and united. Reshma Shamasunder, executive director of Asian American Futures, said she hopes a new generation of AAPI donors and activists will drive new resources and attention to AAPI issues and the need for collective action and cross-racial organizing.
"It's time to remove the cloak of invisibility that keeps Asian Americans and Pacific Islanders from playing a more active role in their communities and government," said Shamasunder. "By supporting AAPIs to be seen, heard, and empowered, we can help our community take the initiative to end anti-Asian hate and violence and work alongside other communities of color to promote racial justice."
Activate California is a trailblazer in its grantmaking approach. It is working with a cohort of eight AAPI activists, scholars, artists, and thought leaders to direct Activate California's $1 million+ grant fund. The group just released its first round of funding to a diverse group of emerging AAPI nonprofits across the state, including the Asian Solidarity Collective, the Central Valley Pacific Islander Alliance, EPIC, Hmong Innovating Politics, the Jakara Movement, Nikkei Progressives, Viet Rainbow of Orange County, Samoan Solutions, Seeding Change, and Vigilant Love.
"There are a lot of emerging community-based AAPI organizations that deserve support. But even with strong leadership and really great programs, it can be hard for them to break through with bigger foundations," said Raúl Macías, program director for democracy with the Haas, Jr. Fund. "That's why Activate California's work is going to be so important. Activate is guided by and driven by the community, and it can direct resources and attention to critical work that is happening on the ground to lift up and empower young AAPI Californians."
The Haas, Jr. Fund provided seed funding to create Activate California and helped organize the conversations with community leaders that led to its founding. Haas, Jr. Fund President and CEO Cathy Cha was recently named to the Asian American Futures board of directors.
"Now is a historic opportunity to organize and mobilize AAPI communities to join the struggle to end racist and xenophobic tropes and speak up for justice arm-in-arm with Black, Latino, and Native communities," said Cha. "We are excited to be partnering with Activate California to build the power and influence of Asian American and Pacific Islander communities across California."