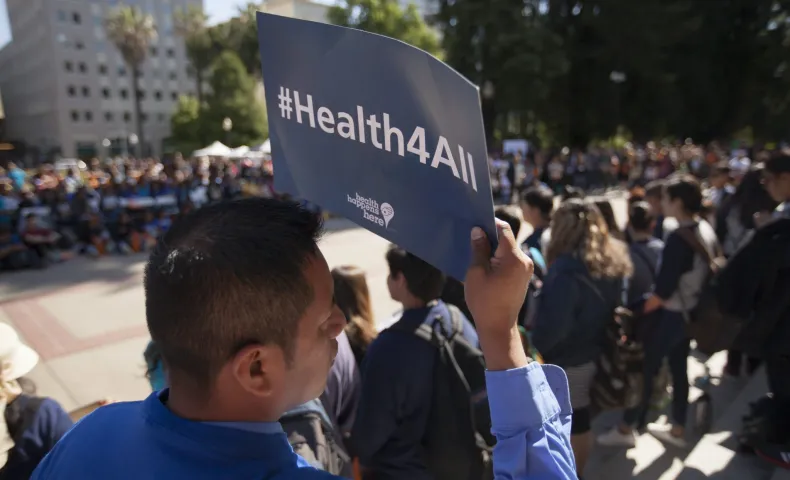 Persuasion is Possible
Undocumented immigrants in California historically were excluded from government healthcare programs. But today California has the most expansive healthcare program for undocumented older adults in the nation—all because a coalition of more than 100 organizations came together to make a powerful call for fairness and inclusion.      
The Health4All campaign was based on the premise that healthcare is a human right, and it relied on undocumented Californians speaking directly to lawmakers, state officials, the news media, and other audiences about how they and their families have been affected by the denial of healthcare coverage.  
"We were able to put real human faces on this issue," said Sarah Dar, director of health and public benefits policy with the California Immigrant Policy Center (CIPC), a longtime grantee partner of the Evelyn and Walter Haas, Jr. Fund. "The focus was on amplifying impacted voices and showing how undocumented people contribute to California communities and pay taxes and all the rest, and yet they are still denied this basic right."
Health4All is a great example of how community stories and community voice can drive positive change. The campaign also is an example of how immigrant rights organizations in California and beyond are using groundbreaking research on public opinion change in their work to win policy campaigns on a range of issues affecting immigrants.  
An Unprecedented Messaging Effort
Between 2017 and 2021, the Haas, Jr. Fund along with several other funders1 launched one of the most far-reaching immigration messaging research projects in the country. The Immigration Strategic Messaging Project (ISMP) was a collaborative, multi-state effort focused on identifying ways to build broader public support for immigrants and immigrant-friendly policies. It was based on lessons learned about strategies for changing hearts and minds during the campaign for marriage equality. 
Anita Vukovic, CIPC's Sr. Messaging and Engagement Strategist, said the project's key finding was that it is indeed possible and realistic to change attitudes on high-stakes immigration issues that are so often used to divide the U.S. population. Not only that, but persuasion can be replicable with long-lasting results. What it takes, Vukovic said, is a combination of storytelling, listening, and deep conversation.
Among several methodologies, development of the ISMP began with "deep canvassing," a process where voters are asked to participate in reflective conversations on various policy issues, how they feel about those issues, and how those issues might affect other people. The "canvassers" who initiate these conversations don't base the conversation on fact-based appeals (like how many undocumented people there are, or how many lack health insurance). Rather, they tend to ask open-ended questions that keep the conversation focused on the stories and experiences of people who are most affected by the issue.
"It's really about opening up pathways for people to reconsider issues by having deep conversations about their shared humanity with others," said Vukovic.
Based on its canvassing work and research, the ISMP developed cross-cutting messaging recommendations that are proven to be effective. These recommendations ultimately were synthesized with over 100 other pieces of original research from 62 nationwide organizations and compiled into a comprehensive guidebook for advocates that is available through CIPC.  
At the heart of the recommendations, Vukovic said, is the fundamental principle that stories matter. "Changing opinion on immigration and other issues is about helping people see the full humanity of others whose lives they don't fully see or understand, as well as the ways in which their lives, hopes, and dreams are intimately connected," she said.  
Messaging Principles on Immigration 

Consider the local dynamics. It is important to understand the lay of the land—and the needs of the local audience—in order to develop credible, impactful communications.
Lead with the values we share. Most of the people we want to persuade lack personal experience with immigration, or people who are immigrants, but they can connect with the experience of loving your family, for instance, or wanting to keep your children safe.
Frame messaging around values rather than rights. People first need to be engaged with values and emotion to connect to immigration and immigrants on a human level before they are able to care about legal processes.
Elevate the messengers. Unless we correct and replace our audience's immediate associations and beliefs about who immigrants are, they will not be able or willing to hear anything else we say.
Our messaging needs to show, not tell. In order to be most persuasive, package data and policy information within personal narratives as much as possible.
Talk about how the current immigration system can be fixed. Unless we provide some insights into the possibilities of what can change for the better, our audience may immediately feel defeated or overwhelmed.

Source: Ultimate Messaging Guide to Winning the Immigration Narrative 
To request access to the guide, please contact Anita Vukovic
Centering Community and Collaboration  
The Immigration Strategic Messaging Project served to strengthen connections across the movement groups involved. Following the release of the messaging guide, CIPC created a new entity to carry the work forward. It's called the CoLAB and is billed as the place "where community, collaboration, and co-creation meet in service of generating true, sustainable narrative change on immigration."  
As part of its mission, the CoLAB regularly brings together advocates to share their experiences and successes in building with new audiences, developing persuasive messaging strategies, and applying the learnings to campaigns. Just last year, Arizona voters approved a ballot measure enabling undocumented students to pay in-state tuition at public colleges and universities. Its success was driven by a deeply bipartisan, evidence-based campaign that uplifted student stories alongside other allied messengers, in order to generate support across party lines. This came after a 2006 ballot measure denying in-state tuition rates for undocumented students passed by a resounding 70 percent.  
"Community-building is a big part of narrative change. You need to mobilize every stakeholder to lean in, listen, and work together, to be able to mount the kind of powerful, unified response that today's opposition narratives demand," said Vukovic.
How Funders Can Take a Long-Term View
Vukovic said she appreciates how philanthropy appears to be increasingly supportive of building narrative power. She advised funders to approach this work with a long-term view, an open mind to exploration, and a commitment to strengthening the capacity of immigrant rights and immigrant-serving organizations to make communications and messaging a lasting priority.  
"We've learned a lot about what works to change the dominant narrative in this country on immigration. But there's still much to learn, and activating this new research is no easy task—a lot of organizations are still critically understaffed and under-resourced, especially when it comes to communications," Vukovic said. That said, she remains optimistic, based on the innovative work she sees across the movement in recent years.  
"Our coalitions and campaigns are showing again and again that persuasion is possible—and that the movement for immigrant justice is a truly winning one," Vukovic said. "What we need are the resources to continue learning, and to scaling our research and capacity. For the CoLAB, our work started with a new methodology and some simple questions. But with the support of funders like the Haas Jr. Fund, we've seen that the impact can be boundless."
1Other funders of the Immigration Strategic Messaging Project include The California Dignity for Families Fund, The California Wellness Foundation, The Dan & Margaret Maddox Charitable Fund, The Frist Foundation, The Four Freedoms Fund, The Healing Trust, The James Irvine Foundation, Luminate, The Orange County, Community Foundation, The Nissan Foundation, the Weingart Foundation, and an anonymous donor.