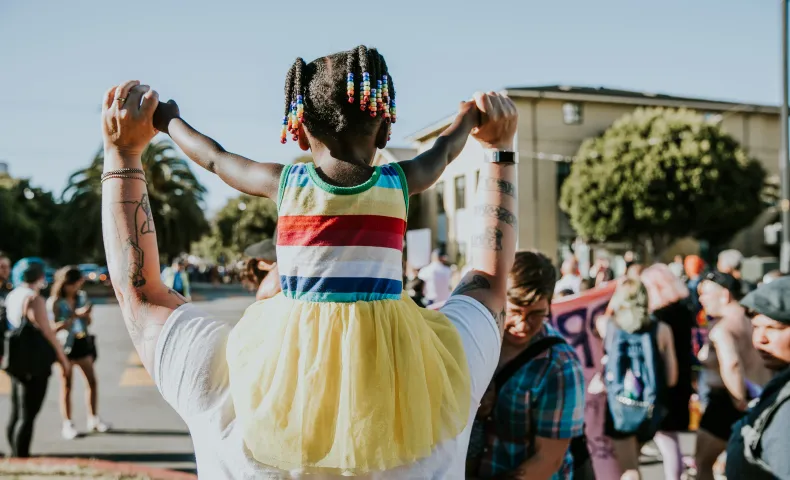 Securing Nondiscrimination Protections for LGBT People Coast-to-Coast
For the past 30 months, the singular focus of the Fund's LGBT Equality program has been to support efforts aimed at educating policymakers about the urgent need for a federal response to anti-LGBT discrimination. As described in the op-ed by her daughter, Liz Abzug, Rep. Bella Abzug introduced the first "gay rights" bill in Congress 47 years ago. This year, we have the opportunity to see real progress on this issue.
Anti-LGBT discrimination remains prevalent in employment, housing, access to services, and education. But there is a discrepancy in response: federal law and the civil rights laws of 28 states—where the majority of LGBT people live—do not include specific provisions for LGBT people. Anti-LGBT discrimination is neither abstract nor political. It causes profound and often life-long harms to its victims. One in three LGBTQ Americans report experiencing discrimination—in public spaces, on the job, in schools, and in their own neighborhoods—in the past year.
These harms fall disproportionately on LGBTQ people of color, as documented in a report from the What We Know project at Cornell University. For example, LGBT people of color are more than twice as likely to experience anti-LGBT discrimination when applying for jobs than white LGBT individuals and more than twice as likely as white LGBTQ people to experience anti-LGBTQ discrimination when interacting with the police. Nearly one-third LGBTQ Native/Indigenous youth, 21% for LGBTQ Black youth, and 18% for LGBTQ Latinx youth have attempted suicide, compared to 12% of white LGBTQ youth.
Protecting LGBT people from discrimination is one of the few issues with broad public support across the board, including among Democrats, Republicans, people of faith. It even has majority support in all 50 states. So why hasn't anything happened?
The answer is, sadly, that the moral issue of protecting LGBT people from injustice—as so eloquently stated in Rev. Barber's op-ed—has become a political issue.
We have a real chance at a breakthrough this year. The Fund's grantees have now held over 200 meetings with federal policymakers to talk about the harms caused by anti-LGBT discrimination and the need for a federal response. For the first time, both Democrats and Republicans have put forward measures that add LGBT protections to our nation's civil rights laws. Key policymakers from both parties have said they want to get this done. President Biden called for action along these lines in his first address to congress.
The major disagreement between the two parties involves balancing the urgent need to protect LGBT people with our nation's religious freedoms. The Supreme Court's recent decision allowing a religiously-affiliated adoption agency receiving taxpayer dollars to discriminate against same sex couples under very narrow circumstances may actually help resolve this issue. Finding a path forward, however, is what legislators do when committed to solving problems. Every major civil rights advance—from the 1964 Civil Rights Act to the Americans With Disabilities Act—has found a way to accommodate religious freedom and advance basic civil rights. All that is needed is for people of good will on both sides to take one step towards each other and find common ground.