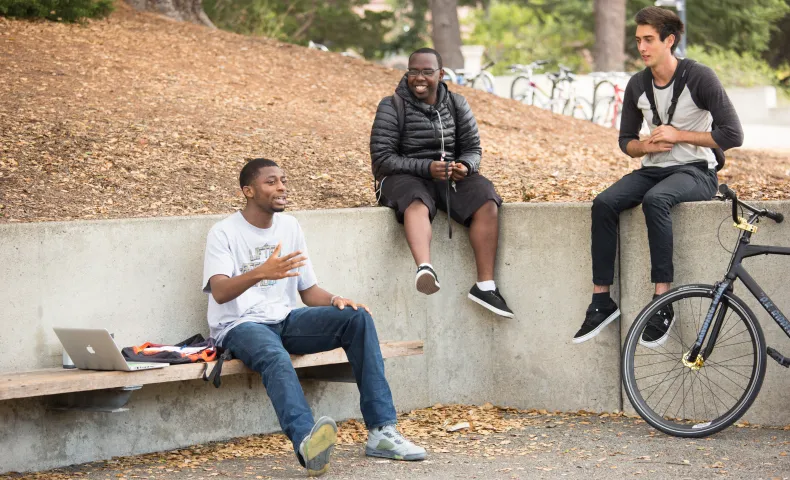 The Seeds for Transformation
Students and faculty at U.C. Berkeley have a history of being at the forefront of important social justice movements. Today, this tradition of activism and open debate continues as California's budget crisis has turned the Cal campus into ground zero for a vigorous discussion of the future of public higher education in the state.
At the heart of the current conversation are such urgent questions as: how to create a high-quality, sustainable public university system; and how to ensure that the doors to these institutions remain open to all. While there are profound disagreements on the Cal campus – and, indeed, throughout the state – regarding the specific answers to these and other questions, no one would dispute the need for change.
In order to fulfill its mission as a beacon of access and excellence for students of all backgrounds, Cal and the other campuses in the UC system are going to have to transform themselves in areas from admissions and academics to finances and basic operations.
At the Evelyn and Walter Haas, Jr. Fund, we see the seeds for this transformation in Cal's commitment to creating a more diverse, inclusive university. Chancellor Robert J. Birgeneau's goal is to expand people's understanding of what it means to be inclusive. Race, ethnicity and gender are important parts of the picture, but it is time to view diversity and inclusiveness through a wider lens, focusing also on socioeconomic status, sexual orientation, religion, disability and more.
"U.C. Berkeley has always been motivated by serving the public good, and I can see no higher ideal than working for equity and inclusion for all," Chancellor Birgeneau said in his inaugural address in 2005.
A Landmark Initiative
Today, with the U.C. Berkeley Initiative for Equity, Inclusion and Diversity, Cal is striving to live up to this ideal. The university launched this initiative in early 2010 with a $16 million grant from the Haas, Jr. Fund. Cal's total investment will grow to $31 million because of challenge grants included in the Fund's gift, plus matching support from the William and Flora Hewlett Foundation.
As part of the initiative, Cal will endow five chairs in a new research center on diversity issues. Faculty serving in these positions will explore such crucial topics as disparities in health, education and economics; equity for gay and lesbian Americans; and how democratic principles adapt to an increasingly diverse population. Thanks to the Initiative for Equity and Inclusion, these topics will remain a focal point for research and teaching at Cal for decades to come.
The Haas, Jr. Fund's gift also includes a challenge grant for endowed scholarships for low-income students, and support for institutional change aimed at permanently embedding the Chancellor's commitment to equity and inclusion into every campus unit.
Making the Most of Our State's Diversity
Behind this initiative is an understanding that the French philosopher August Comte had it right when he made the observation that "demography is destiny."
California's population has undergone sweeping changes in recent decades:
Today, our state lacks a majority ethnic group; racial and ethnic "minorities" make up 57 percent of the California population.
More than one in three Californians are of Hispanic or Latino heritage.
We are home to 10 million immigrants, the nation's largest gay and lesbian population, one-third of the nation's Asian American population, and more African Americans than all but four other U.S. states.
In addition, more than four in ten children in our state are growing up in low-income families, and the majority of these children have parents who never attended college.
As a public university and the flagship campus in the UC system, Cal understands that our state's diversity is an asset; it gives institutions like Cal an opportunity to lead in our increasingly global society.
Connecting Equity and Excellence
In his inaugural address in 1872, Cal's second president, Daniel Coit Gilman, said the university "must be open to all." This promise lives on in Cal's continuing commitment to access and opportunity. Today, 87 percent of Cal undergraduates arrive on campus after attending California public schools or community colleges; one-third are from families with incomes below $45,000.
At the same time that the University is opening its doors in this way, it remains a standard-bearer of academic excellence. Among the statistics that back this up: Cal sends more undergraduates on to receive PhDs than any other university in the country; and the Cal faculty includes 21 Nobel Prize recipients.
With the Initiative for Equity and Inclusion, Cal aims to build on this record and to demonstrate that equity and excellence go hand-in-hand.
This is not about "political correctness," nor is it about setting quotas relating to the demographics of the campus population. Rather, it is about creating a university campus that mirrors the real world beyond its gates, and that provides students of all social and economic backgrounds with the education and the grounding they need.
Shared Values
This grant fits squarely with the Haas, Jr. Fund's longstanding commitment to promoting fair and equitable treatment for all people. Our founders, Evelyn and Walter A. Haas, Jr., believed deeply in the American ideal that each and every one of us deserves an equal chance to succeed. Love of community and respect for diversity were among the guiding lights in their philanthropy and their lives.
These values continue to guide the Fund's grantmaking today. Under the leadership of the Haases' children – Robert D. Haas, Betsy Haas Eisenhardt and Walter J. Haas – the Fund is working to promote equal rights and opportunities for immigrants, gays and lesbians, and others. The Fund's support for Cal's Initiative for Equity, Inclusion and Diversity is a perfect fit with the Haas family's longstanding commitment to building a more just and caring society.
Our hope is that Cal's work will yield a better understanding of the critically important role of our public institutions of higher education in 21st-century society. Providing opportunities for students and faculty to debate important issues, as they are doing right now at Cal, is essential. But our great universities must also provide opportunities for people from every corner of society to learn in an environment where they can gain the knowledge and experience necessary to lead California and the nation into the future.