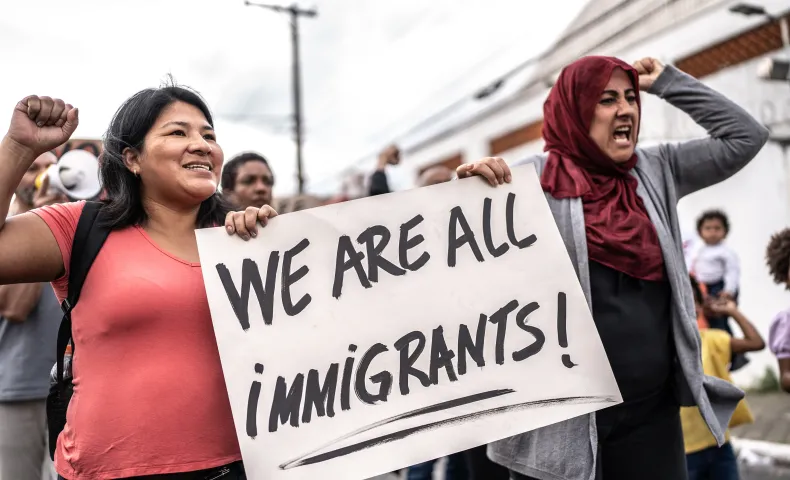 Immigrant rights funding diversifying but still 'vastly underfunded'
Check out this in-depth feature article from Candid's Philanthropy News Digest on the critical need for greater, diversified, and sustained funding to advance justice and opportunity for immigrant groups.
---
Even after the COVID-19 pandemic laid bare the plight of immigrants, many of whom were essential workers, laid off from service-industry jobs, and/or excluded from government relief programs, they continue to face heated anti-immigrant rhetoric and xenophobia. While funders are collaborating to better support immigrants, the immigrant rights movement—including advocacy, civic engagement, and grassroots organizing—remains severely underfunded.
There are an estimated 45.3 million immigrants in the United States, including naturalized citizens, lawful permanent residents, refugees and asylees, certain temporary visa holders, and unauthorized immigrants, according to the Migration Policy Institute. There are nearly 2.4 million likely refugees, the American Immigration Council estimates, based on their country of origin and year of arrival in the U.S. In fiscal year 2022, a record 128,904 children arrived alone or were separated from family, according to the Office of Refugee Resettlement.
The contributions immigrants make to both urban and rural communities have been well documented, noted Geri Mannion, managing director of the Strengthening U.S. Democracy program and the Special Opportunities Fund at the Carnegie Corporation of New York—whose founder was himself an immigrant. Yet, ideologically charged anti-immigrant rhetoric has surged repeatedly—post-9/11, since 2016, and again with the increase in migrants and asylum seekers at the U.S.-Mexican border. Immigrant rights organizations struggle to secure adequate, sustained funding, however, and the implications reach across the whole of American society.