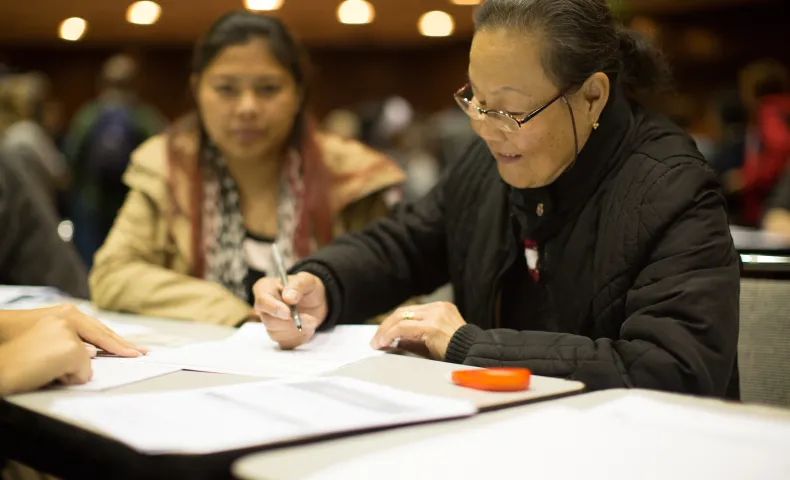 The New Americans Campaign
For me, being a citizen is a huge comfort—I know that no one can take these opportunities away from me.

Giannina Diaz Coello
Until recently, Giannina was one of nearly 9 million U.S. immigrants who are eligible for citizenship. She arrived in the United States from Peru in 2007 after her mother, a U.S. citizen, petitioned for Giannina and her three children to come north.
Like so many others, Giannini was intimidated about applying for citizenship. But thanks to help and counseling from a local organization affiliated with the New Americans Campaign, she became a citizen in late 2016.
Co-founded by the Haas, Jr. Fund and other foundations, the New Americans Campaign is a wide-ranging partnership that works to help immigrants like Giannina navigate the path to citizenship. The focus of the nonpartisan campaign: connecting lawful permanent residents (LPRs) to trusted legal assistance and critical information that can simplify the naturalization process. The New Americans Campaign and its partners also work to promote the benefits of citizenship, which include: protection from deportation, eligibility for government jobs, freedom to travel, the right to vote, and much, much more.
Since 2011, the campaign has supported hundreds of thousands of immigrants to complete citizenship applications. It also has saved aspiring citizens and their families hundreds of millions of dollars in legal fees. But with just 10 percent of people who are eligible for citizenship applying each year, the campaign recently has ramped up its outreach and other work—for example, by joining with other partners to launch an easy online service that guides immigrants safely through every step of their citizenship application.
"The New Americans Campaign aims to fundamentally transform the entire system of naturalization assistance through new levels of collaboration and innovation among the nonprofits, businesses and other institutions that assist legally qualified residents in becoming U.S. citizens," said Eric Cohen, executive director of the Immigrant Legal Resource Center, a national nonprofit that serves as the campaign's main coordinator. "The more our communities harness the civic and economic participation of new citizens, the stronger and more vital we will be as a nation."
"The Evelyn and Walter Haas, Jr. Fund is committed to finding ways to ensure that immigrants can contribute their full talents and voices to the cause of keeping our communities and our country moving forward," said Cathy Cha, vice president of programs with the Haas, Jr. Fund. "It's time to remove the barriers that keep so many immigrants from participating fully in the American experience."