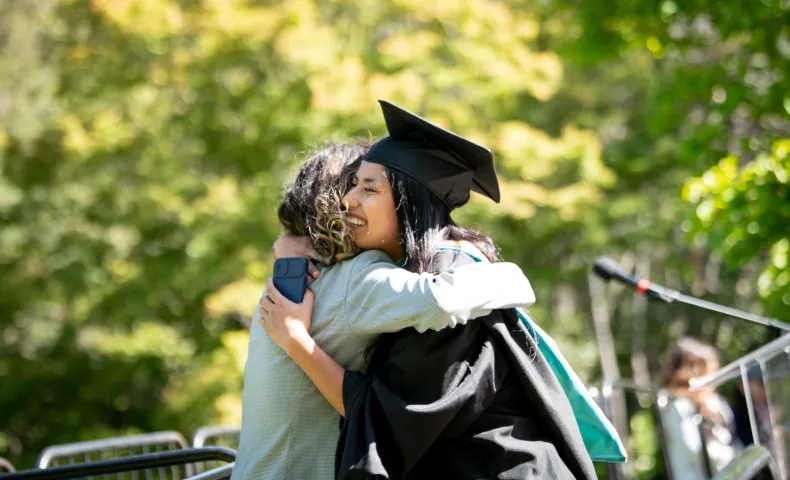 The Power of Narrative
As college and university students in California and around the country settle into the rhythms of another academic year, there's a troubling narrative making the rounds that a college education just isn't worth it. While tuition, living and other expenses have increased dramatically in recent decades, data continues to demonstrate that college can deliver enormous payoffs for students, especially for students of color and those from lower income families.
A major related concern is that the perspectives and experiences of these students and families are largely absent from the dialogue on college access and affordability. At the Evelyn and Walter Haas, Jr. Fund, we're working with community partners to ensure that students and families have a voice in shaping policy and critical supports to boost college access and completion.
Together with other funders, the Haas, Jr. Fund has a long record of supporting the ability of movements and organizations to employ powerful stories and messages to advance equity and justice. Over the last few years, we've seen fresh interest in narrative and storytelling among partners across our core programs. People and groups are eager to shape the stories of their communities and advance powerful—and positive—narratives about their aspirations.
This is an important shift. And it's happening because lower-income families, people of color, immigrants, and other marginalized communities keep finding themselves on the receiving end of false narratives defined by others. They are stereotyped, vilified, dehumanized—and it's all part of an oppositional effort aimed at maintaining an unequal status quo where certain people are denied power, agency, and voice.  
Well, the promising news is that people and groups working for social and racial justice have had enough. Instead of always playing defense and struggling to counter misinformation and negative messages, they're taking proactive steps to advance their stories, their ideas and their messages. In doing so, they are wielding what Rashad Robinson—President of Color of Change—has termed "narrative power" across a range of social issues, cultivating a positive framing of who they are and why their priorities matter. It's a movement-building approach that is gaining strength in community advocacy and philanthropic circles in California and nationwide. 
What Narrative Power Can Do
At Haas Jr., we've seen again and again how narrative power can deliver results for people and communities. The years long campaign to win marriage equality, for example, was grounded in a determined effort to identify and lift up compelling stories, messages, and messengers in ways that would change Americans' hearts and minds.
And then there are the Dreamers, young undocumented immigrants seeking fairness and opportunity in the only country many of them have ever really known. As they began to organize and share their inspiring stories, we saw a profound change in public opinion. Americans of all ages and political persuasions started to express support for enabling these young people to find new pathways to education and jobs, while protecting them from deportation. Their fight is not over, and they continue to face serious threats to their ability to find dignity, safety, and opportunity in the United States—but they still have a majority of Americans on their side.
That's what narrative power can do—and today at the Haas, Jr. Fund, we're seeing many of our partners embrace it as a top priority. As an example, we're partnering with other foundations and nonprofits on an exciting collaborative effort that aims to inform, engage, and mobilize more voters in lower-income communities and communities of color to stand up for their interests —with messaging and narrative as a key focus. The collaborative is called Powerful Innovations for Voter Organizing and Transformation (PIVOT); you can read about it in this newsletter.
PIVOT is not alone in its commitment to narrative. Across our programs, we are increasingly working with grantee partners to maintain and grow their power to develop messages, strategies, and stories that can break through the noise and win. We've learned that it's difficult to make policies more equitable without corresponding changes in narratives.
In our College Success program , we are working with Wonder: Strategies for Good, a strategic communications firm, and Goodwin Simon Strategic Research, a public opinion research firm, to help leading advocates explore messaging strategies that will be effective in building broad support for college affordability in California.
In our Immigrant Rights program, our longtime partners at the California Immigrant Policy Center (CIPC) are working to change the national conversation on immigrants in ways that will support pro-immigrant dialogues and policies. We're also supporting Asian American Futures' groundbreaking efforts to advance new narratives for and with AAPI communities, with a focus on building cross-racial alliances with other communities of color; read about it here.  
In our Democracy program, we are working with partners like the California Black Power Network to elevate Black voices in the ongoing effort to make California a model for advancing a more equitable, multiracial democracy. We're also supporting advocates to expand understanding of how people who do not speak English as their primary language face unequal opportunities to exercise their right to vote, and how to expand language services in elections.
In all of this work, we are guided as always by the leadership and ideas of our movement partners. Our goal is to provide them with the support they need to share their stories, their ideas, and their calls to action in ways that will help them achieve their goals.
Opportunities We're Seeing
This work is a learning journey for all of us, especially in a social and media environment that changes all the time. Right now at Haas Jr., we're exploring ways to:
Bring organizations together across issues and priorities to build community and increase support for each other's priorities.  
Create space for community partners to share learning and innovate new storytelling approaches.
Provide long-term and steady support for organizations to engage in messaging research and development and build year-round community engagement efforts.
Support emerging leaders to deepen their connections and strengthen ability to express their unique perspectives.  
Combine support for narrative with aligned investments in community engagement as well as healing and wellness for grassroots leaders.  
We're inspired by how nonprofits around the country are working against the odds to close the messaging gap they so often face in today's highly charged and polarized media and communications environment. With the 2024 elections on the horizon, community building, and narrative work is especially urgent right now. In the months ahead, we will see billions of dollars invested in political messaging campaigns designed to disparage or drown out the voices of underrepresented and marginalized communities.
Together with other funders, we are intent on providing leaders and groups with the support they need to keep their voices strong and their stories front and center—both throughout the coming election season and for years to come.