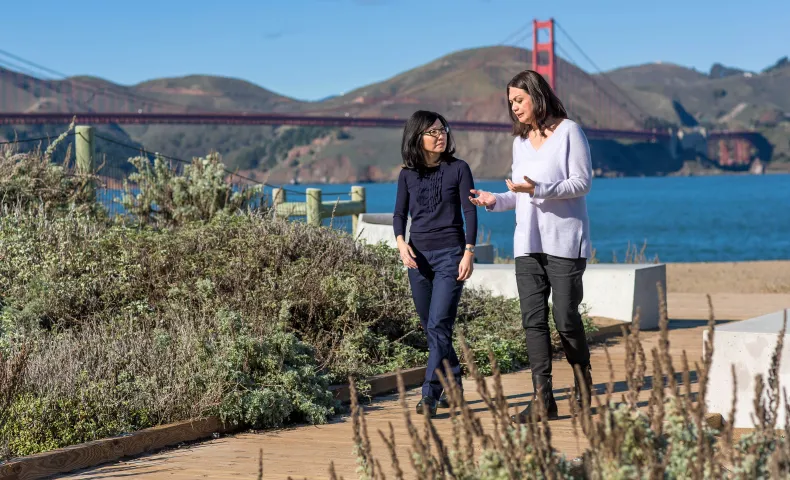 Starting a New Chapter of Leadership
We are pleased to announce two important leadership changes to help us ensure that our family foundation can continue—and strengthen—its work to help advance rights and create opportunities for all people. Jennie Lehua Watson, formerly the Fund's vice president of special initiatives and communications, will serve as interim president of the Fund for the next two years. Cathy Cha, formerly program director for immigrant rights, is now vice president of programs and will become president of the Fund in 2019.
We selected Jennie and Cathy for these roles following an extensive national search for a new leader after Ira Hirschfield stepped down as the Fund's longtime president in 2016. There was a great deal of interest in the position, and we interviewed a number of strong candidates. In the end, we decided that Jennie and Cathy bring a unique and complementary set of skills that will make them outstanding leaders for the Fund. We have the utmost confidence that they are the ideal team to help us write the next chapter in our family's philanthropy.
With a combined 30 years as key leaders with the Fund, Jennie and Cathy have played integral roles in the Fund's work. We look forward to working closely with them to sustain and strengthen the Fund's partnerships with nonprofit and community organizations, social movements, philanthropic colleagues, and other partners as we continue our collaborative efforts to build a more just and compassionate society.
When our parents created the Evelyn and Walter Haas, Jr. Fund, they were inspired by a vision of a society in which all people could live, work and raise their families with dignity. Today, more than 60 years later, this vision remains at the center of the Fund's work. At a time when so many of our neighbors are denied basic rights and opportunities, and when there is real concern across the country that existing protections could be taken away, the Fund and our partners will continue to work for positive change.
We hope you will join us in welcoming Jennie and Cathy to their new roles as they lead the Haas, Jr. Fund into the future, grounded and catalyzed by the enduring values of equality, fairness and opportunity for all.
Sincerely,